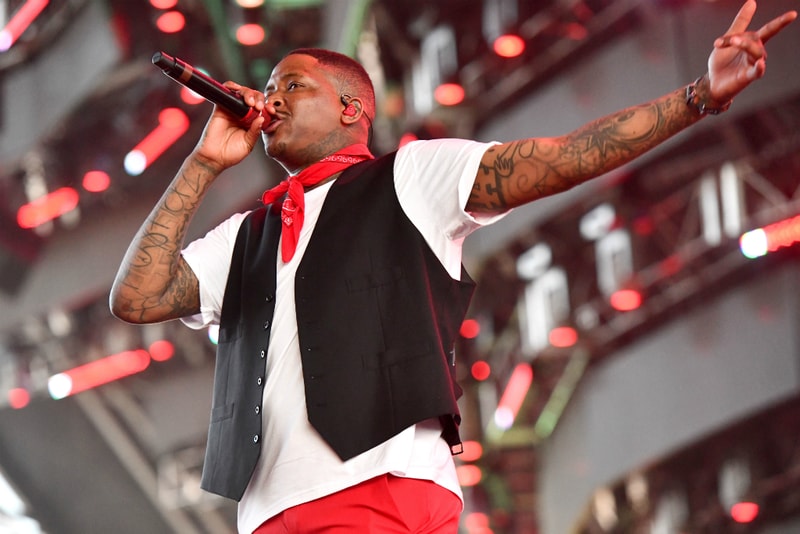 Taking to the stage this past weekend for a performance at Coachella 2019, YG gave his audience a live debut of a new track known as "Stop Snitching." What's more is that he also revealed the release date for his next studio album.
"Stop Snitching" was performed with a "STOP SNITCHING" stop-sign and pictures of Tekashi 69 and SkinnyFromThe9 adorning the monitor behind YG. While information concerning his upcoming LP are scarce, there's a strong chance that the aforementioned "Stop Snitching" record is our first taste of its sound and style. YG also fired shots at Tekashi 69 during the 2018 video for "Bulletproof."
"You got fear in your heart so you corroborate / I done seen how b***h n***as operate / You's a b***h / Your mama know you a b***h / Your girl even know you a b***h / I don't even know how she suck your d*ck, pause," YG raps. "You got caught with some sh*t / With your best friend and your clique / Y'all got caught hittin' a lick / Everybody went down 'cause you snitched."
As far as YG's new project is concerned, that album is now scheduled to see release on May 3; other details, such as its title and tracklist, are currently unavailable. YG previously announced that he was delaying the original release date of his new full-length following the death of Nipsey Hussle. "I was dropping a surprise album April 12th. But man. Now that we gotta deal with Big bro goin to heaven, I will not drop the album this month. Pushing it to May, Sorry!" YG shared on Twitter. "LONG LIVE @NipseyHussle my brother from the other color!"
You can check out YG's live Coachella performance of "Stop Snitching" below.
YG's last major full-length release was Stay Dangerous, which dropped back in Summer of 2018.
Click here to view full gallery at HYPEBEAST