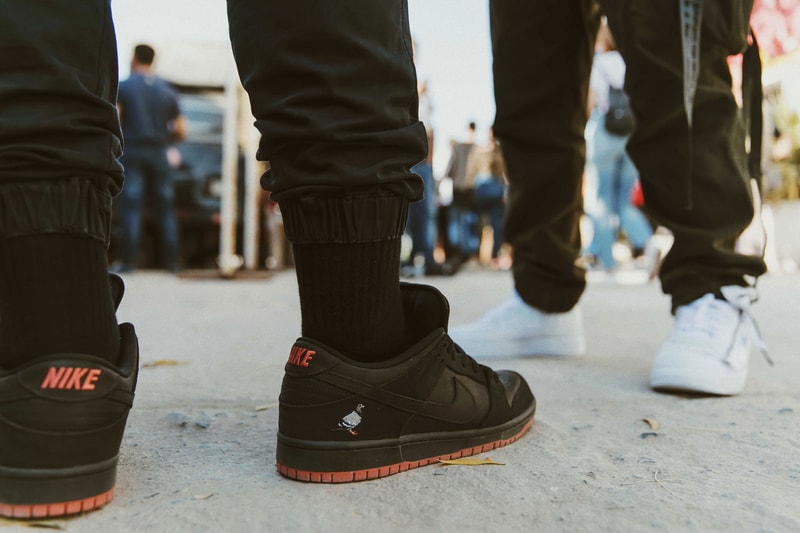 The first ever YEEZY arrived on Indian shores in August 2015, in Mumbai. Nike's Air Max Day launched in the country for the first time that same year, making it the first ever sneaker event in the country. Up until then, the Indian Sneakerhead had to be content with general releases, but the arrival of coveted models like the Air Jordan 1 Bred and the YEEZY Boost 350. The arrival of those exclusive styles allowed a reseller market to emerge in India in mid-2016, though the market remains widely dependent on word of mouth.
"There are two kinds of sneakerheads in India" says Jonathan Rego, editor and founder of Nation of Sport. "One kind that truly cares about the game, and another kind that only cares about sneakers as a fashion fad. And the culture in India will grow in two ways. A vast majority of casual, fad driven sneaker buyers will grow along a small, yet powerful community of serious sneakerheads."
"A vast majority of casual, fad driven sneaker buyers will grow along a small, yet powerful community of serious sneakerheads."
In the global sneaker and fashion conversation, India isn't exactly seen as a big player. However, that may soon change. Shifting political dynamics, more widespread exposure to new trends thanks to social media, and growing disposable incomes across the country means Indian consumers are more connected to fashion and footwear than ever before.
Consequently, as acceptance for the sneaker industry becomes more widespread, the country's fashion community — both as consumers and creatives — could legitimately become an authority on taste at a global level.
The Evolution of Indian Fashion
Sneakers aside, India's fashion industry as a whole is still relatively nascent. When India Fashion Week launched 18 years ago, it primarily showcased more "ethnic" conscious designs. But more recently, it has shifted its focus to fashion-forward creations, with progressive designers finally bringing sneakers to the runway. For their Spring/Summer 2015 presentation, designers Rixi and Jayesh of the brand Quirbox sent their models down the runway wearing adidas Originals Stan Smiths and Superstars, marking a turning point for sneakers' place in Indian fashion.
HUEMN, which was founded by National Institute of Fashion Technology graduates Pranav Misra and Shyma Shetty and won the Vogue India Fashion Fund in 2016, has also merged sneakers with their design sensibility. In Autumn/Winter 2015, the designers outfitted their models in various styles and colors of Reebok Classics kicks. They repeated this during the Spring/Summer 2019 show, while techwear-inspired brand Nought 01 had models walk the runway in Vans for their Autumn/Winter 2018 show, and utilized adidas Originals for its Spring/Summer 2018 lookbook.
But it's not only mid-priced kicks from the likes of Vans and Converse that are gaining traction amongst fashion fans in India. Just as we've seen happen the world over, luxury trainers from labels like Balenciaga and Louis Vuitton are becoming a common fixture on the feet of the country's affluent crowd. "People [of India] now aspire to a global taste," says Anand Ahuja, founder of multi-brand sneaker store Veg Non Veg. "There's little difference between the New Delhi and New York customer, because India now desires what people all [around] the world want."
But India is still more of a follower than a leader when it comes to trends, according to Bhavisha Dave, streetwear and sneaker events promoter. "It is good to see more people wearing sneakers and accepting it as a trend (although it is also a culture)," Dave explains. "I really wish India could do its own thing with trends a little earlier than we currently do. Air Max Day, for instance, came to India only [four] years ago."
A Growing Consumer Base
India's "immense potential" has been touted by global economists for some time now, with American management and consulting firm A.T Kearney's ranking India number one on its 2017 Global Retail Development Index. While the general population has traditionally only shopped three times a year (for birthdays, the New Year and on applicable religious holiday), Indians have now shifted to shopping at least 12 times a year on average. And with a population of over 1.3 billion, even small increases in shopping on in individual level means a lot more spending across the country.
The Indian retail industry accounts for over 10% of the country's GDP and about 8% of employment opportunities. According to a 2017 study by the India Brand Equity Foundation, the country has the fifth largest retail sector in the world. As Indians' affluence grows, those who have the means are putting their disposable income towards apparel. "Indians are some of the largest spenders on apparel and fashion. After home and food, fashion is the third biggest category for Indian spends," says Ahuja.
"There's little difference between the New Delhi and New York customer, because India now desires what people all [around] the world want."
But it's not just apparel in general that affluent Indians are buying, but more specifically Western-style clothing, which most of the country perceives as aspirational. The sportswear market in India has grown from ₹24,000 INR in 2014 to ₹37,000 INR in 2016 at more than 50 percent over the past two years. The segment's global increase stood at 7%, in comparison.
In addition to spending more money, Indians are, like the rest of the world, spending more time online and that means more online shopping as well. About 60% of urban India has adopted smartphones, roughly translating to 450 million users. Additionally about 55 million Indians shop online, nearly 90% of which are between the ages of 18 to 35 according to Motilal Oswal. Indian e-commerce sales are expected to reach $120 billion USD by the year 2020.
Setbacks for Sneakerheads
Indians may have more access to shopping than ever, but buying hyped kicks in India is still difficult due to both a lack of availability and higher pricing. Sneakers like the NMD, UltraBoost and YEEZY Boosts are priced 33% higher compared to American and EU markets because of import duties. YEEZY Boosts and UltraBoosts retail for about $200 USD in U.S. and Europe. However, Indians can expect to pay $325 to $375 USD for those models at retail in the country due to import taxes.
Indian sneaker consumers have complained about bots being used by resellers during exclusive drops which makes buying the desired sneakers even tougher for the average Indian consumer. Bots allow users to access the front-end of the store, run an automated add-to-cart command and then simply check out — all before any stalling or technical problems occur. Bots certainly aren't cheap, and those who can afford them will always have the edge when it comes to purchasing (much sought-after) sneakers.
Some are also skeptical that India holds a true sneakerhead community, but is instead simply following a global trend.
"I believe this community will remain very small and tight knit for the next five to six years. I believe the sneaker culture in India today is based purely on hype, rather than knowledge," says Jerry Sebastian, a former Marketing Manager of adidas Originals India.
What's Next for the Indian Sneakerhead?
"There's a glaring gap to do sneaker specific events in India," quips Dave. "Even if we don't have the street culture, we can appropriate well doing our own thing. Sneaker Cons in India just might be the inflection point."
Since India's first Air Max Day in 2015, adidas Originals has hosted its own launch events and of course YEEZY-drop after-parties. These were held at the stores, right on the back of the sneaker drop, Bombay being one of adidas Originals' Global Flagship locations. Reebok did the same with its Aztrek sneaker in December 2018 at the Veg Non Veg sneaker store. But these events are limited in scope in that they only cater to a specific brand, collection or drop, rather than foster a bigger sense of community.
"With dedicated stores for serious sneakerheads emerging and being successful, it is evident that there is a market in India."
India is yet to host a large-scale sneaker event on par with Sneakerness or Sneaker Con. And although a localized version of a "Sneaker Con" was held in March 2018, combining sneaker brands and homegrown streetwear labels, there have been no repeats ever since. Lack of shopping options and opportunities may be considered as one of the drawbacks in India, with zero sneaker consignment stores across the country and cultural centers like Mumbai lacking any streetwear-specific shops.
Fashion photographer Samir Rana however is optimistic about India's still growing sneaker culture. "With dedicated stores for serious sneakerheads emerging and being successful, it is evident that there is a market in India. It can only get better from here."
Click here to view full gallery at HYPEBEAST