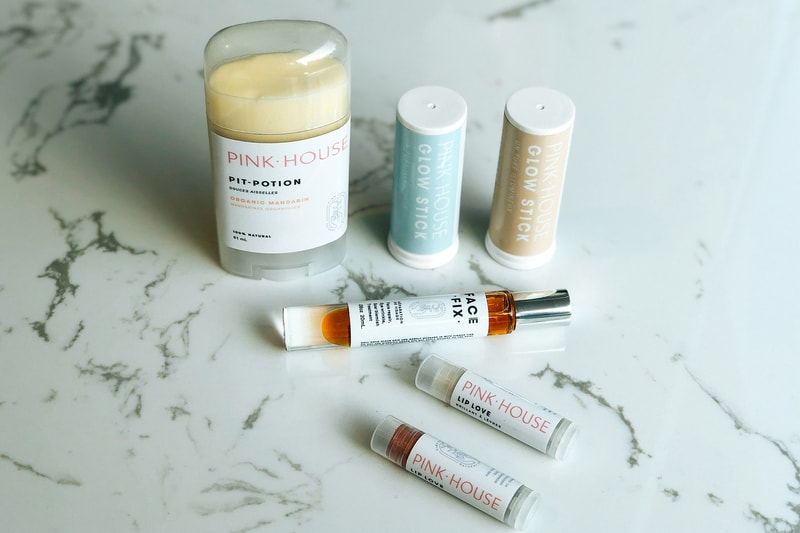 Pink House is a love letter to family, honesty and health. Named after the pink home they grew up in, sisters Karen Sjoberg and Tracy Oleson founded the natural beauty brand after Karen was diagnosed with breast cancer. In an effort to find all-natural products, the duo struggled with finding toxin-free cosmetics that already existed in the beauty industry, so they decided to create their own. Sadly, Karen passed away from terminal cancer in 2015. Her daughters, Tegan and Lindsay, jumped on board to carry on their mom's legacy, making the company a true family affair.
The brand's mantra is simple: if there are any red flags or controversy around ingredients, you won't find them in any of the products. The cosmetics are a real labor of love as each item is made by hand in small batches.
We're all about being more conscious about what we're applying to our skin, so we were excited to put Pink House's products to the test. Read on to see what we thought.
Since the beginning of time, I've exclusively been a powder highlighter girl, because I've never met a stick highlighter that I liked (sorry Glossier Haloscope fans). They're always too sticky, and in Hong Kong humidity, I don't need something that's going to add more oiliness to my face. Then, I met Pink House's Glow Stick ($16.50 USD), and it completely changed my mind. I'm not going to lie, I was skeptical at first, because the formula contains three different types of oil and shea butter, but I've been wearing it for weeks and it's never gotten too greasy. One swipe is all you need, and the product gives the perfect amount shimmery glow. It's naturally dewey without coming off overly glittery and is easily blendable with your fingers. I also use the Glow Stick on my eyes to get that glossy lid look that I always see on Instagram. I love that it's translucent so anything I layer it on can still shine through and blend perfectly together. The Glow Stick can also be used as a lip product, but since this colorway has cool tones almost to the point that it's blue, I prefer to just use it for my cheeks and eyes. – Rebekah Ho, Senior Social Media Executive
When it comes to cream highlighters, I'm very loyal to RMS Beauty's cult-status "Living Luminizer." Since I first discovered the beauty gem two years ago, I still haven't found a product that comes even close to its versatility and efficacy. Fast forward to today and a run with Pink House's Glow Stick, and I might just have finally come across a worthy contender. Although I still prefer the texture of RMS' release, the Pink House offering introduces a makeup staple that provides a beautifully natural, dewy effect that lasts all throughout the day. However, I did find that the smell was a little off-putting and the texture extremely creamy. I experienced a momentary flash of panic when I saw the excess of product on my cheek – and in a shade of "Rose Gold," no less. However, when I used my fingers to spread the product onto my cheek, I found it very easy to distribute and the resulting effect was a perfectly balanced combination of color and glimmer on my cheek bones. Although the product applies very thick, it becomes quite sheer when blotted gently. The Glow Stick is the perfect summer must-have to achieve that natural, sun-kissed look. I'll definitely be reaching for this product all through the season. – Zarah Cheng, Editor-In-Chief
Pink Houses's Lip Love ($4.50 USD) is what you get when you give regular lip balm a boost of caffeine (both figuratively and literally). It's super smooth and hydrating and also gives you a light shimmer so you can use it as a base for your lip products or on top to add some shine to your look. I'm also completely obsessed with the coffee and vanilla scent, and that's what's going to keep me coming back to this product. One thing to note is that I found Lip Love's formula way more creamy than regular lip balm. I actually ended up applying way too much pressure the first time I used it and smeared the product everywhere. Make sure to just use a few soft dabs, and that's enough to keep chapped lips away. – Rebekah Ho, Senior Social Media Executive
For anyone else who is as equally obsessed with lip balms as I am, Pink House's varieties are definitely worth a try. Although I typically lean more towards neutral scents, the "Piña Colada" option is definitely unlike anything I've tried before. Tasting exactly like the ever-popular cocktail, I was pleasantly surprised to find that the scent wasn't too overpowering. It's certainly much sweeter than the typical Burt's Bees chapstick that I normally use, but it's a delightful treat all the same to keep in your purse whenever you feel like a pick-me-up. As for the formula itself, the composition of the product is not as solid as I would normally prefer (it feels like a solid cream that slathers quite generally on your lips). However, I find that if I use my finger to apply onto my lips, I can get the perfect amount to keep my lips hydrated all throughout the day.
I made the switch to natural deodorant a few years ago, after finding out about the potential links between breast cancer and the aluminum found in antiperspirants. I've never tried anything that looked and felt similar to regular drugstore deodorant before, so I was curious to see how the Pit Potion ($10.50 USD) would fare. The "Organic Mandarin" scent is perfect for summer – it's sweet like a creamsicle with the tanginess of fresh oranges.
When I first opened the deodorant, I found the scent quite aggressive, but after a few uses, it faded and didn't bother me at all. The Pit Potion definitely passed the sweat test with flying colors. Whether I was out in the sun running errands, at the gym or on a hike, I never smelled bad at the end of the day. I also like that even though it comes in a stick format, the product doesn't get on my clothes or cake up. The packaging says to store the product in a cool, dry place, and I can't emphasize enough how important that is, because if I ever leave it out in the sun, the consistency gets really watery and soft.
If you've never tried natural deodorant before, I will warn you that it doesn't stop you from sweating, but rather, it neutralizes the bacteria that comes in contact with your sweat to stop you from smelling. It's definitely an adjustment from antiperspirant, but for me, it's worth the switch. – Rebekah Ho, Senior Social Media Executive
I recently started trying face oils and am now proud to say that I am a bona fide convert. I find that it absorbs much quicker into my skin than moisturizer and contrary to what one might expect from applying oil to your face, my complexion actually feels less oily with this method. The oils that I've tried so far have all been applied with an eyedropper tool, which I have found to be quite effective for all-over face treatment. When I first tried Pink House's Face Fix Serum ($26 USD), I was surprised to see a roller application instead. When you first apply the oil, the first thing that you'll notice is that the fragrance is quite medicinal. I don't mind this so much, but it's something to note for those who are more accustomed to more aromatic scents for their beauty products. Although the process with this package is slightly more reserved (I usually like to pat all the oil into my face at once with my palms), I actually do appreciate that this product allows more control for targeted application. In particular, I liked how I was able to apply this with more precision to my eye area. Although I personally did not see a vast difference to my skin, my skin did feel rejuvenated in the mornings and was perfectly plump and prepped for my makeup. For those who are first getting into the face oils game, I would definitely recommend this hidden gem. – Zarah Cheng, Editor-In-Chief
Click here to view full gallery at HYPEBAE