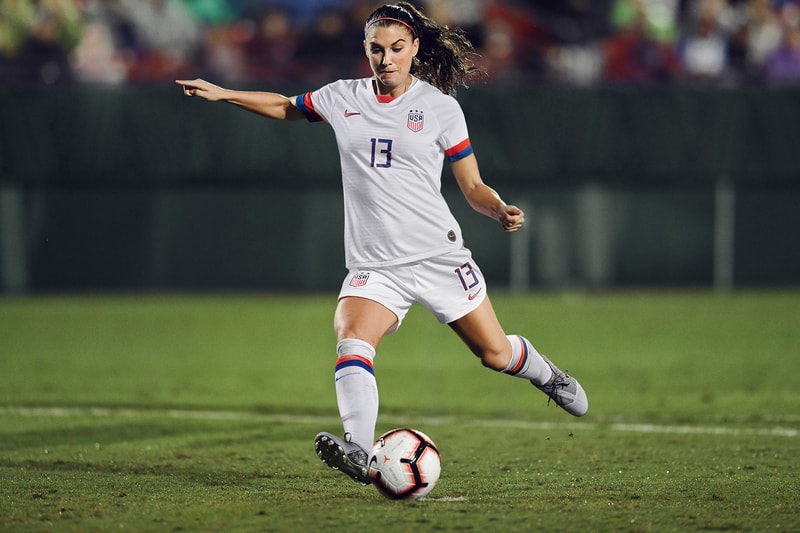 You might recognize the name Alex Morgan; the Olympic gold medallist and World Cup champion is one of the best soccer players in the game right now and praised as much for her prowess on the pitch as her campaigning off it. Currently a forward for Orlando Pride as well as a co-captain of the U.S. national team, Morgan is also a published author and an actress, making her an athletic multi-hyphenate of sorts. You'd think with intense training schedules, international tournaments and numerous endorsement deals to live up to, she wouldn't have much time to accomplish anything additional, however she also advocates tirelessly for womens' equality – in sport and beyond.
Morgan was one of the 28 members of the U.S. national team who made history this past International Women's Day when they filed a lawsuit against the federation for gender discrimination. In their statement, the players described the "institutionalized gender discrimination" that has affected them in many ways, including unequal pay and travel conditions as well as substantially less support in training and promotion. This is all despite the fact that the U.S. women's soccer team consistently outperforms the men's team and have far more World Cup and Olympic titles.
We caught up with Morgan at Nike's Women's World Cup event in Paris to discuss about the progression of women's soccer, why equal treatment for female athletes is way overdue and to get her thoughts on the new U.S. national kit – read on for more.
Nike
You've obviously been playing soccer for a long time – how have you seen the sport progress for women since you began playing?
I've seen it progress incredibly. Just talking to Brandi Chastain last night, she was talking about the World Cup in China (the first-ever women's World Cup, in 1991) and saying FIFA got them a chartered plane and they had to go to Norway, then to Sweden… like pick up teams around the world before getting to China because it had to be cost-friendly. Just to think of them being on a flight for 30 hours picking up other teams that you're about to face on the field. I feel like it has evolved so much, it has progressed – just the quality of the teams in the World Cup. No game is going to be an easy game and when you look at just the respect and the popularity that we have around the country, it's pretty amazing.
I think when I started on this team in 2010, we had maybe 3000 or 4000 fans in the stadium and then after the 2011 World Cup, we started to blow up and obviously 2015 was a huge year for us but I think just the amount of people that follow the women's game now is incredible.
The U.S. crowds in particular for women's football are pretty huge. How have you found it playing in other countries – have you seen the sport growing there too?
Totally. Take England for an example, they are a team that has always had a quality national team but I feel like were never really given a seat at the table and now they have a former men's national team player, Phil Neville, as the coach. He's like "wait you guys don't get charters? You have to stay at 2 or 3 star hotels? No we're changing this." To just see people standing up for each other and women in the game is pretty incredible and to see also the country rallying behind them is pretty cool.
You're seeing that all around the world with different countries and it's cool because obviously the growth of just sport in general and the respect that people have for women in sports across the world is evolving and progressing but we need that trend to continue and its still not there in certain countries. We're here trying to empower those women to speak out and to fight for themselves.
Nike
Nike
In your opinion, what can fans, players and brands do help progress women's sport even further?

Sponsors are a massive part of this. Seeing the power that sponsors do have, even today, is incredibly important. Seeing the fact that FIFA doesn't really respect the women's game as much as the men's game and they do have so many sponsors and so much money and per-se for a non-profit organization. Sponsors can put pressure on organizations like that to give more of a seat at a table for the women's game and to put more money and efforts into it.
"We're here trying to empower those women to speak out and to fight for themselves."
A recent, very major talking point has been the lawsuit yourself and your teammates filed. What has the reaction been to that from fans and other athletes?
I think the reaction has been overwhelmingly supportive. It's been really amazing to see the support of women both in and out of sports, to see the men's national team putting out a statement in support of us, to have Serena Williams come out and support us via social media. It's been incredible because we knew this was the right decision, but it makes it feel even more right. It makes it feel like when you have women supporting women, you're unstoppable.
Why did you feel like this was the right moment for you to take a stand against being treated unequally?
I think it's been building up and for 3 years we kind of put it in the hands of the EEOC (Equal Employment Opportunity Commission), when we filed the claim and we realised that nothing was getting done at the pace we wanted it to. So at the end of the day, we knew that there was a legitimate fight to be had and we want to leave it to the courts now.
Nike
This is the first time the team has had a specific women's kit, what are your thoughts on this new national kit?
I love actually the states on the back; I love seeing that every single one of our states is represented. I live in Florida but I'm from California, so being bi-coastal, it's amazing to represent my state there. Also, just paying homage to the 1999 World Cup (there are three stars above the badge on the jersey, to represent three World Cup titles) in the design of the kit but having it more fitted and designed to fit the female athlete's body really is important to us.
"When you have women supporting women, you're unstoppable."
Soccer is obviously such an intense, fast-paced sport and career. How do you balance that with self-care and taking time out for yourself?
I love to meditate, I love to spend time with my dog, take him to the dog park – it's honestly like baby's day out. I like to hang my boots up every now and then and even though I like to get away from the sport, I still just really enjoy the sport from a fan level. I'll always watch the current games on TV. I'm a big fan of the MLS, my husband plays in the MLS, so I guess that makes sense, but I enjoy watching other sports as well and getting family time in.
Click here to view full gallery at HYPEBAE