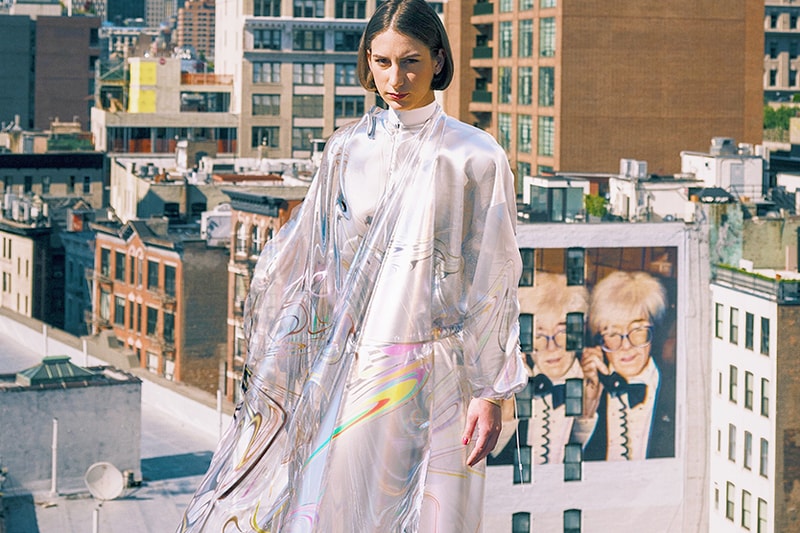 Dutch startup The Fabricant recently unveiled the world's first-ever digital blockchain dress titled "Iridescence." The piece which sold for $9,500 USD will exist solely online and was created in collaboration with Dapper Labs and artist Johanna Jaskowska. According to Forbes, The Fabricant constructs "digital clothing by harnessing 2D garment pattern-cutting software and 3D design software." Additionally, film rendering tools create the "hyper-real clothing."
"Iridescence" is reminiscent of Jaskowska's creation, one of the most popular filters of-the-moment on Instagram: the glossy pixelated filter. Forbes reports that Dapper Labs is the team behind the CryptoKitties blockchain phenomenon. The auction took place recently at the Ethereal Summit in New York. Coined as the "world's first digital couture," the piece was worn by Jaskowska and sold for $9,500 USD. There is a 28-day window for the couture's owner to share a photo of the future wearer with the creators in order for them to custom fit the garments.
If you've been paying attention to the rise of digital characters like Lil Miquela in the fashion industry and the blockchain community, the new dress comes as no surprise. Currently, the market in crypto collectibles has exceeded $200 billion USD for the first time this year, according to Forbes. The Fabricant also reports that: "Global brands in the real world apparel market are vying to enter the digital-only fashion space to forge deeper engagement with 'Gen Z' consumers."
Take a look at The Fabricant's creation in the gallery above. Head over to the startup's official Instagram for more details.
Click here to view full gallery at HYPEBAE