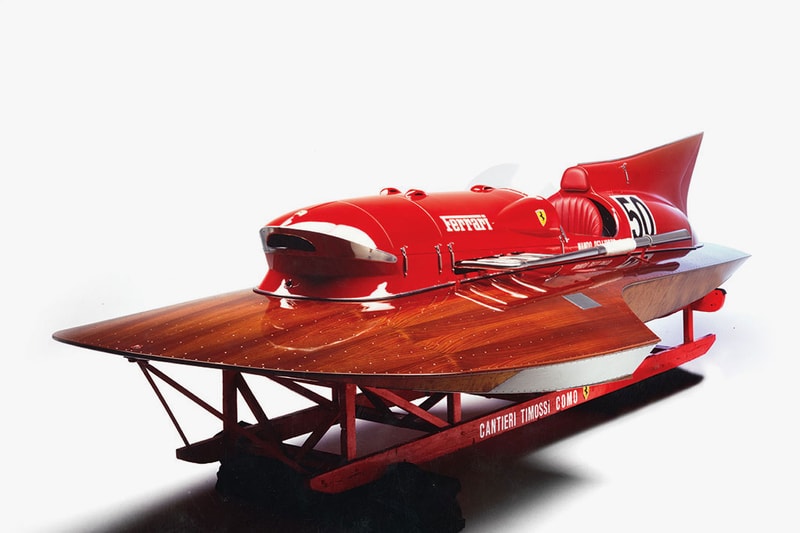 In the '50s, Italian speedboat racer Achille Castoldi was determined to break the world record for racing the fastest boat, and so he turned to none other than Enzo Ferrari himself. Agreeing to help him, Enzo and Castoldi built what became the only Ferrari-powered boat ever made.
Built for the 800kg class, the speedboat's upper body is painted in Ferrari's signature red colored, paired with a three-point hydroplane constructed from hardwood with a luxurious mahogany veneer finish. Most impressive is the engine that powers the boat: a modified Grand Prix 4.5L V12 pushing out more than 550 horsepower, allowing the Arno XI to reach a top speed of 150.49 mph on water, a record speed that still has yet to be broken.
The Arno XI has since retired from racing and has become a display piece at boat shows all across the world. As the only boat ever powered by Scuderia Ferrari, Ferrari Classiche has completely restored the speedboat to its former glory. Buying the boat would also earn you the full certification evidencing Castoldi's '53 speed record.
For vintage collectors or Ferrari enthusiasts, the 1952 Ferrari Arno XI is now up for sale over at duPont Registry, with the price available upon request.
Elsewhere in automotive news, the 2020 Mustang Shelby GT350R will feature GT500 parts.
Click here to view full gallery at HYPEBEAST