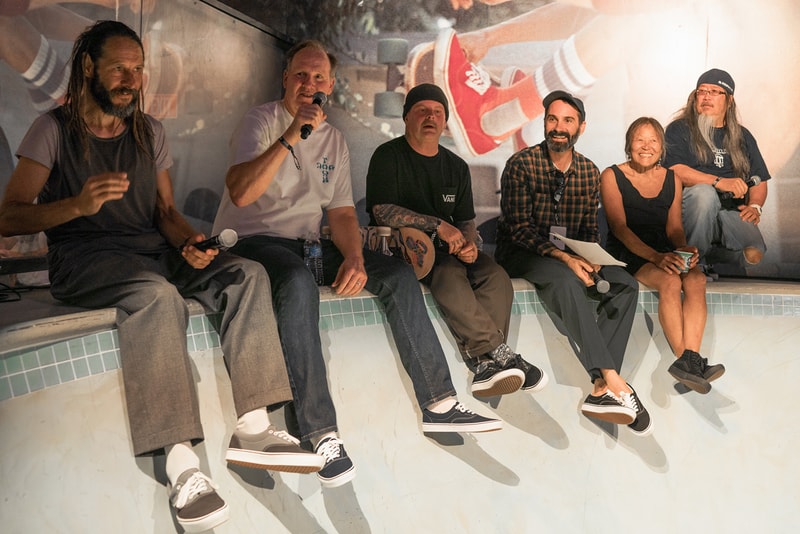 Vans recently held a 10-day long event that took place in Venice Beach, California, complete with everything from workshops and panels, to concerts and movie screenings. Black Rainbows, as it was dubbed, looked to celebrate the iconic Era sneaker, the first shoe ever created by skateboarders for skateboarders. In order to properly pay homage to the history of the Era shoe and skateboarding as a whole, members of the original Zephyr crew (aka the Z-Boys) were in attendance.
It's well-documented how the Zephyr team changed the course of skateboarding when they competed in the Del Mar National Skateboarding Contest back in 1975. What's more is that the Z-Boys undoubtedly altered Vans' entire trajectory as a company when they showed up with navy blue Vans Authentic on their feet as part of their signature uniform. Vans took notice of the waves the Boys were making with their new style of skating and partnered with two of the team riders, Tony Alva and Stacy Peralta, to create what would become the first skate shoe ever – the Era.
The Z-Boys approached skateboarding with the kind of swagger and bravado that is impossible to ignore. Their magnetic personalities and revolutionary board skills helped prevent skateboarding from falling into the trap of becoming just another passing fad. Since then, the Z-Boys and their unapologetically authentic attitude has influenced generations upon generations, both in and out of skateboarding culture.
We sat down with legendary members of the Zephyr crew, including Alva, Jim Muir, Eric Dressen and Jeff Ho, to get a masterclass in skate history and learn how the Vans Era fits into their legacy.
Aaron Miller/HYPEBEAST
Before the Era, what did everyone skate in? What were those sneakers lacking?
Tony Alva: Nothing. They weren't lacking anything. Before the Era we were skating the Authentics that Vans made with the gum rubber sole on them. They were the kind of shoes that surfers and skaters from West Los Angeles were wearing. We always wore deck shoes and Vans made the best ones 'cause they had the waffle sole on the bottom. They were vulcanized, they had the gum rubber soles, they were in the style that we liked, you could pick from a bunch of different colors.
I was into wearing one shoe at a time, whichever one wore out, I would get another one and it didn't even matter if it was a matching color as long as it was an Authentic. Basically Steve and Paul [Van Doren] decided they would sell me one shoe at a time. That's how I almost started being sponsored by Vans. I was buying one shoe at a time for like $3 USD a shoe.
For the Era, Stacy [Peralta] and I helped give them some feedback for what we would want with a skate shoe. They made a deck shoe and added a few details that was basically designed just for skateboarders. The Era was just that, the first shoe designed specifically for skateboarders.
"The Era was just that, the first shoe designed specifically for skateboarders." — Tony Alva
Jim Muir: Around 1963 I got my first skateboard, that was pre-Vans. Up to a certain age I just wore whatever shoes my parents put me in. As I got into junior high I started having a little more of an influence on what I got to wear. The Vans shoe was actually a really economical shoe to buy, especially since we were skateboarding and wearing the shoes down.
Eric Dressen: When I started skateboarding back in 1975, we skated barefoot because we were emulating surfing. I didn't wear shoes for almost a whole year when I first started skateboarding. All of my favorite skateboarders were barefoot in the magazines. Then in 1976, my friend took me to Vans and I got my first pair of Vans; some red Eras at the store in Torrance that's still there. Then I pretty much only wore Vans my entire skate career.
Jeff Ho: Dude, I started wearing Vans in the Duke Kahanamoku days. The first time I got the shoes, I didn't really know they were Vans. They were the Duke Kahanamoku's to me. Then later on, I got the Slip-Ons because I used to go surfing before school and you get sand on your feet and all that so I learned not to wear socks with the shoes. I just put the Slip-Ons on after surfing and boom, I was ready for school. As time went on, I became aware of the store on 4th Street and whenever they had sales I'd be over there mobbing on the shoes. I loved their shoes, so when I started the skate team I decided we needed a uniform. So the uniform was blue Vans shoes, Levi's and the blue competition Zephyr shirt. So in 1975 at the Del Mar Fairgrounds – we just blew it up.
Aaron Miller/HYPEBEAST
What made you choose Vans to be a part of that iconic Zephyr uniform?
Jeff Ho: It was a no-brainer because during that time period there were no other companies that I could see that were grassroots. Vans was a grassroots, homegrown store right here in Santa Monica. Right down the street from my shop at that time. I like to stick with people throughout my career; it's been over half a century. I don't like bouncing around from company to company. I love the shoes, so when you love something, you represent.
Tony, was there any design features that you wanted for the Era that didn't make the cut?
Tony Alva: Not back then, man. We weren't really into technology, we were just into style and whatever felt comfortable. The only thing that I wanted on the bottom of my shoe was the gum rubber sole. Even the most brand-new tech-shoe that Vans makes right now, the Van Engelen's, the gum rubber sole is the bomb. It's the best shit they've ever, ever made. It's like gummy bears, man. So if you got that shit on it, I'm riding it (laughs). That's all I want, I want the gum rubber sole and I want the waffle pattern."Even the most brand-new tech-shoe that Vans makes right now, the Van Engelen's, the gum rubber sole is the bomb. It's the best shit they've ever, ever made. It's like gummy bears, man. So if you got that shit on it, I'm riding it (laughs)." — Tony Alva
How did this area in West Los Angeles help inspire the Era?
Tony Alva: It's Dogtown, you're right in the middle of it. That was part of our uniform. That's how the inspiration came; the team wore nothing but Vans. Usually just the navy blue ones, those were part of our unis.
Jim Muir: This is where the early skateboarding and surfing scenes were and Vans is a part of that history. I skateboarded before I surfed and when I started surfing it became a way of life. We were trying to develop a pecking order here in the surf environment. That also translated into our skating. So when the skateboarding craze started to get popular, we heard there was this contest going on over at the Del Mar Fairgrounds in 1975. I was first up to have connections with the Zephyr shop and I was put on the original Zephyr team. That's when skateboarding really became a part of the neighborhood because we went down there to show people who we were and these attitudes that we created in our approach to surfing, that translated from the water to the land.
Jeff Ho: It just represents the surf/skate style. Surfing and skating have come a long way in society, it wasn't always on the forefront. People have learned about it and now it's a cultural thing with music involved, like Suicidal [Tendencies], which is Jim's little brother, Mike. All those guys grew up skating and surfing. It's just so diverse. Later on, Vans picked up and started sponsoring all of the kids that I had on my team. It's still ongoing, you still have Tony Alva and Stacy Peralta on Vans. My association with Vans and the fact they were flowing me shoes for some of my amateur team riders until this day, I love them and I love the shoes.
Eric Dressen: It was definitely a part of the culture here because all the cool kids wore Vans at school. Then also back in the day, you used to be able to order your own custom colors and all the kids who had their own custom colors were the coolest kids in town. All of my favorite pro skaters at the time wore Vans. I wore the blue and the red ones because Tony Alva wore those.
Aaron Miller/HYPEBEAST
Why do you think the Era has stood the test of time, even as skateboarding has continuously evolved?
Tony Alva: It's the style. Style is everything, man. It's a good style. It has the form and it has the function.
Jim Muir: There's the availability. I mean, Vans was ahead of their time in having their own retail stores. So that helped out and since they were adopted by the surf and skates communities, they started sponsoring people right away and brought them into the design part of it using like Tony [Alva] and Stacy [Peralta] to help develop the shoes. It's a shoe that everyone can afford, it's fashionable, but it was the original uniform. When you go back to what skateboarders look like, that's it.
What do you like most about the Era's design?
Tony Alva: It's California style. Everybody all over the world wants to look like they live in Los Angeles. Everywhere you go in the world. You see it with kids, especially skateboarder kids, they want to look like they live in Cali. You see kids in Tokyo, Seoul, Paris, anywhere, you name it. You can be in São Paulo and see a kid with the Vans looking like he's from Los Angeles. I think it's cool.
Jeff Ho: It's comfortable. It's flexible. It's got the one iconic sole — the waffle sole. It grips just right, so the board doesn't slide out. I can ride a skateboard without griptape and I like doing that with the Vans shoes.
"It's the style. Style is everything, man. It's a good style. It has the form and it has the function." — Tony Alva
Eric Dressen: I just love looking down at my shoes while I'm skateboarding. That just inspires me. It's hard to explain, but when I see my favorite pro skater and I'm trying to emulate him, I'm looking down and I see my Vans and it's like we got the same tools. I think with the Era, for some reason they look so good on your feet and they just feel cool. You feel like a skateboarder in them.
Have you tried any of the newer more technical skate shoes?
Tony Alva: I wear the Anthony Van Engelen's, that's my favorite shoe right now. They're the most technical shoe I think Vans has ever made for skateboarding. I wear the Trujillo's, the Sk8-Hi's, I love the Sk8-Hi's. I just skated the limited Year of the Pig Sk8-His that Vans made for China over here on the Boardwalk.
Jeff Ho: I have, but some of them are a little too stiff for me. I'm not the young guy that I used to be, but I like the board-feel with the Vans.
Eric Dressen: Lately, I've been wearing the Kyle Walker's a lot because they have the cup sole. I'm getting older and I need a little more support so I'm wearing those. The Era still stacks up with those though.
Aaron Miller/HYPEBEAST
What are some of your all-time favorite pairs of the Era?
Tony Alva: It depends, the two-tone ones were nice. Back in the day, I was just stoked to have a pair of shoes that were designed by and for skateboarders. The original red and blue ones were cool. Those are some of my favorites, you can see the pictures of me in them as a kid. I used to wear the shit out of those.
Jim Muir: I'm going to say the navy blue Era. It's my favorite of all-time. They're classics, it's part of our legacy, it's iconic, and you can go all over the world and you're going to see that.
Jeff Ho: [Points to navy blue Zephyr Eras] These are classics; I always wear them.
Eric Dressen: Probably the Alvas, the red and blue ones. I just got a pair tonight; I got so excited for them. I haven't had that pair since I was like 12 years old.
Did you ever get into any of the collabs?
Tony Alva: Yeah, I like a lot of the things that Vans does. There's not a lot of things I have to have. I just like having that gum rubber sole for skating or other activities, like going to the beach. My shoes are designed for skateboarding more than anything. If I'm at the beach surfing or doing whatever, I'm not wearing shoes. I might not even put my shoes on until I'm in a situation where I need them; like here, or playing with my band, or first and foremost skating. That's what my shoes are good for. Yeah, and I'll try anything at least once, and if I don't like it, then I won't use it again.
Click here to view full gallery at HYPEBEAST