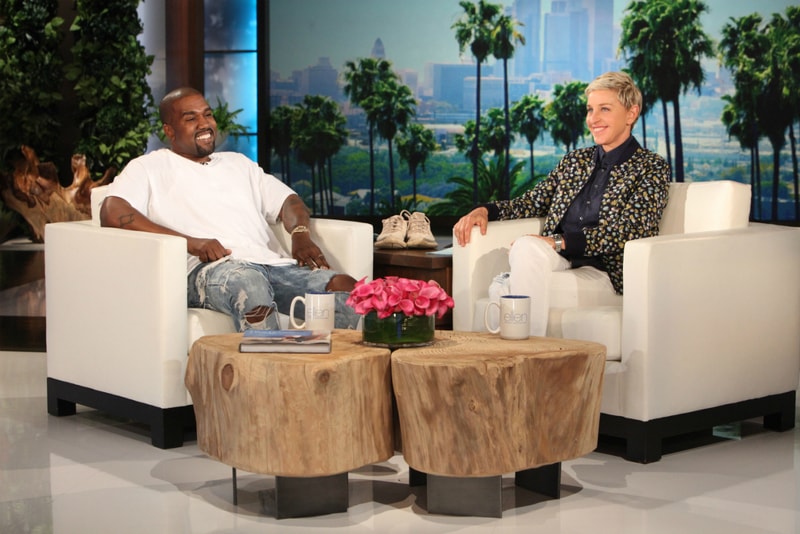 Daytime television has been an American obsession since near the birth of broadcasting in the 1940s, and music has played a crucial role in its development. Though early programming unabashedly catered to mainstream white America, contemporary hosts like Ellen Degeneres are introducing an eclectic range of new sounds to their viewers. Over the course of her show's 16-year run, rap music, in particular, has found a platform to reach new demographics.
"I think it's important to talk to a crowd outside of hip-hop who might not be familiar with you," explained Migos member Quavo from The Ellen DeGeneres Show's set. "It allows them to see you as a human being. You don't have to be an artist when you're sitting on Ellen's couch. I feel like I can just be myself and sit with a real person and have a real conversation; it's a great place to open up, and she encourages you to do that."
The melodrama of daytime TV mainstays such as The Jerry Springer Show or The People's Court contrast with The Ellen Show not just in the dysfunctional, alternate reality they present but also in the way they profit off of deeply racialized, one-note portrayals of marginalized communities. They intentionally leave no room for people of color to express their multidimensional realities, making The Ellen Show a rare space on daytime TV for rappers to be portrayed in a truthful, balanced way.
In 2019, Ellen also plays a crucial role in providing space for rap to exist outside of the stereotypes that still exist in spite of the genre having gone mainstream. The dawn of the streaming era and the birth of show formats like TRL (Total Request Live) in 1998 and 106 & Park in 2000 were also instrumental in this shift. TRL provided a direct-to-audience interaction that was a precursor to the social networking and streaming era which, ironically, would eventually be its downfall. The show ran until 2008 and cemented itself as an important career stepping stone for emerging artists; it was also a place for established acts to debut new music and music videos.
"Ellen never cared if a certain performer wouldn't rate. From day one the narrative was, 'It's what Ellen actually listens to and loves.'"
Rappers particularly benefited from TRL's audience-steered voting model because it gave them the power to bypass America's historical moral policing of black music. Keep in mind there were very real attempts to censor rap during its infancy and throughout the '80s and '90s, effectively pushing the genre to the fringes. Diddy holds the record for the most TRL appearances, with 38 in total. His direct connection to young people through the medium of TV allowed hip-hop and its culture to be heard, proliferated and loved by communities outside of itself, and arguably also helped lay the groundwork for its current reigning cultural status.
The Ellen Show has picked up the torch left by TRL and 106 & Park, as early investment in hip-hop has created a mutually beneficial relationship. Artists are able to use her platform as a conduit for reaching distant demographics, while the show benefits from their innate cultural currency. "When we were a new show still trying to prove ourselves there was push and pull," Jonathan Norman, The Ellen DeGeneres Show's Co-Executive Producer/Music Producer, admits of the show's relationship with rap music. "She would like certain artists that might not translate on daytime or that the typical daytime audiences might not know about. Quite honestly, though, Ellen never cared if a certain performer wouldn't rate. From day one the narrative was, 'It's what Ellen actually listens to and loves.'"
Norman continued, "At that time she would watch BET all day long. She'd be on the treadmill watching BET and then she'd come and be like, 'Have you seen this video?' We're obviously less in the video age now because of streaming, but she would consume so much music, which is different for a lot of hosts."
The Ellen Show provides an opportunity to create a new format in which music for the sake of discovery is at the forefront; targeting a demographic that wouldn't likely consume hip-hop. The earliest daytime TV programming blocks initially targeted housewives, who turned to TV for entertainment as they went about their daily tasks. In the same way, soap operas captured the imagination by leaning into all things sordid, so too did some of the first talk show formats. For viewers, their candid and confessional nature was a real-life extension of a soap fantasy, in its own way a precursor to reality TV.
Still, there was a limit to the American imagination and expressions of "counterculture" or fringe identities often proved unwelcome on daytime programs. Take a look back at when talk show host Phil Donahue (who paved the way for the likes of Oprah and Ellen), invited a lesbian couple onto his show in 1988. Audience members were enraged and combative at their presence. However, the fact that Donahue invited them on is progressive in its own way.
"I've always said that if I lived on a deserted island the one thing I would need is music. That's how important I think music is in our lives."
Even during TRL's resurrection, The Ellen Show still attracts the caliber of talent who would've had once made TRL their first stop. Thanks largely to Ellen's cultural ubiquity and her uncanny ability to spot viral trends, she's secured talents ranging from living legends like Ice Cube, Missy Elliott, André 3000 and Pharrell, to chart-toppers such as Drake, Migos, Travis Scott, Chance the Rapper, Kanye West and Nicki Minaj. The Ellen Show has consistently remained a top-rated show. According to The Hollywood Reporter's Marisa Guthrie, not only did the Ellen viewership grow by seven percent between 2014 and 2016, but it also saw an eight percent rise in its female demographic.
"I definitely think she exposes some of these artists to potential news fans, especially women since a large portion of the daytime audience is female. Three million viewers is another reason to stop by though it goes beyond that. I suspect that many artists are drawn to her because of her obvious progressive viewpoints and her commitment to social justice issues hip-hop currently espouses — she's talked about these issues on her show," Guthrie told HYPEBEAST.
Last December, Ellen's affinity for music blossomed into a dedicated content hub with Spotify. "It's important to me that music is a big part of my show because music is such a huge part of my life," shared Ellen of the launch "I've always said that if I lived on a deserted island the one thing I would need is music. That's how important I think music is in our lives. And bug spray. I'd also hope there was bug spray." The first of its kind, the platform offers themed playlists (Loved by Ellen, Ellen's Workout Mix and Performed on Ellen are just a few). In March, the hub expanded to offer exclusive new video content every Wednesday, including Travis Scott and Offset performing, which you can see here.
Click here to view full gallery at HYPEBEAST