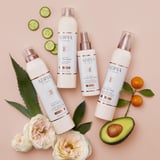 Thalía has already mastered the world of music, fashion, and telenovelas, and now she's bursting into the beauty market. The singer is expanding her Thalía Sodi lifestyle brand to include hair, with a collection called Adria by Thalía. The brand-new line, which will be available online at Target and Walmart and in select stores, includes seven products she created herself.
Along with a shampoo and conditioner, it will include five styling products, so every step of your hair routine is covered. "My hair has seen it all, from the stage to the studio to the stylist chair," she told POPSUGAR. "I created Adria by Thalía because I know the transformative effect that great hair can have on your confidence."
A central part of the line are the two scents, which Thalía designed herself. "I became obsessed with selecting the fragrances for the products," she explained. "We ended up using two for the line because I loved them both." One of the scents is rose-based, and the other is an aloe-based fragrance. "It feels like a spa indulgence. I hand-selected the notes of green leaves, rose petals, sheer musk, apple, pear, aloe, fresh cucumber, and violet petals. [They] are intoxicating without being overbearing."
As far as making your hair healthy, the hero ingredient in the line is a proprietary blend that includes coconut, agave, passion fruit, peony, and avocado extracts, which are filled with amino acids and proteins to strengthen your hair. Ahead, you'll see each product in the line, which you'll be able to shop starting this month.
Related:
These Celebrities Don't Age – We Bet You Can't Guess Which Photo of Them Is Older
Sarah Siegel
Source: POPSUGAR Beauty