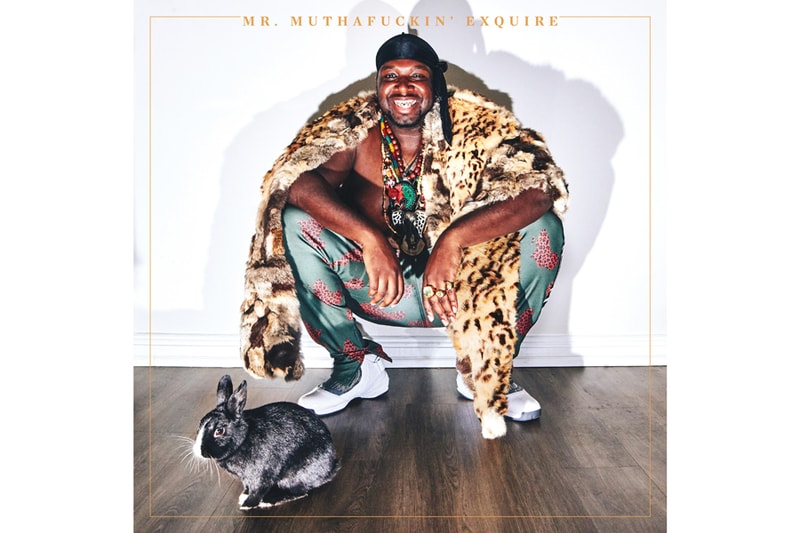 Brooklyn-based rapper Mr. Muthafuckin' eXquire has returned with a new self-titled LP released under his Chocolate Rabbit label. The 12-track project features the likes of Kiwi, KAST, and Iceberg Black.
The album is a return to form for the artist, not only harkening back to his independent roots, but it also marks a turn in eXquire's life after a career filled with drugs and debauchery. "My new record is just me sober, healthy, happy and free," he wrote on Twitter. "Chocolate Rabbit is my moms nickname. A rabbit is the symbol of longevity, enduring & abundance. The 19's were ahead of their time in their design & underrated, just like me." He even notes that after the release of Kismet, he can't remember the other projects he released for a while.
The rapper also broke down all his album art leading to his self-titled project. Check out the album and breakdown tweets below.
In other music news, Common and Vince Staples join forces in the "Hercules" music video.
My first record in 07, I'm actually taking a shit on this cover. If you look closely you can see my pubes. Don't look closely. I can't fit that Supreme sweater anymore. pic.twitter.com/MHsV8QgZVI

— The Ultimate Warrior (@MRMFNeXquire) July 11, 2019
These tapes I drew, I used to tape all these little doodles to that walls in my bedroom. I quit my job, caught my girl cheating, jumped out a window, ran from the cops, tried to commit suicide regular shit… which led to the next tape. pic.twitter.com/Vnrb1hAZXm

— The Ultimate Warrior (@MRMFNeXquire) July 11, 2019
Hood nigga Christmas Card pic.twitter.com/UMjJS941yU

— The Ultimate Warrior (@MRMFNeXquire) July 11, 2019
This the back cover, nobodies ever seen, cuz albums don't have back covers anymore. pic.twitter.com/mxwiZkauxj

— The Ultimate Warrior (@MRMFNeXquire) July 11, 2019
Brainiac is my darkest album. So I wanted the cover to be happy. Two inspirations for this cover were Dr. York and The 40 Year Old Virgin. Dr. York was in an R&B group called "The Passion" so I thought it fit because of what I speak about on "Manboy". pic.twitter.com/no8sgExKKA

— The Ultimate Warrior (@MRMFNeXquire) July 11, 2019
And Lastly, my new record is just me sober, healthy, happy and free. Chocolate Rabbit is my moms nickname. A rabbit is the symbol of longevity, enduring & abundance. The 19's were ahead of their time in their design & underrated, just like me. ? pic.twitter.com/bG2twqIIqW

— The Ultimate Warrior (@MRMFNeXquire) July 11, 2019
Click here to view full gallery at HYPEBEAST