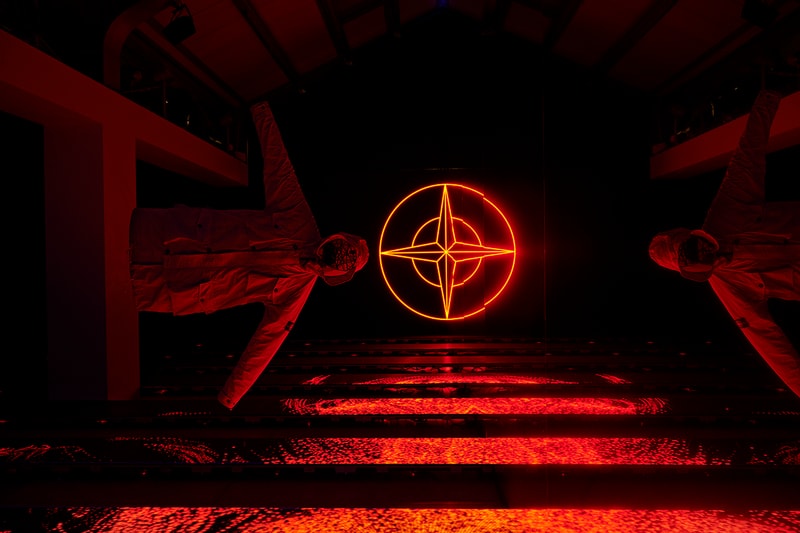 Stone Island has headed to Tortona Design Week to showcase its "Stone Island_ Prototype Research_Series 04" installation, exhibiting 100 unique pieces made using a method called "MANUAL FLOCKING ON NYLON METAL GRID-OVD."
Made from innovative fabrics and treatments, "Nylon Metal" garments rework the classic iridescent Stone Island fabric with a new flocking technique. The method sees the garments sprayed with adhesive and then exposed to the cotton flock, which gives each of the 100 pieces a unique patina. The items are then dyed with double-recipe coloring, adding highly contrasting hues to the nylon and cotton construction for a unique and unrepeatable effect. As you wear each piece, the flock will rub off over time to create a one-of-one finish.
Stone Island is celebrating this technological fabric feat with its Tortona Design Week exhibition, which sees the garments strung up side-by-side showing both the jacket both before and after treatment. Complete with UV lights, neon signs and plenty of Stone Island compass branding, take a look at the jacket and its accompanying exhibition in the gallery above.
In case you missed it, Stone Island CEO Carlo Rivetti sat down with HYPEBEAST recently to discuss his rotation of essentials.
Click here to view full gallery at HYPEBEAST