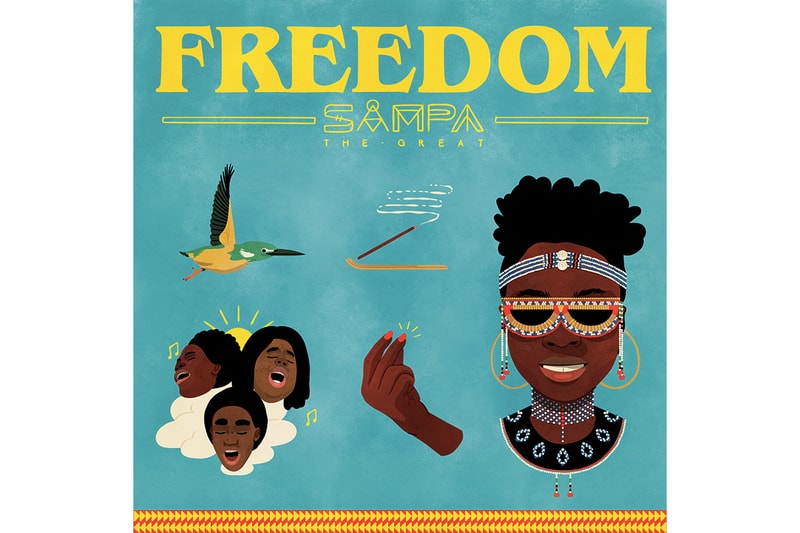 Ninja Tune-signed artist Sampa the Great is continuing the run-up to her forthcoming album The Return with a new soulful cut entitled "Freedom." The track, which was first played by Annie Mac via her BBC Radio 1 show last night, follows her previous singles "Final Form" and "OMG," both of which have found a plethora of support from artists and media outlets alike.
Sonically, the track maintains itself within Sampa's scope of genre-bending hip-hop and soul infusion — a slow strumming electric guitar riff propels the tracks melody, with various Motown-likened sounds carrying the artist's vocals through. In a recent press release for the track, Sampa the Great dives into the track's lyrical message:
"Freedom" is about one of the most important talks you will ever have as an artist in this industry. The balance of earning a living and expressing your artistry, and what you're willing to compromise through it all. It's a blessing being able to create and express yourself through the arts and an even greater blessing when that artistry can provide a livelihood for you, but it's likely you'll reach a point in your career where you'll be given a choice to compromise your artistic expression. How much you're willing to compromise is a conversation discussed in Freedom."
You can stream "Freedom" below. Sampa the Great's new album, The Return, arrives on September 13 via Ninja Tune.
For more music releases, Mura Masa and Clairo recently dropped a new single entitled "I Don't Think I Can Do This Again."
Click here to view full gallery at HYPEBEAST