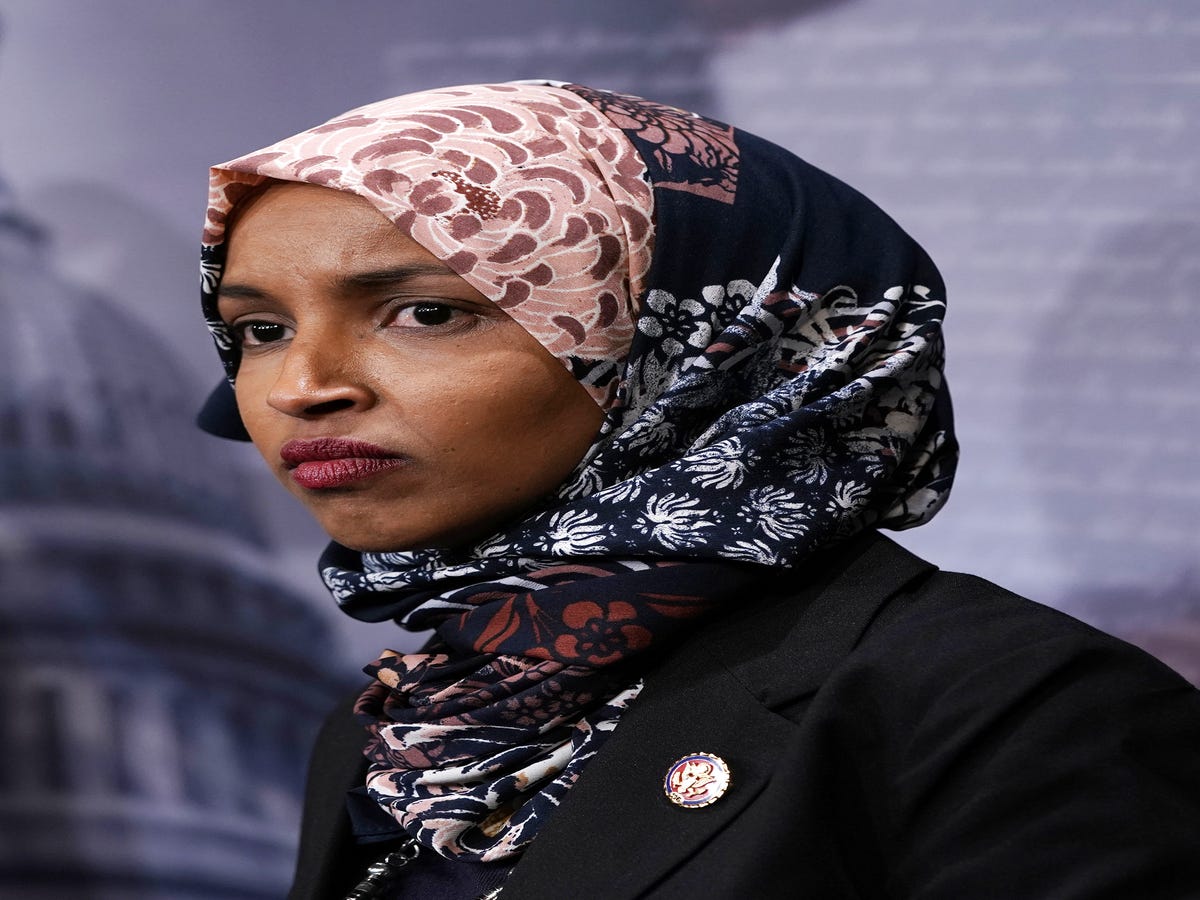 Rep. Ilhan Omar is facing backlash over a series of tweets insinuating that Jewish money is the driving force behind the United States' support for Israel — a longstanding anti-Semitic trope. It's not the first time the Minnesota freshman lawmaker, who made history as one of the first Muslim women ever elected to Congress, has been accused of anti-Semitism.
On Sunday night, Omar replied to a tweet by journalist Glenn Greenwald that read: "GOP Leader Kevin McCarthy threatens punishment for @IlhanMN and @RashidaTlaib over their criticisms of Israel. It's stunning how much time US political leaders spend defending a foreign nation even if it means attacking free speech rights of Americans." Omar wrote: "It's all about the Benjamins baby," in reference to the 1997 song by P. Diddy and implying McCarthy only supported Israel in exchange for campaign donations.
It's all about the Benjamins baby 🎶 https://t.co/KatcXJnZLV

— Ilhan Omar (@IlhanMN) February 10, 2019
When the Forward opinion editor Batya Ungar-Sargon pointed out that the tweet played into anti-Semitic tropes, Omar responded with only one word: "AIPAC! " That's the acronym for the American Israel Public Affairs Committee, a prominent group that engages in everything from lobbying for pro-Israel legislation to arranging trips for U.S. politicians to visit the country. But while AIPAC has been considered a powerful organization, it is not a political action committee and does not make campaign contributions. Individual members, however, can make donations to candidates of their choice.
In a letter to House Speaker Nancy Pelosi and other top Democrats, Reps. Josh Gottheimer and Elaine Luria urged the leadership to rebuke Omar and Rep. Rashida Tlaib over their rhetoric. "As Jewish Members of Congress, we are deeply alarmed by recent rhetoric from certain members within our Caucus, including just last night, that has disparaged us and called into question our loyalty to our nation," the letter reads. "We urge you to join us in calling on each member of our Caucus to unite against anti-Semitism and hateful tropes and stereotypes."
Other Democrats, such as Rep. Max Rose, admonished Omar over her remarks, calling them "deeply hurtful to Jews, including myself." Rep. Jim Himes said in response to the controversy: "It's perfectly legitimate to criticize Israel or the pro-Israeli lobby. Just please be careful to do it in a way that can't be interpreted as being anti-Semitic."
Congresswoman Omar's statements are deeply hurtful to Jews, including myself. pic.twitter.com/u3f2JHESFA

— Max Rose (@MaxRose4NY) February 11, 2019
Meanwhile, McCarthy seized on the moment, tweeting: "Anti-Semitic tropes have no place in the halls of Congress. It is dangerous for Democrat leadership to stay silent on this reckless language." But the Republican seemed to forget he had engaged on some anti-Semitism of his own a few months ago, when he posted and then deleted a tweet that read: "We cannot allow Soros, Steyer, and Bloomberg to BUY this election! Get out and vote Republican November 6th. #MAGA." George Soros, Tom Steyer, and former New York Mayor Michael Bloomberg are three prominent Jewish donors to Democratic causes.
Rep. Omar appears to be standing by her statement, retweeting supporters who claim her comments were not anti-Semitic, just critical, and has yet to apologize.
Like what you see? How about some more R29 goodness, right here?
Kamala Harris Says She Supports Legalizing Weed & That She Smoked It In College
Search For Missing Ohio Woman Amber Evans Enters Second Week
Exclusive: Meet The Nominees For The 2019 Gabrielle Giffords Rising Star Award