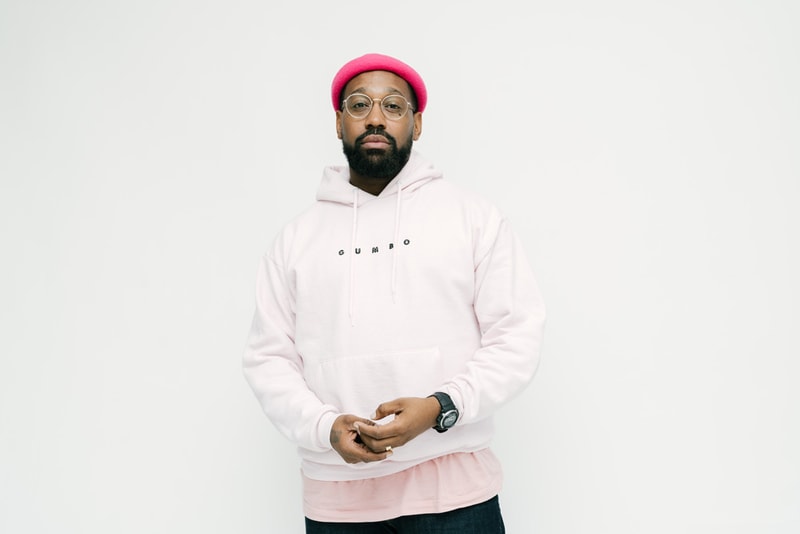 With 10 Grammy nominations in six years and zero wins, musician PJ Morton, née Paul Morton Jr., had become well-versed in "taking those Ls." What was never lost on him was the vigor surrounding music's biggest night which, despite its tomb of criticism over the years, Morton himself acknowledges still holds significant weight. So at this year's ceremony when his and singer YEBBA's "How Deep is Your Love" record was called in the tie for "Best Traditional R&B Performance," Morton's Grammy hyphenate notably shifted from "nominated" to "award-winning" — and as expected, the fanfare ensued.
Literally — New Orleans welcomed Morton home with a second-line band when he stepped out of the airport. Not to mention the slew of appearances he's racked up in 2019. Among them was a spot on The Daily Show with Trevor Noah earlier this month, marking his first late-night TV appearance.
From there, he hit Hudson Yards' swanky new cultural center, The Shed, to headline the opening night for "Soundtrack of America," an ode to African-American music dreamt up by industry heavyweights including Steve McQueen and Quincy Jones.
Bear in mind, the artist has accomplished all these feats under his own boutique label, Morton Records, which he founded in 2016 after a short stint with Young Money Entertainment. All the while, he's also served as a keyboardist in Maroon 5 for nearly a decade, marking an indelible stamp on his career.
So before reliving the February 10 ceremony where Morton left triumphant, let the record reflect that the singer didn't exactly need the lauded moniker in his repertoire. He's smoothly juggled his solo career with that of his band lifestyle, all while maintaining his truth — or as he would put it "sticking to his guns" — in an industry that notoriously cranks out manufactured versions of those that dare enter its throes.
Still, "Grammy award-winning" doesn't hurt. In fact, Morton can probably attest better than anyone that "once the battle is won, they gon' wanna come."
HYPEBEAST: How do you feel with your first Grammy win and everything that's happened since?
PJ Morton: Feeling great! I've been grinding for a while and it's always good to get a reminder that you're not doing it in vain. It was a little pat on the back to keep going.
You've been instrumental to Maroon 5 over the years, and the band has received several Grammy nominations. How does it feel to increasingly see your solo work get as much notoriety?
It's exciting. I had more nominations than Maroon 5 this year and that was kind of our running joke and then I won. But they're mostly proud because they've been on this grind with me. I've been there nine years and they've always been supportive. I think it's so rare too, to see the sideman in the band also getting his shine. Some people leave and start solo careers, but I'm maintaining both.
You've had 10 total nominations and four this year alone. What impact do you think live-recording Gumbo Unplugged had on getting more nominations and your first win?
I think it had a huge impact. A lot of this is about timing. I got two nominations for Gumbo last year — the original — and I think it was a little early for people. It got the nod but it just wasn't fully there. We actually recorded Unplugged here in New York that Grammy weekend, while I was nominated for [the first] Gumbo. It gave people another year to get familiar and I think the live expression really connected with people; they felt like they were in the room. And it's all about disruption, right?
What was it like at that moment of winning and going up to accept it?
It was crazy, man, especially because it was a tie. And I had already lost one, after 10 nominations [total]. I'm comfortable with losing. I know about taking these Ls… so we got to this one and this is the one that I felt strongly about, and they said: "Ladies and gentlemen, we have a tie." They said Leon Bridges' name first and I'm like, "Aw man." Then when they said [I'd won], a weight just lifted off of me. That's all I needed that day. I had one more award to wait for and I didn't really care. It was like, "I'm a Grammy award winner." It's sitting right here.
Inauthenticity in the industry is something you've touched on before and the Grammys has faced it's fair share of backlash over the topic. What's your take on the Grammy nomination process, especially as it pertains to R&B?
In these last couple years, I think the nomination process gets it right. I was missing Teyana Taylor's record [K.T.S.E.] in [Best] R&B Album, but besides that they've gotten it right. And I believe it's because the R&B professionals, the people who live and breathe R&B music, are in those committees making sure the records that are supposed to be there are there.
I think the process that's still flawed is when it comes down to those last five, then everybody votes in these categories. Somebody who doesn't listen to R&B music or listened to two of the albums all year, they're voting for the person that they like.
But it's on both sides. The artists need to be engaged more and understand the process and know that WE have to vote in our own categories. There are a lot of assumptions that there are some big, bad ghosts or these old white guys in the room that are voting but no, it's supposed to be us. The reason it's so special is because it's a peer-to-peer award. I don't care how famous you are or how many hits you got, you're supposed to be voting in this process for it to work the way it's supposed to.
Has your approach to making music post-win changed at all?
No. I try to forget that I won a Grammy, forget how I made that record, because I did that already and the way I was able to arrive at that place was by not caring about anything. And it's a challenge because I'm aware of all that's happened. But I try to just get back to: "What do I like right now in this moment, what moves me?"
Gumbo is inspired in part by your New Orleans roots. Do you feel that you get the same hometown love as Lil Wayne, Curren$y, Master P and others from there? Has that changed since the win?
It's changed a lot, yeah. It's changed since I've been home in three years. After the win though — and I ain't do this on purpose — I said, "I'm bringing this back home to New Orleans." And man, they had a second-line band when I landed and I just got the Mayor's award at the UNCF Gala and the key to the city. So, it's really shaping up and they're knowing now that I'm there to stay and that I'm happy to be a leader in music and in general, with whatever social issues are going on.
You'll be taking on Buddy Bolden's historic home and Curren$y's relaunching one of the town's burger shops. Can you touch on the significance of investing in community?
For sure. We just saw Nipsey [Hussle] pass and it was such a huge loss and such the right mindset that he had of buying back the block. I believe in that. He was well deep into it, and I'm trying to do the same in New Orleans. People tried to buy Buddy's house and make it what they want to make it. I feel like it's important that it stays in the hands of the culture that created it and who understands it in a deeper way.
Essence Fest is also central to New Orleans and you're going to live-record an album there this year. Did your win from the live version of "How Deep is Your Love" spark that decision?
That's the thing, a lot of times when success happens it's not the first time that it's been tried. I just heard Charlamagne talking about this with Lil Duval. He puts out a song every single year and people think "Living My Best Life" was his first. He's tried it 20 times and this is just the one that popped. I've done two live recordings before Unplugged, this one just caught on. Doing another live record is part of what I do.
What's the biggest thing you want to leave with everyone now as your success climbs?
I want to lead by example. The biggest thing this [win] proved to me is that being an individual — regardless of what's going on around you — you can win that way. I went home, I signed to Young Money in 2013, left, decided to go back home and start this independent record label. And here I am nominated next to Leon Bridges, H.E.R., and all these artists on major labels and I pulled out a Grammy win. I wouldn't have been able to do that if I hadn't decided to just be myself. I hope it encourages more people to bet on themselves that way because if that seed is planted of individuality and innovation, then the future is bright.
Click here to view full gallery at HYPEBEAST