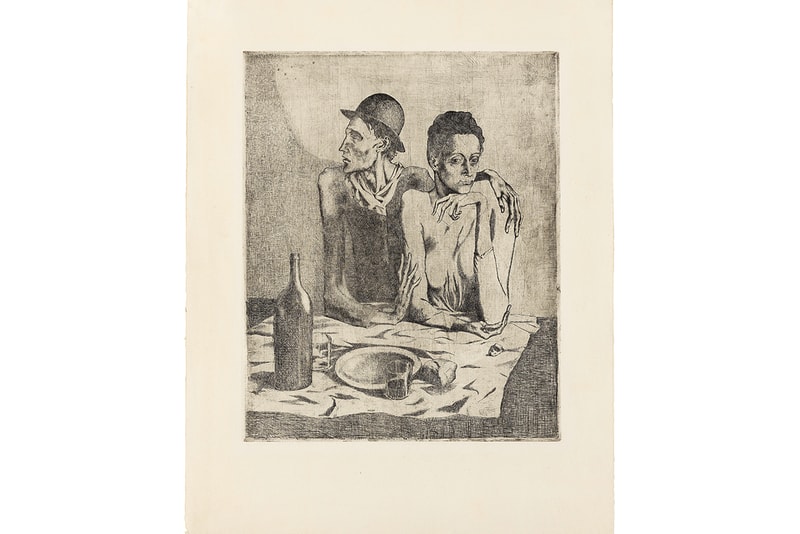 Pablo Picasso's rare first printed series of artworks is being auctioned at Bonhams as a complete set, with an estimated price set between £170,000-250,000 (approx. $215,000-317,000 USD).
The standout piece is Le Repas Frugal from the La suite des Saltimbanques series. The piece, which translates to The Frugal Meal, depicts two acrobats after the Esplanade des Invalides in 1904 on an engraved zinc plate previously decorated on by the Spanish painter Joan González.
Le Repas Frugal was made towards the end of Picasso's Rose period (1904-06) when he focussed on a body of work looking at clowns, harlequins and carnival performers. The rare original will be joined by 14 other etchings and drypoints that showed gypsies and acrobats behind the scenes, caught in private moments at their performances.
The auction block will also see pieces such as Roy Lichtenstein's Nude Reading, Shoes by Andy Warhol and Banksy's Choose Your Weapon (Dark Purple). The series of rare original Picasso's can be seen in the gallery above and check out the entire lot on Bonhams' website.
In other news, here is how auction houses such as Bonhams are trying to stay relevant to today's youth culture.
Click here to view full gallery at HYPEBEAST