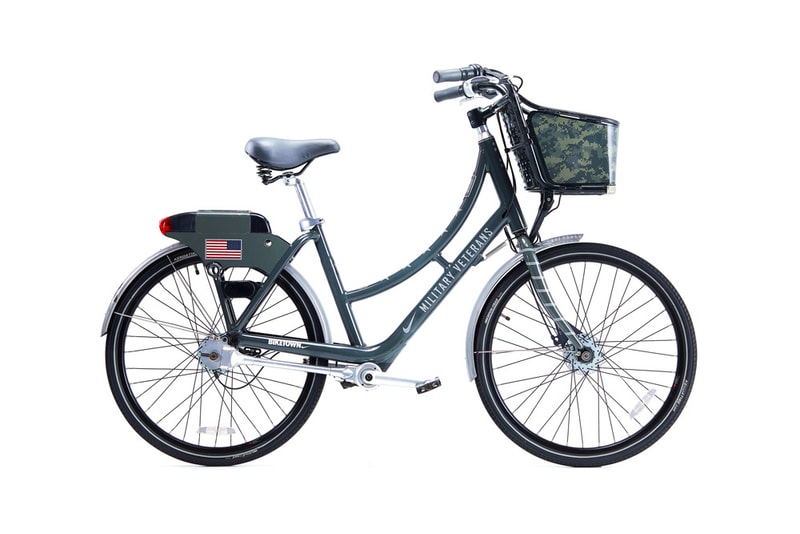 Nike BIKETOWN is celebrating Portland's military community with its new bike wrap, designing a camouflage edition that's been decked out with colors and symbols to commemorate the five branches of the U.S. Armed Forces (Air Force, Army, Coast Guard, Marine Corps and Navy). The bicycle is clad in a sequoia green and khaki palette that directly reflects the uniforms, or "cammies," used throughout the armed services.
The wrap marks the latest model under BIKETOWN's 2019 Culture Collection and was created by Nike graphic designer and Marine Corps Veteran Jason Cochran in tandem with Military Appreciation Month. In addition to specific colors, the design incorporates five silver stars for each branch and 14 hashmarks to represent the seven continents and seven seas that servicemen oversee.
A reversed U.S. flag on the frame represents the individuals who are employed, while a rose embellishment honors Portland as the "City of Roses." The camo-printed basket at the front of the bike finishes it off.
"As a proud Navy veteran, I know firsthand of the courage, conviction and compassion of those in the U.S. Armed Forces, and what invaluable community members they are. These Military Appreciation Month bikes are a wonderful way to celebrate both veterans and active-duty military in true Portland style," said Portland City Commissioner Jo Ann Hardesty.
Five bicycles will feature the special look, which are available to use now through BIKETOWN.
To learn about the Portland-based ridesharing system, catch up on the program's launch in 2016.
For more from Nike, check out master trainer Joe Holder testing out the Spring/Summer 2019 ACG collection during a Pacific Northwest adventure.
Click here to view full gallery at HYPEBEAST