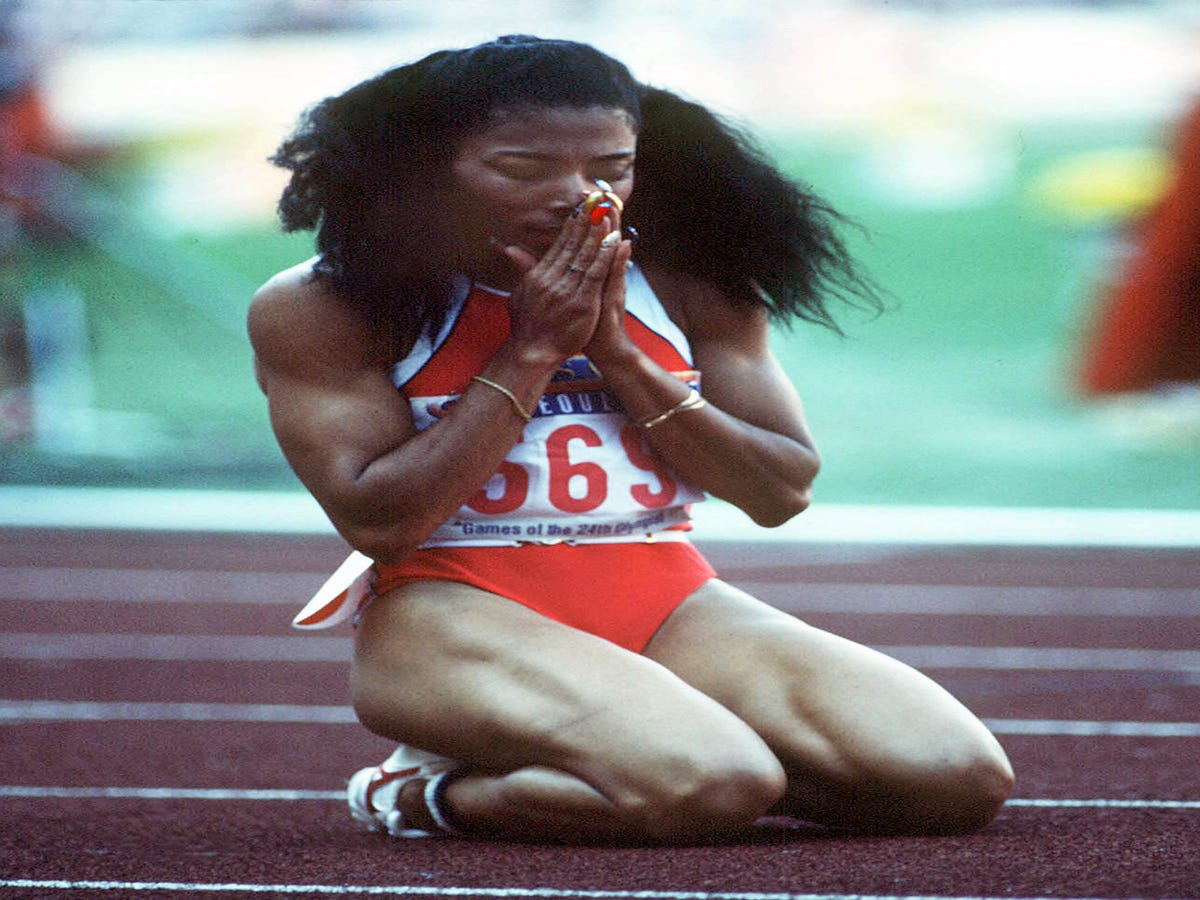 has been In a single weekend in 1988, Florence Griffith-Joyner (Flo Jo) broke the 100 meters world record three times at the U.S. Olympic track and field trials. But her manicure garnered as much attention as the fact that she'd clocked an astonishing 10.49 at the event, a record that still stands today. In an article "Griffith-Joyner Nails 100-Meter Dash Final " the Chicago Tribune pointed out how the runner wore "4-inch, curved, tiger-striped fingernails" and a solid fuchsia manicure the following day.
Raised in the Jordan Downs Housing Projects in L.A.'s Watts neighborhood, Griffith-Joyner learned to do hair and nails while working at a local salon. But her penchant for long, bedazzled manicures clearly clashed with the white, middle-class norms of the sportswriters who found brightly colored nails to be gauche compared to nude and French tip designs.
"Regardless of intention, French manicures and pastel colors signal white, middle-class, heteronormative beauty. Long, sculptured, airbrushed nails, on the other hand, are markers of blackness, sexual deviancy, and marginalized femininity," wrote Lynchburg College Sport Management Professor Lindsay Pieper in a 2015 essay. "Writers highlighted Flo Jo's fingernails as both a source of intrigue and revulsion, subtly emphasizing racial differences. Because she preferred long, colorful nails, the runner was depicted as abnormal, deviant, and different."
Griffith-Joyner died in 1998 after an epileptic seizure. More than two decades after her death, the nails the media shamed her for wearing are now making headlines in a much different way. Long, artificial nails in an array of shades and designs have gone mainstream, but the origins are separated from the Black women who routinely wore them more than a generation ago, despite being ridiculed and considered "ghetto" for their manicures. Now long, square-tipped, and bejeweled nails are more likely to be associated with a Jenner or a Kardashian than they are with women of color. Complicating the issue is that Black women comprise a small percentage of professional nail technicians, making it easier to erase them from the narrative about manicure trends completely.
The link between social class and fingernails predates contemporary designs by millennia. The ancient Egyptians and Chinese used nail shades to make class distinctions, with the most privileged painting their nails red and the least privileged wearing nudes and neutrals. Modern-day acrylics were invented in the U.S. in 1950, and African-American model Donyae Coles wore them on the cover of Twen magazine in 1966. They became ubiquitous with the '70s Disco period, with singers Donna Summer and Diana Ross rocking long, red, square-shaped acrylics with twinkling rhinestones. Flo Jo and La Toya Jackson wore intricate nail designs through the '80s. Then in the '90s, hip-hop legends like Lil' Kim, with her famous dollar-bill manicure, and Missy Elliott started a cultural wave with nail art that continues to this day.
Gracie J, the key nail stylist on TNT's Claws, a show about a Black-owned nail salon that specializes in embellished nail sets, applauds the Black women who expressed themselves with their nail art before it was commonplace in the US. "Nail art from the '80s and '90s to me was so authentic," she told Refinery29. "At a time when we [African Americans] were under a microscope of constant judgment for our aesthetics, I think these women were brave for standing in their glory, unapologetic to social norms."
If Griffith-Joyner has a modern-day equivalent, it's tennis champion Serena Williams, whose manicures have been called "outrageous " and "rule breaking." While Williams, a licensed nail tech, is described as having a "proclivity for bold, spirited on-court manicures," white celebrities like the Kardashians are framed as innovators of years-old nail trends.
"I don't think we've always gotten the credit, but we [Black women] are more daring about expressing ourselves, and nails can be a way of doing that," says Cecily Ellis of Cgoldnglam Nails in Houston, Texas. "The airbrushed nails and the bubblegum-pink nails — these are the same trends Black women have been doing for years. The long nails that Kylie Jenner and Khloé Kardashian have been wearing, women of color have been wearing them."
Kim Kardashian, for example, made headlines two years ago for taking her "game to the next level " with a pierced nail manicure. But crediting a Kardashian with the trend concerned Temeka Jackson of Custom Nails by Temeka in West Hollywood, California. "Black women were doing this, wearing pierced nails, back in the day," she pointed out. "This is not new."
As a child, Gracie J saw Black women embracing the styles most authentic to them. "The women that I know, that grew up within Black urban culture — and I'm talking about an array of women — never conformed," she says. "So growing up, it's always been dominant to me to see women have ornate nails. It's always been my norm."
Kimberly Smith, CEO and founder of Marjani Beauty, which curates beauty products for women of color, had a similar experience as she came of age in Philadelphia in the 1990s. She recalls getting long acrylic nails with hand-drawn art and rhinestone accents. "We weren't calling it nail art," Smith says. "But this has definitely been a thing for us [Black women] for a while. I've been getting acrylics and nail designs since the '90s and early 2000s."
Erasing Black women from this narrative is a classic case of cultural appropriation. But some manicurists are giving credit where credit is due, making it no secret that Black women inspired their art. Last year, Mei Kawajiri of Nails by Mei did a color-blocked manicure on model Binx Walton for an Alexander Wang campaign. In addition to bedazzling Walton's nails, Kawajiri painted them with each color of the U.S. flag, a clear nod to the patriotic manicures Griffith-Joyner wore during the 1984 and 1988 Olympics. In honor of the athlete, Kawajiri dubbed the manicure "Flo Jo Nails" and included a runner emoji in her Instagram post.
Now a go-to nail artist for celebrities, Kawajiri told Refinery29 that a stylist specifically requested the Flo Jo manicure for the shoot. As a nail artist, however, she admires how creative the track star was for her time. "I don't know who did her nails, or if she did them by herself, but it's very cool to me how she expressed herself with color blocking, glitter, and nail art without being inspired by anyone else," she says.
Kawajiri began working as a nail artist 16 years ago in Kyoto, Japan. There she mastered the embellished designs that are popular in the Harajuku district and an essential part of the Gyaru, or "gal," subculture. "I was working all day to make acrylic long nails, big giant rhinestones, 3-D nail art, and hand-painted glitter every single day," she says. "Everyone wanted to have long nails and crazy nail art." In 2012, Kawajiri moved to the U.S. and began to work with celebrities like Hannah Bronfman.
While she still does the embellished nails that she mastered in Japan, Kawaiji's American clients crave "long sexy nails" that are similar to the ornate aesthetic Griffith-Joyner wore, and her clients also turn to the '90s for inspiration. "Old-school nail art is very trendy," she says. "People get bored with the things everybody is doing now. They don't want elegant nails, especially the cool girls; they want something different."
But trying something new — be it box braids, door knocker earrings, or old-school nail art — often means borrowing from the styles that gained momentum in communities of color. "Honestly, 100 percent, this happens all the time where Black women have kind of created something, and someone from the majority embraces it," Smith says. "It could be cornrows, but calling them something different, or nail art and long nails."
But is cultural appropriation the right word to describe the shift that occurs when the mainstream absorbs these trends? Dr. Mia Moody-Ramirez, a professor in Baylor University's department of Journalism, Public Relations & New Media, believes so. "Cultural appropriation is borrowing from cultures but not giving those cultures credit or not walking in the shoes of the people who are part of those cultures," Moody-Ramirez says- "People have embraced some of the things Black people do throughout history. But when other people do it, they're praised for not being afraid to take a risk, and it's considered high fashion. The sad part is that when Black people do the same thing, it's 'ghetto.' There's a negative connotation."
When Tasha did it "omg so ghetto, absolutely no class" but Becky does it and it's "manicure sculpture " ….. pic.twitter.com/5Pm4IfInyL

— cozygirlruru 🇳🇬 (@africanruru) December 30, 2017
Co-author of the new book From Blackface to Black Twitter: Reflections on Black Humor, Race, Politics, and Gender, Moody-Ramirez says that Black women are often discriminated against for their appearance. Even in 2019, when nail art is on runways and in fashion magazines, women in the cosmetics industry say their Black clients don't feel the freedom to experiment with their style to the degree that white women can. They feel like they will be stereotyped or deemed unprofessional for their fashion choices.
A working attorney before launching Marjani in 2017, Smith didn't fully embrace nail art until leaving law to become an entrepreneur. More recently, she's noticed that the types of manicures she grew up with in the '90s have infiltrated popular culture and even the workplace, but Black women aren't given the credit for influencing these trends — and a lot of it could do with the fact that they make up a fraction of licensed nail industry professionals.
According to a 2018 study by the UCLA Labor Center, just 2 percent of US nail salon workers are Black. "Black women are not included in the conversation," says Kitiya King, founder of the nail line Mischo Beauty. "We're not included in the marketing. We're thought of as last, if we're thought of at all. I don't think it's right or fair. When you look at the buying and spending habits of women of color and Black women, we spend more when it comes to beauty and personal care."
The Black community is filled with women who appreciate beauty and can create it, too. But when it comes to nail art, very few actually go on to get licensed, says Lavette Cephus, owner of Beautè Asylum in Toledo, Ohio. When Cephus went to cosmetology school to become a nail artist, she did so with no financial aid, an undertaking some people can't afford since it can cost up to $5,000 to become a nail technician. In addition to financial barriers, the Black community may not consider the life of a nail artist to be a lucrative business opportunity.
"They don't see it as an accessible career, but it can be," says Cecily Ellis, who has worked with celebrity clients like Fantasia Barrino and Emily B. "Look at Beyoncé's nail artist Lisa Logan. She has a nail salon, and she travels, and she's an African-American female. There are also Black nail artists that work runway shows."
Since Asian people comprise the remaining 76 percent of the nail salon industry, some Black women question whether they can succeed in the profession at all, Cephus says. Reports of tensions between the two groups in nail salons don't help matters. Last summer, a dispute over an eyebrow wax at the Asian-owned New Red Apple Nails in East Flatbush, NY, turned violent, with staffers reportedly hitting a Black customer and two of her family members when she refused to pay for the service.
The conflict led to calls among African Americans to boycott Asian-owned nail salons and patronize Black-owned ones instead. But Temeka Jackson says that 14 years ago, when she was the sole Black employee at an Asian-owned salon, she ran into African-American customers who were skeptical that a Black nail artist could serve them as well as an Asian one.
Moody-Ramirez says supporting Black nail artists and Black-owned cosmetics businesses is one way to change that misconception while investing in the innovation of Black women as well. "Now, because of social media, we're getting more and more recognized," Jackson says of Black nail artists. "Instagram was very popular and many of my customers in California found me by using hashtags. With nail art evolving over time, showcasing photos has become a tool for the public to view our talent."
While Black nail technicians and manicurists have used social media to highlight their work, Gracie J says that brands can also do their part to ensure Black artists get the attention and the credit they deserve
"I would love to see brands feature a more diverse cast of nail techs and artists on their social feeds, write ups, and editorials," Gracie J says. "I'm kind of tired of seeing the same three people over and over. This is a market we need to reclaim and be a part of as much as we've influenced it."
Like what you see? How about some more R29 goodness, right here?
9 Flattering Nail-Polish Colors To Get You Ready For Sandal Season
The Nail-Art Trend You're Going To See Everywhere This Summer
9 Bright & Sunny Nail-Polish Colors To Grab Before Your Spring Mani Pedi
Source: Refinery29 – Nadra Nittle