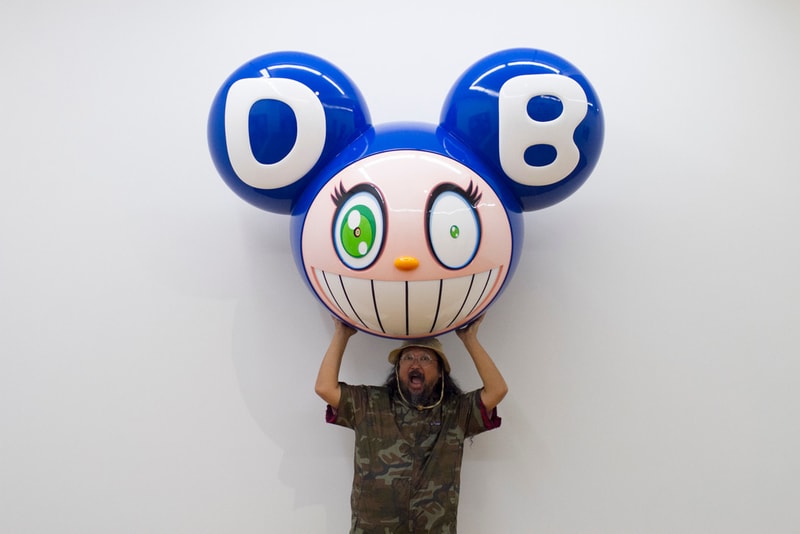 In the past few decades, Takashi Murakami has cemented his place as one of contemporary art's most influential artists. The creative polymath is internationally-praised for his extensive oeuvre that is teeming with his beloved Superflat characters in ever-changing forms.
Of all his subjects, the artist's first cartoon, Mr. DOB, is his most celebrated. The character portrays a sharp-toothed yet playful character whose name derives from the Japanese slang phrase "dobojite" or "why?". This question reflects Murakami's dissenting view of consumer society as lifeless and empty, he revealed to Artsy in a statement. In a 2001 retrospective of his work, Murakami further expressed that he came up with the anime-inspired mascot after investigating the worldwide appeal of famous characters such as Walt Disney's Mickey Mouse.
"I set out to investigate the secret of market survivability – the universality of characters such as Mickey Mouse, Sonic the Hedgehog, Doraemon, Miffy, Hello Kitty, and their knock-offs, produced in Hong Kong," he said in a statement.
From its earliest appearance to skyrocketing auction sales, read on to learn more about Murakami's ubiquitous Mr. DOB character which will continue to crop up in his practice much sooner than you think.
Earliest Appearance
© 1996 '727' Artwork by Takashi Murakami/Kaikai Kiki Co., Ltd. All rights reserved
Mr. DOB's made his fine art debut in the three-paneled acrylic on canvas artwork entitled 727. Created in 1996, the large-scale work measures 9′ 10" x 14′ 9" (299.7 x 449.6 cm). In this piece, the character rides a traditional Japanese portrayal of an ocean wave — evoking the motifs found within the historic woodblock prints of legendary Japanese artist Hokusai (1760-1849).
According to the Musem of Modern Art (MoMA), Murakami made the piece using nearly twenty layers of acrylic paint which he scraped away to create the atmospheric impressions on the backdrop — a style most observed in the Nihonga technique that was produced as early as the nineteenth century. "The work is not particularly representative of anything. It is simply a combination of all the available techniques that I had at the time," Murakami said to the institution at the time.
Success in Numbers
©1999 'Dob in the Strange Forest' (Red DOB) Takashi Murakami/Kaikai Kiki Co. Ltd., All Rights Reserved
For seasoned buyers of Murakami works, the most-coveted pieces are the Japanese artist's DOB paintings. Since its introduction in 1996, Murakami produced recognizable works of the hybrid cartoon character under a series entitled And then, and then and then and then and then. Phillips New York sold two of those original paintings in 2010 as a set for a whopping $2,000,000 USD.
The market strength of the DOB continued with the sale of the sculpture entitled DOB in the Strange Forest (1999) in red and blue versions. With slightly different designs for each, the three-dimensional artworks consist of the artist's trademark elements such as hallucinogenic mushrooms and florals with Jellyfish Eyes, but most importantly, Mr. DOB at the center of the sculptural composition. The blue piece was sold for $2,400,000 USD at Christie's New York in 2011 while the red version hammered down a significant bid of $3,000,000 USD.
Pop Culture Phenom
© 2018 Photo by Takashi Murakami/Kaikai Kiki Co., Ltd. All rights reserved
Mr. DOB started as a sizzling micro-trend in the fine contemporary art industry throughout the 90s, but now, the character has fully transformed into a popular culture phenom. Beyond the canvas, the mascot has made its mark on a number of Murakami's collaborations with standout designers and musicians. Highlights include the Japanese artist's 2003 Louis Vuitton partnership where the character was embellished on select luxury handbags. Moreover, the subject appeared in Kanye West's "Good Morning" (2008) music video directed by Murakami. Not to mention, the Internet had a case of Mr. DOB fever back in 2011 when Google enlisted Murakami to feature the subject and his trademark motifs on its homepage for the summer solstice.
Within the realms of fashion and art, the character's most recent appearance was in Virgil Abloh and Takashi Murakami's first-ever exhibition entitled "Future History" that also include collaborative merchandise.
Upon observing its many appearances in multiple outlets, it's hard to pinpoint where Mr. DOB will appear next. However, we'll offer you one hint below. Stay tuned.
Click here to view full gallery at HYPEBEAST