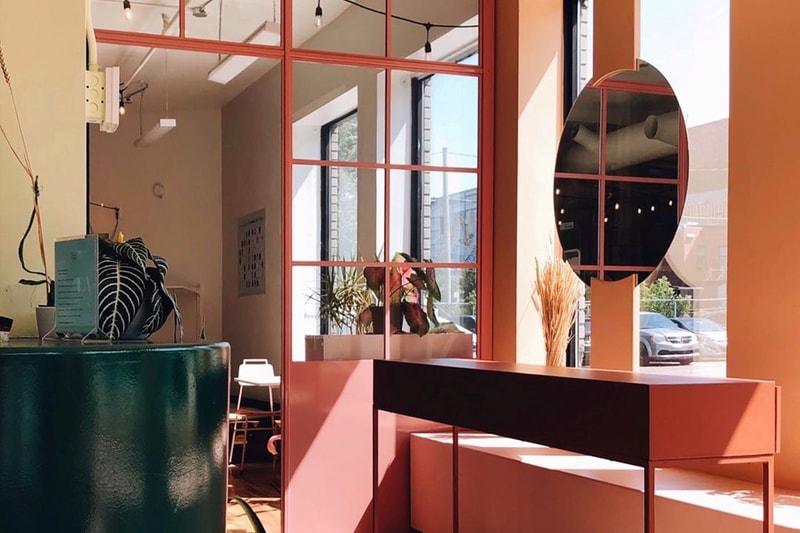 With Labor Day around the corner, we're all hoping to avoid the travel FOMO blues. If you're itching to get out of the city, there's a lot of options you can look at, and a popular, yet understated, travel destination is Montréal in Canada. With charming cobblestoned streets and trendy neighborhoods, the Canadian city is more than just a place to get poutine and practice your French.
Read on below to see our favorite restaurants and boutiques to eat and shop at in our Montréal city guide. If you still have the travel bug, check out all the best spots to visit in Copenhagen.
Eat & Drink
Calling all French food lovers, this is the spot for you. Serving up artisanal sandwiches, crêpes, homemade sweet ricotta, freshly baked goods and more, the rustic spot is perfect for a cozy meal. There will probably be a wait, but good thing the café is situated on one of Montréal's old and prettiest streets, Rue Saint-Paul, so you can have a nice walk around before your meal.
Address: 351 Saint-Paul St W, Montréal
If you're all about pastel decor, Pastel Rita is the place for you. Not only are the interiors adorable in head-to-toe pink, the space is the restaurant version of being a jack-of-all-trades. The all-day menu includes coffee, avocado toast, sandwiches and salads and in the evening, you can order a charcuterie board with wine or cocktails. On the weekends, the restaurant serves a special brunch menu.
Address: 5761 St Laurent Blvd, Montréal
Armed with third-wave coffee paired with tasty pastries, Pikolo Coffee is a local-favorite. The retro-industrial space is small, so not ideal if you're looking for somewhere to set up shop all day, but it's perfect for a quick stop through or a catch-up with a friend.
Address: 3418b Park Ave, Montréal
From brunch to dinner to cocktail hour, Foiegwa is a dining experience you can't miss out on. The American diner meets French restaurant serves the best truffle spaghetti and burgers topped with foie gras you'll find. You can order anything from beef tartare, escargot and bone marrow to milkshakes while sitting in a vintage-inspired booth.
Address: 3001 Rue Notre-Dame W, Montréal
If you've done any research on Montréal, you know that the competition for the best bagel is just as fierce as it is in New York. One of the top bagel shops in the running is St-Viateur Bagel. Fun fact, the bagels are endorsed by none other than Céline Dion and Canadian Prime Minister Justin Trudeau. While you're there, check out the bagel shop's biggest competitor, Fairmount Bagel, just around the corner to see which one you like more.
Address: 74 Avenue Fairmount O, Montréal
If you haven't eaten your fill of bagels, ice cream shop Kem CoBa is in the area as well. The local-favorite dessert spot has a rotating menu of soft-serve ice cream as well as frozen yogurt and sorbet flavors. Make sure to bring cash since they don't take cards.
Address: 60 Avenue Fairmount O, Montréal
Poutine and Montréal are synonymous, so you have to try it at least once while you're there. Reinventing the idea that poutine is just fries, gravy and cheese, Poutineville offers a vast menu of different options. From fancy poutines with braised beef and red wine sauce to "The Godfather" with Italian sausages, roasted red peppers, marinated eggplant with meat sauce and melted mozzarella cheese, the restaurant has something for everyone.
Address: 1365 Ontario St E, Montréal (Multiple locations)
 

View this post on Instagram

 

A post shared by Brittany Equina (@brittanyequina) on
If you were considering going to Montréal without trying the world-famous smoked meat, think again. The cured beef is perfectly smoked and spiced and puts all other sandwiches to shame. There's a reason why there's also a lineup out the door. If you want to skip the line and '50s-style dining, go next door to the takeout counter where you can get the sandwiches to-go.
Address: 3895 St Laurent Blvd, Montréal
Shop
Well-loved online retailer SSENSE opened up a brick-and-mortar store last year. The five-story space not only serves as the luxury retailer's flagship store, but also as an art and exhibition space that have hosted pop-ups for brands such as Maison Margiela, Heron Preston and more. The shop has a café as well if you want to stop and take a break.
Address: 418 St Sulpice St, Montréal
Think off-duty model style and you've got Editorial Boutique. The shop carries everything from streetwear-ready Aries sweaters, neon Stussy crop tops, cozy blazers and everything you need for your tactical wear-inspired outfits.
Address: 1455 Stanley St, Montréal
Originally from Montréal, Want Apothecary is a multi-brand retailer that has expanded to New York, Toronto and more. The lifestyle shop is carefully curated with fashion and beauty pieces from Acne Studios, Commes des Garçons, Grown Alchemist, Byredo and more. With a mix of 19th-century pharmacy and Scandanavian minimalism, you're bound to find something that you'll keep forever here.
Address: 4960 Sherbrooke St W, Westmount
Last but not least, our list wouldn't be complete without a sneaker shop. Find all the latest kicks and apparel from Nike, Melody Ehsani and more, and make sure to check out their entire space dedicated to Vans on the second floor.

Address: 1021 Ste Catherine Ouest, Montréal
Click here to view full gallery at HYPEBAE