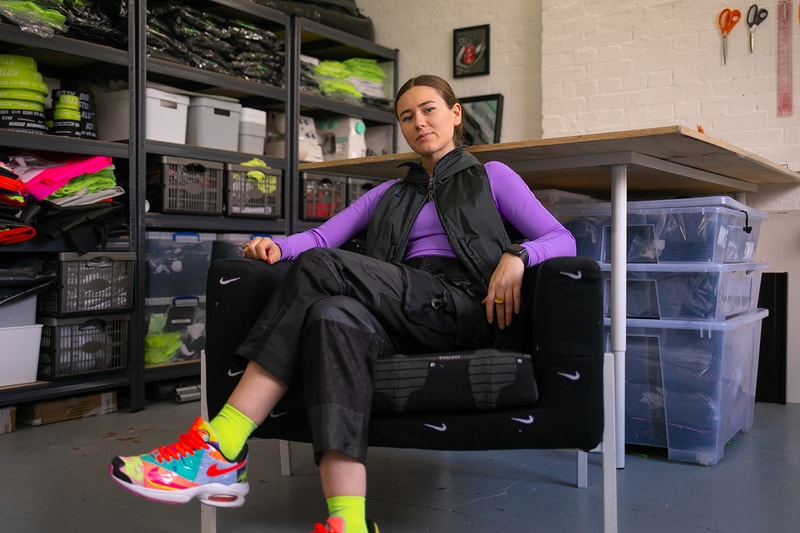 If you're on Instagram, chances are you've come across Miniswoosh and her innovative designs. The designer behind the moniker, Australian Alexandra Hackett, quickly gained a large following from posting her repurposed projects, Nike-centric pieces and more. Before we knew it, she had started her own brand.
Studio ALCH is all about the exploration of deconstruction and reconstruction, and for the label's Spring/Summer 2019 collection, the designer teamed up with Patta as well as Nike to create a selection of streetwear-ready pieces. This season Studio ALCH will be showing at London Fashion Week Men's with a runway show – something that is completely new for the emerging label, and it is only the beginning.
We had the chance to sit down with Alexandra in her East London studio to talk about her preparation for LFW:M, finding your aesthetic as well as innovative techniques and sustainability. Keep reading to learn more about the designer and her intriguing process.
Ben Awin/HYPEBAE
How did Studio ALCH come about?
Essentially, ALCH is the accumulation of all my explorative practices into a mainline label. It's a brand and platform to filter all our collaborative reconstructive pieces through, and also to exhibit our seasonal product. It began as one-off reconstructed pieces, which then transformed into small scale runs of exclusive product, which then developed into the mainline range it is today.
What does your day-to-day work look like? How are you preparing for the upcoming London Fashion Week Men's?
I usually work Sunday through Friday, starting off answering emails (although honestly that sometimes consumes your whole day). We test a lot of materials and processes in-house and work on small-scale reconstructive production runs in house too, so I work on that regularly. We tend to work on three seasons at once but at the moment, we're specifically preparing for our debut runway show at LFW:M in June. Right now, we're focused on getting samples into final products, working on the range plan and preparing the collection to show.
What does your creative process look like?
I have a very hands-on approach, designing through making as opposed to drawing. I've never been much of a sketcher or draper, always designing through pattern cutting and sampling and working with materials in hand.
Ben Awin/HYPEBEAST
Where do you find the inspiration behind your creations?
I'm really interested in exploring non-conventional fabrications and reconstructing pre-existing products, so I always begin by looking at materials around me that exist outside the fashion world. I'm super inspired by the tactility of materials on the street, but also in the idea of questioning functionality through design.
You use a lot of non-traditional fabrications as well as innovative techniques. How do you choose the materials you work with?
I've always been fascinated by the juxtaposition of traditional techniques of making, with materials and planar surfaces that exist within different industries. I've worked with a wide variety of materials, from food products to packaging, disposed plastic to security tags.
How did you find your own unique aesthetic? Did you always know you wanted to work in fashion?
As cliché as it may be, I always wanted to design clothes. My first internship was for a bespoke evening-wear designer ten years ago, where I was hand-beading and applying intricate lace-work to wedding dresses and ballgowns. Although my practice is so vastly different to that studio, that really cemented my love for the process of creating. I guess I found my aesthetic through always making pieces that interested me, and what I wanted to wear — products that I didn't feel existed in the current marketplace, but also questioned conventional ideas of practicality.
Ben Awin/HYPEBEAST
You focus a lot on sustainability and upcycling, why do you think this is important in the fashion landscape of today?
I think sustainability is such a hot topic at the moment, but it's really something that needs to be considered long-term and at every level of the business. There are different ways to contribute to this, but I do think it's really important to be considering how every new product can be part of a cyclical structure. It's not just about designers and manufacturers though, consumers also need to assess their purchasing habits, too.
If you could give one piece of advice to young girls out there looking to pursue a career like yours, what would it be?
Learn technical skills. Design is maybe 5-percent of the business, so it's really important to be prepared for the other 95-percent as best you can.
Click here to view full gallery at HYPEBAE