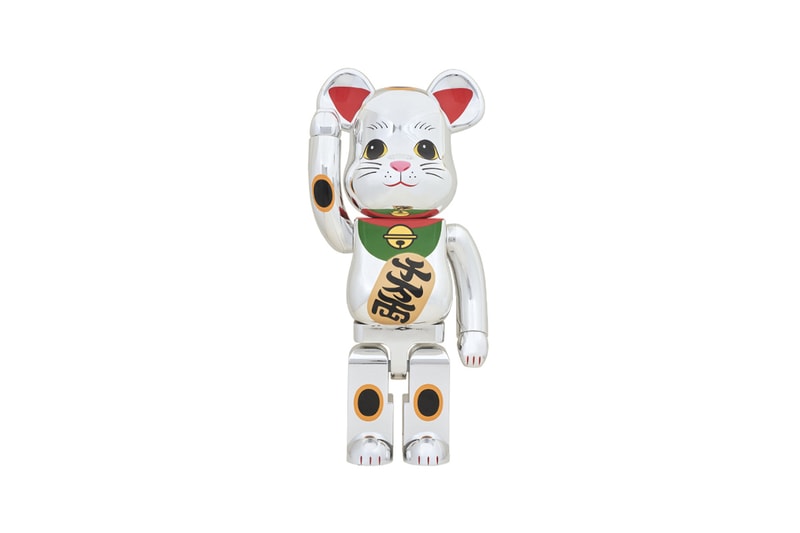 Following its STARDUST BE@RBRICK pendant that dropped just recently, Japanese toy stalwart Medicom Toy is releasing another shiny figure, this time in the form of a silver-plated cat.
Coming in the 1000% size, the figure sees a shimmering metallic finish that's painted over with details that depict a Japanese maneki-neko, which means "beckoning cat," translated directly. It's often either made of ceramic or plastic and meant to bring good luck – a raised left paw means customers will come, while a raised right paw means money and good fortune are on the way.
The BE@RBRICK's head is scrawled with prominent features like red ears, subtle eyelashes, big round eyes, a pink nose and long whiskers. A yellow bell dangles below the neck, while a gold ryo is placed over the belly. Other highlights like the painted knees, elbows and curved tail round up the details of the figure.
The Medicom Toy BE@RBRICK "Beckoning Cat" in 1000% will be available for raffle exclusively at the Tokyo Sky Tree Town Soramachi location for $492 USD. The raffle starts at 11 a.m. EST, August 3 and ends at 11 a.m. EST, August 4.
Elsewhere, Raf Simons has dropped a quartet of finely crafted metallic keychains.
Click here to view full gallery at HYPEBEAST