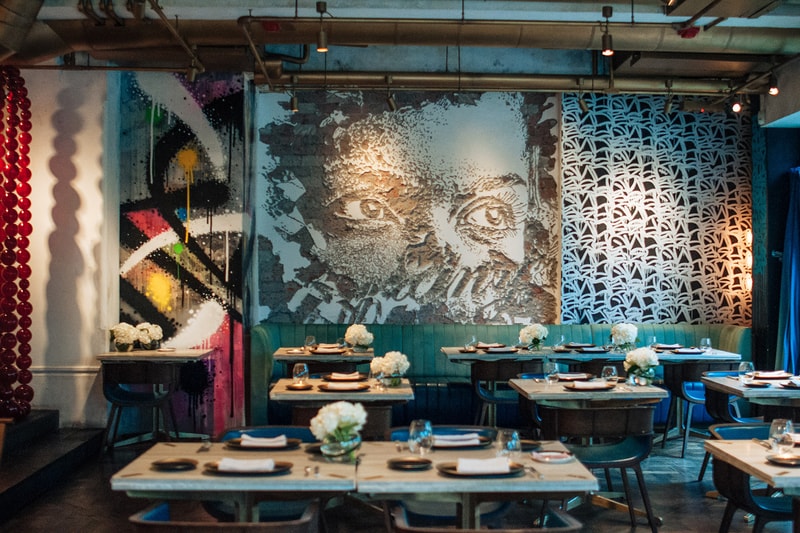 Most locals will know Bibo as one of the city's most stylish hidden gems – hidden within the walls of its speakeasy-like exterior is some of Hong Kong's most applauded, award-winning French cuisine. If you were to stroll past the doors of Bibo, you might very well miss its unassuming entrance and walk right by. Blending in with its surroundings, its subtly sleek wall of small blue tiles perfectly complements a long, brass-like door handle that will certainly not help you gain entry when pulled or pushed. Instead, an almost imperceptible button sits atop the handle and when pressed, will then prompt the restaurant's doors to slide open.
From the first moment that you step into the inside of Bibo, you get the sense that you're finally joining in on a well-kept secret. As you walk through the foyer adorned with works by the likes of celebrated street artist OBEY, Shepard Fairey, you begin the tight descent down a narrow staircase that is as fraught with anticipation as it is artwork. As you finally emerge into the establishment's main area, a ridiculously modish bar greets you from the opening's right flank. Moving further through the restaurant, you are confronted with an onslaught of works from some of this generation's most prolific artists. From a piece by Daniel Arsham "oozing" out of an overhead vent, to metallic balloon animals by Jeff Koons peppered throughout the bookshelf alongside Yayoi Kusama sculptures and KAWS figurines, Bibo is an oasis for fans of street art.
When you arrive in the main dining area, you will see a large-scale mural by Vhils on your left, contrasted by vibrant works by Space Invader and Mr Brainwash on your right. Surrounded by so many generation-defining works, it may be hard to focus on the real reason why you're at Bibo: to eat delicious food. Ushering in the new spring season, chef Nicholas Chew introduces an all-new contemporary weekend lunch menu.
Inspired by his culturally diverse culinary background that includes styles such as Japanese kaiseki and French haute cuisine, the new menu is truly unlike anything you've ever experienced. Two seasonal menus are introduced alongside either wine pairings or free flow champagne, making the experience a delectable treat for the weekend. Among the entrées are options such as eggplant with quinoa, miso and mixed herbs; celariac with a delicate uni raviolo; scallops cooked with cauliflower, haddock and coconut foam; and an abalone "casserole" with cassoulet and capers. For mains, an eclectic roster includes octopus, kinmedai, pigeon and wagyu miyazaki.
Finally, rounding off the meal is a sprawling selection of desserts: dacquoise ice cream with strawberry and ash; baba au rhum with orange and coffee (for those who love a good kick, the alcohol in this one is delightfully strong); a tangy cream of passionfruit and lemon; a chocolate "trio" sandwiched between paper-thin wafers; and a cheese selection, of course.
The Bibo weekend lunch menu is available on Saturdays and Sundays only. You can select either the "3 Steps" menu (1 Entrée, 1 Plat, 1 Dessert) or the "5 Steps" menu (2 Entrees, 1 Plat, 2 Desserts), with the option of 3 wine pairings, 5 pairings, or a champagne free flow experience.
Bibo
163 Hollywood Road, Sheung Wan, Hong Kong
Click here to view full gallery at HYPEBAE