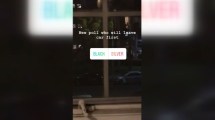 Parking in Los Angeles is awful and now the world knows it thanks to one Twitter user who documented, in real-time, the pettiest parking showdown we've ever seen.
Photo Credit: Mariah Flores
This story uses functionality that may not work in our app. Click here to open the story in your web browser.
Source: NBC Southern California – Southern California News – WHITNEY IRICK and GORDON TOKUMATSU