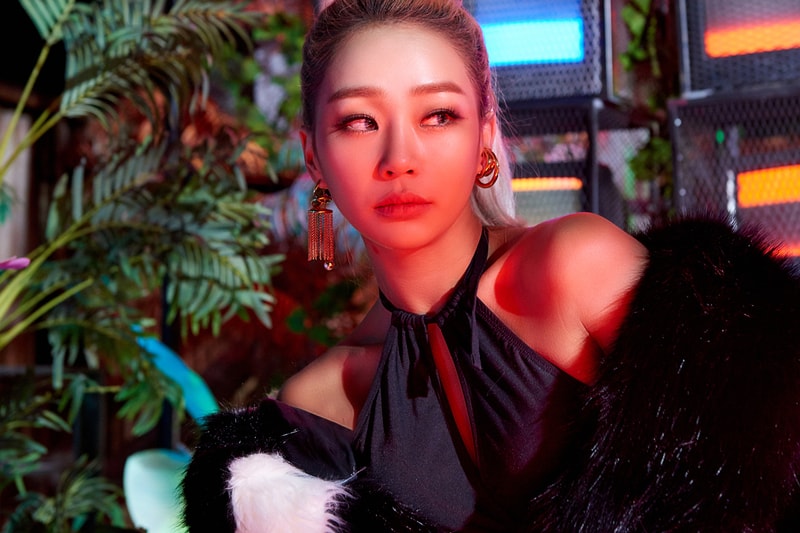 Formerly the leader of prominent girl group, Sistar, K-Pop singer Hyolyn has reinvented herself as a solo act — showcasing her prowess as an artist. Sometimes, a diva from a Broadway act, sometimes a powerful musician singing melancholic ballad tunes, the young artist is, "still challenging herself," even when she seems to constantly exceed her fans' expectations. Just over a year into her new project, her single "Dally" has garnered over 10 million YouTube views and she continues to work on new music.
Digging into the artist's process and inspiration, we took a day-long journey with Hyolyn in the new KIA Soul — a car with a name which resembles her approach to her art. We started at an industrial garage, driving along the idyllic coastal roads of Los Angeles, and finished off the day by cruising through the night streets. Along the way, Hyolyn shared her aspirations and sentiments about her journey. Read the full interview below.
What does the word "soul" mean to you?
I'm constantly attracted to the word "soul" and that's why I have always had this love for R&B music. It means spirit, and is associated with genuineness and originality, so that I would say it's a word that speaks for itself.
It's been a year since you've gone solo – What was it like leaving a K-Pop group with a huge fan base like Sistar.
I started off the solo project without any specific preparation, so it's still a continuous challenge. But that's something I learned about myself while being a singer: that I like challenges. I love the feeling of growth when I achieve something I wasn't able to do before. It's definitely a worthwhile experience even when you get hurt or find yourself in a pinch.
You went on a club tour in the US last year – How was that experience and did anything surprise you?
The club tour was a whole new world. I'm a lot shyer than I look, except for when I'm on stage, and club performances are so much more intimate with the crowd being right there. It feels like I'm breathing with the audience. Each performance wasn't easy, but I was surprised that from the very first song, the audience knew the lyrics, and we were singing and dancing together. It was totally a priceless experience.
You've been described in many ways: singer, rapper, diva and artist. Which title do you prefer the most?
Artist and diva. I don't want to only sing ballads or make music which is only about performance. I want to show everything that I am capable of as a singer. My goal is to go on a tour, and I don't want a single show to be boring, which means I must exceed people's expectations. I would like my audience to feel that there were many people performing at one show and not just me.
Showing different facets of your artistry is similar to KIA Soul's new colorway. What was your first impression of the car?
First, I love this color. I heard its name is 'Mars Orange' and it just seems so rare and exotic. The color reminds me of LA as well, and the indoor lighting is very attractive.
Yes, the lighting can be set to different moods like natural lighting. We all know that lighting is what creates atmospheres.
That's true. Cars are the most private place for drivers, and the versatile lighting amplifies my emotions when listening to different types of music. I think the many colors of Soul's mood lighting and its speakers are the most special part of the car.
When you went solo, was it about being free of expectations or was it more about personal success?
I get this question a lot, and I always say that I came out as a solo artist to become a better artist, not to simply become successful. I'm now less exposed to the public because I don't go on TV appearances as much as I did before. That's why I debuted as a solo artist during a concert last November.
Is that related to why the name of the concert was True?
I came up with that name because I literally wanted to share my real feelings, for example, why I broke out as a solo artist and what could I bring to my fans? During the concert, I shared a video that captures my ups and downs of the past year.
How did the fans respond to your first solo concert?
I liked my fans' reaction because they were like "Hyolyn went through so much in just one year" not like "the concert was great." I also purposely changed the set list from Sistar hit songs to my solo songs to show my musical journey. The members also came and told me that they cried watching the video.
In your music video for "Dally" you seemed adventurous.
Right. "Dally" certainly has something that Sistar's Hyolyn would never do. But it's hard to describe in words because I've released only one track for now.
…And it easily surpassed 10 million views.
That's why the song means so much to me. I had creative control over everything from song writing to choreography. I DM'd Aliya Janell on Instagram for a collaboration. That whole process was so much fun. I flew to LA to meet her and played my track, and she came up with this wonderful choreography. We did everything on our own without any help of personal hair stylist and make-up artist.
You also collaborated with Korean producer Gray on the track "Dally." Do you have any other musicians that you want to work with?
There are so many producers that I would like to work with and create synergy out of the collaboration. I'd love to work again with Gray and also with Zico. Among American artists, I'd say Chris Brown because I think he is the best performer out of all. Besides him, maybe Pharrell Williams or Tyga.
By the way, do you have plans to release any new tracks in the near future?
Of course, there are a few unreleased tracks. I have previewed an unreleased song at my concert and haven't officially released it yet. Actually, previewing unreleased tracks gives me goosebumps. I get to exclusively share the song with my fans who came to see me at the concert. The song is called "You Know Better."
Do you have any plans to change your look in the future?
I have this ideal image of a diva, for instance, the confident attitude of a woman in the American film Burlesque or a Broadway musical. I would love to wear heels and try the fierce look with the clothes that show the beautiful curves of a woman's body. Also something dope, like my role here, in <Soulful Vibes Only>. In front of this car, I don't have to show aggressive dance moves to create a certain atmosphere.
"Soulful Vibes Only" seems to be a theme for you right now. Will you continue riding the road less traveled from now on?
I will keep trying different things on top of everything that I have shown to the public so far. Also, I really wanted to share my story in this interview: as a child, I went through two diseases called biliary atresia and intussusception, and I got this cross-shaped tattoo to cover up the scar. I want to give hope to children with rare illnesses and help them overcome as I did in my life. I hope to be a good role model for them by staying healthy.
Source: HYPEBEAST