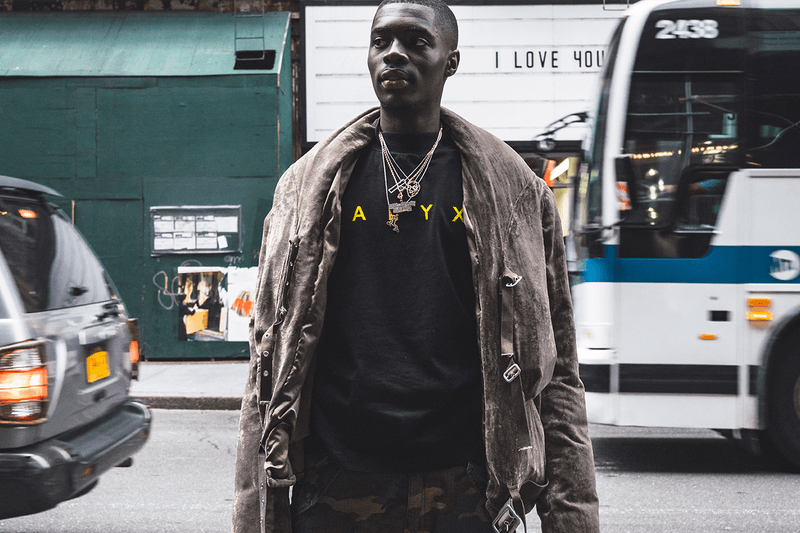 Singer Justine Skye has accused Sheck Wes of abuse. She took to Twiter Monday night (Feb. 11) to reveal that Sheck Wes reportedly abused her in the past when they were a couple and most recently claimed that he along with a group of men stalked her and her friends and then attacked them.
"You're pathetic Sheck and you beat women," she wrote in her first tweet. "You hit your girl before me and you'll do it again." In the same tweet, she states that she was on a walk "with my friends and my man" when the alleged incident took place. It was recently revealed that her boyfriend is GoldLink, who addressed the abuse allegations against Sheck Wes in a song called "Justine's Interlude" earlier this year.
In the early morning hours today (Feb. 12), Sheck Wes took to Twitter to addressed the allegations. "I've chosen to remain silent until now out of respect for actual victims of abuse," Sheck wrote. "But I cannot stand by while lies are repeatedly told about me. I never hit or beat any women and I did not beat up or jump anybody."
Skye has since responded to that statement by releasing a text conversation between herself and Chase B, who's the DJ for both Sheck and Travis Scott. Reading the text exchange, Skye writes that she's "terrified" and thinks that Wes was "breaking things" while she locked herself in a room and waited for help. She later shared footage of Sheck Wes jumping a gate to her what appears to be her residence, claiming that the rapper later attacked her.
On Oct. 23, Justine Skye spoke about experiencing domestic violence in an Instagram post about her new video for "Build," but refrained from naming anyone. "Recently I've had one of the scariest/heart breaking experiences in my life and it's still hard for me to talk about," she wrote. "I felt stupid, angry, depressed…blamed myself. Trying to figure out how someone who claimed they loved me so much could find such evil within themselves to hurt me mentally and physically."
"I never said who it was because I knew it wouldn't matter to a lot of you," she wrote on Twitter in November, explaining why she never initially named Sheck Wes as her abuser. "That's just the reality of it. But I made a video about it in hopes that it can inspire someone else get away [from] their abusive partner. That was my goal."
See tweets below.
Taking a walk with my friends and my man and Sheck Wes (my abuser) and his friends decide to STALK US and attack my friends.. two cars full of niggas while he sat in the car like a bitch. You're pathetic sheck and you beat women. You hit your girl before me and you'll do it again

— Justine Skye (@JustineSkye) February 12, 2019
You're pathetic… and all the people defending you, ya whole bitch ass label.. everyone. You spreading lies about me. Moral of the story is, if you never put your hands on me.. you wouldn't be in this situation and you just keep making it worse.

— Justine Skye (@JustineSkye) February 12, 2019
I've chosen to remain silent until now out of respect for actual victims of abuse. But I cannot stand by while lies are repeatedly told about me.

I never hit or beat any women and I did not beat up or jump anybody.

— Sheck Jesus (@sheckwes) February 12, 2019
I literally have footage of you jumping over the fence of my crib to attack me Sheck… your lies are even more disrespectful https://t.co/1idhM1p6Ue

— Justine Skye (@JustineSkye) February 12, 2019
All your friends know what happened pic.twitter.com/ojG2ODugmY

— Justine Skye (@JustineSkye) February 12, 2019
Are you going to lie now and say this is not you too? pic.twitter.com/yGyEmIr3WN

— Justine Skye (@JustineSkye) February 12, 2019
Click here to view full gallery at HYPEBEAST
Source: HYPEBEAST