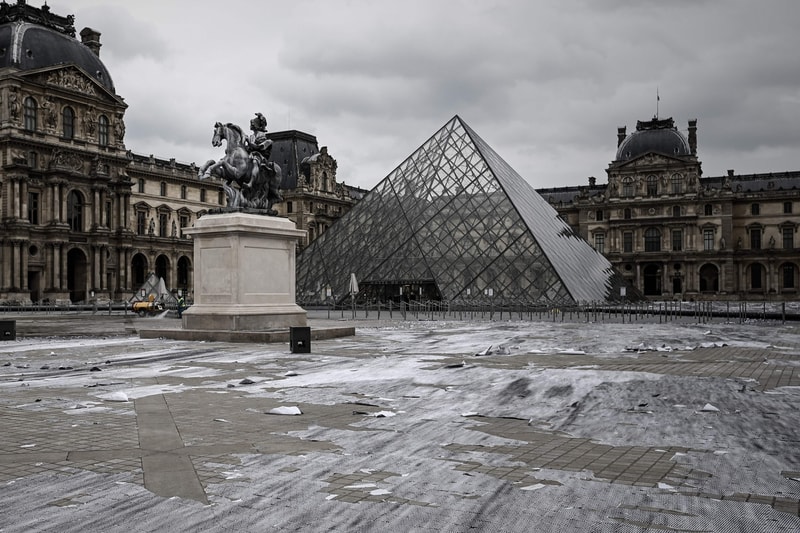 To celebrate the Musée du Louvre pyramid's 30th anniversary and to honor late influential filmmaker Agnes Varda, French street artist JR — aka Jean Rene — employed 400 volunteers to put together a huge optical illusion collage last Friday at the museum grounds. The installation understandably gained popularity very quickly and large spectating crowds amassed at the Louvre to enjoy the piece. To many art lovers' dismay, however, the 2,000-plus sheets of paper glued to the ground were torn up to shreds as a result of audiences walking over the installation, reversing the hard work of JR and the 400 volunteers in a single day.
While some considered this almost as a display of public art, The Guardian reported that many art enthusiasts took to Twitter to voice their disappointment, with tweets such as "really disappointing bad experience today for the Louvre pyramid's 30th anniversary". The artist himself, however, possibly may have predicted this outcome, and appeared completely unphased. Commenting on the situation on Twitter, JR said that "The images, like life, are ephemeral. Once pasted, the art piece lives on its own. The sun dries the light glue and with every step, people tear pieces of the fragile paper. The process is all about participation of volunteers, visitors, and souvenir catchers." He continued in another tweet that "This project is also about presence and absence, about reality and memories, about impermanence." While the construction of and the finished piece itself was awe-inspiring, perhaps the destruction was just as beautiful.
Art lovers should also check out this KAWS painting that auctioned for a record-breaking $14.8 million USD by Sotheby's Hong Kong.
Can't believe this happened ? merci @museelouvre ! #JRauLouvre pic.twitter.com/mPC4Hw2Wlt

— JR (@JRart) March 31, 2019
The images, like life, are ephemeral. Once pasted, the art piece lives on its own. The sun dries the light glue and with every step, people tear pieces of the fragile paper. The process is all about participation of volunteers, visitors, and souvenir catchers. pic.twitter.com/vNArYszXxo

— JR (@JRart) March 31, 2019
This project is also about presence and absence, about reality and memories, about impermanence. pic.twitter.com/ic1vlqXjvG

— JR (@JRart) March 31, 2019
Click here to view full gallery at HYPEBEAST