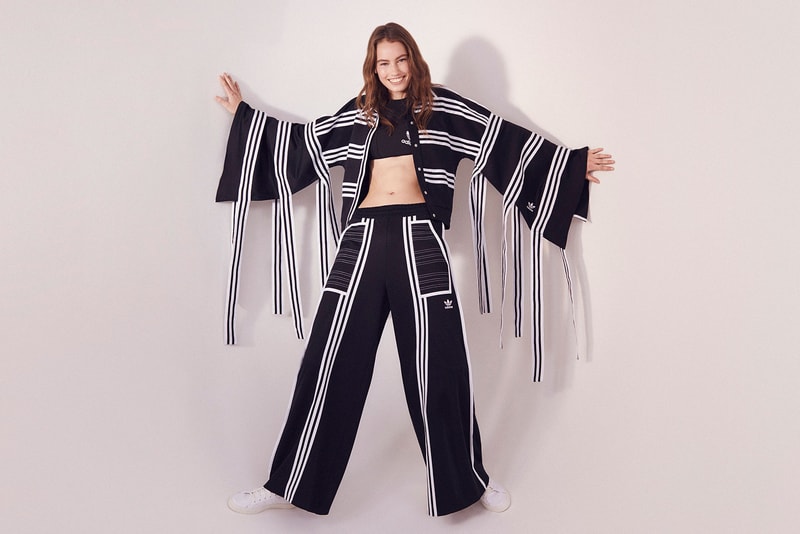 Earlier this year during London Fashion Week, designer Ji Won Choi made her breakthrough with her first collaboration with adidas Originals featuring a bold color palette. The emerging creative has revealed her second chapter with adidas, this time for a range of striking black and white looks.
The lineup includes sporty and comfortable pieces with some notable design details. Along with the sportswear giant's signature three stripes, the collection includes elements inspired by Korean traditional clothing. Items range from tracksuits, shorts and wide trousers to jumpsuits and swimsuits, arriving in unconventional silhouettes and with fresh design elements.
We sat down with the designer to learn more about her inspiration behind the collection. Read on below for what Ji Won Choi has to say about her collaboration with adidas, and scroll through the galleries to take a full look at the range.
 

View this post on Instagram

 
How would you describe your approach to adidas' classic Three Stripes tracksuit?
Because the adidas classic three stripes tracksuit is so iconic, I definitely wanted to keep its famous elements like the fabrics and the casual ease. I did want to bring in fresh elements, so I decided to take what is iconic and repeat it over and over throughout each garment to amplify and highlight the three stripes. I also added binding to the edges to give a 2D effect and brought in elements such as silhouettes and the hanging straps that are inspired by my Korean heritage. I really ended up being a mix of two worlds.
What is your design process like? Do you start with the concept or the details?
I always do start with the concept when I start designing. I think it is important to establish the concept and the idea that I want to convey and then move on to the design of the details that fit around that. For this collection, I knew I wanted to incorporate my Korean heritage and the iconic adidas three stripes. Once that was established, I moved onto figuring out how I could bring in silhouettes and interactive straps that could support these concepts.
Why did you choose to stick with a monochromatic black and white color palette this time around?
Color is something that I love, but a monochromatic black and white color palette made sense for this drop, because it just allowed for more possibilities! It's easier to mix and match black and white, and it really brings a completely different vibe than the color drop did. The color was very youthful and playful, and the black and white gives off an energy that is effortlessly chic and sophisticated. I also loved seeing all the black and white looks together and it looking like a 2D abstract mass of stripes going in all different directions.
Which look in this collection is most you?
Every single piece has a part of my soul in it! But if I had to choose, I think the jacket with the straps hanging from the sleeves is the most me. It definitely is a statement piece, and I love making clothes that are special, can't be mistaken for another item, and stands out on its own. I think that jacket really embodies the spirit of the collection and captures the main idea of the merge between a classic adidas tracksuit and my Korean heritage and individuality that I was inspired by.
What's next with adidas?
What's great about working with adidas is that I really feel like I'm a part of this family now. They are always very open to new possibilities, and we will just have to wait and see what's next!
Click here to view full gallery at HYPEBAE