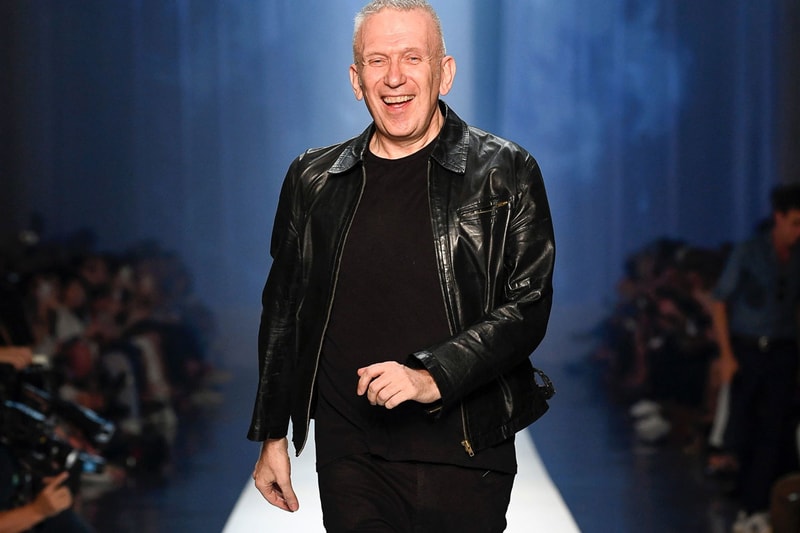 Legendary French designer Jean Paul Gaultier hasn't produced a ready-to-wear collection since 2014, which makes his newly-announced Supreme collaboration particularly surprising. Not only is it a seemingly unexpected choice by Supreme, but Gaultier's recent reticence towards conventional clothing makes him an unlikely streetwear partner. However, the cacophonous creations of "French fashion's enfant terrible" have shocked the fashion elite since the early '80s, reflecting a rebellious streak that mirrors the anti-establishment ethos of Supreme's previous collaborators, Gilbert & George.
Gaultier's career was kicked off by a fascination with streetwear. "I was super influenced by streetwear [in the early years,]" Gaultier told us last year. "I think it's great. But it has to be at the price of streetwear. I don't like when it's kind of a plagiat (plagiarism) of streetwear."
Though this collaboration may revive Gaultier's relevancy, the designer has never really left the industry; he continues to introduce new fragrances and design couture. Haute couture has been speciality of the Gaultier brand since its inception, serving as a true expression of Gaultier's unmatched ingenuity. He's more than earned his place in fashion history; New York's Madame Tussauds wax museum even has a figure of Gaultier on display.
Spring/Summer 1994 (Condé Nast Archives) / Spring/Summer 2002 (Imaxtree)
Fall/Winter 2010 (Monica Feudi / GoRunway.com) / Spring 2012 (Yannis Vlamos / GoRunway.com)
At the tender age of 24, Gaultier hosted his first runway show in Paris after working for French idiosyncratic Pierre Cardin, garnering attention from editors at major fashion magazines for his sharp eye for detail and whimsical, opulent clothing. These included delicately layered tulle dresses, a brief array of trim tailoring and graphic shirting, a rarity at cultured French fashion events. Around the same time that COMME des GARÇONS and Yohji Yamamoto were shocking French buyers and journalists with their all-black, heavily-deconstructed collections, Gaultier was providing a different kind of high-low asynchronicity. "What is masculine and what is feminine, anyway," Gaultier asked Out. "Why should men not show that they can be fragile or seductive? I am only happy when there is no discrimination."
Menswear in the early '80s was all about appealing to conventionality with sophisticated styling and relaxed power suiting. Gaultier refuted the norm sending street-cast models down the runway wearing skirts and kilts. The designer suited up his inclusive, multi-racial cast with faux tribal tattoos, bridal veils and nose piercings, drawing influence from oblique sources like pirates, Buddhist monks and Hasidic Judaism (Fall/Winter 1993, "Chic Rabbis," made a fan of Kurt Cobain). All the while, Gaultier proved his acumen with exquisite craft and subtle nods to his forebears, delivering smoking jackets indebted to Yves Saint Laurent and short dresses inspired by Cristóbal Balenciaga.
Spring 2011 (Yannis Vlamos / GoRunway.com) / Fall/Winter 2018 (Yannis Vlamos / Indigital.tv)
Fall 2012 (Yannis Vlamos / GoRunway.com) / Spring 2013 (Rainer Torrado/Jean Paul Gaultier)
His divisive work on the runway won Gaultier plenty of critics, but he also drew celebrity admirers like Madonna, who walked his runway and wore his iconic pointy bra on her Blond Ambition World Tour in 1990. This initiated several requests to create movie wardrobes, including The Fifth Element and a series of Pedro Almodóvar films. Marilyn Manson wore several Gaultier creations in 2003, the same year that Gaultier became the creative director of Hermès, where he remained until 2010.
Currently, Gaultier continues to design haute couture collections, demonstrating his boundless sense of creativity — though recent shows have been reigned-in compared to his earlier wanton presentations. Even though he no longer designs ready-to-wear, the designer's influence can be found across the industry; Gaultier mentored a young Martin Margiela in the mid-'80s — in reaction to Gaultier's debut 1976 presentation, Margiela told Vogue, "I was seized by an excitement I had never felt before." John Galliano's lavish '90s presentations are almost a direct ode to Gaultier. Gaultier also broke down barriers in casting, representing men and women of all ages and body types in his earlier presentations just to further thumb his nose at the fashion establishment.
Though his name lacks the street cred of, say, Gucci and Fendi, Gaultier's '90s-era glasses and belts found early supporters in musicians like Kurt Cobain and still have an audience with fashion-conscious rappers like Big Sean and Wiz Khalifa. The archival movement has latched onto his irreverent designs, including mesh shirts and heavy metal-inspired handbags, while his signature sailor pants, fur coats and all-over-printed T-shirts remain relevant to a core group of devotees.
Wiz Khalifa wearing vintage Gaultier 6106 sunglasses (Kevin Winter / Getty Images) / Kourtney Kardashian wearing vintage Gaultier shirt (Allen Berezovsky/Getty Images)
Gaultier and Madonna at the Met Gala 2018 (Frazer Harrison / Getty Images)
One could argue that the radically anachronistic designer has never been more relevant to the industry. "I think there is too much of everything, not only designers. I think it's like, concentration, there is too much clothes, and not a ton of people to buy it," Gaultier said. "But, I think it's a moment of big change. There is something social that happened, now it's like a mutation, social also with the internet… Every time, even on the clothes, it's only reflective of what's happening in society."
Gaultier has proven himself to not only be prescient, but progressive, constantly taking steps that push the fashion dialogue forward. The Supreme collaboration is less about the skate brand smartly selecting key influences or paying homage. Instead, it's about acknowledging Gaultier's undeniable influence on fashion designers that dare to go against the grain. Much like Supreme itself, Gaultier's sterling legacy as a disruptor has already been cemented, the collaboration is simply an opportunity for a new generation to discover it for themselves.
Click here to view full gallery at HYPEBEAST