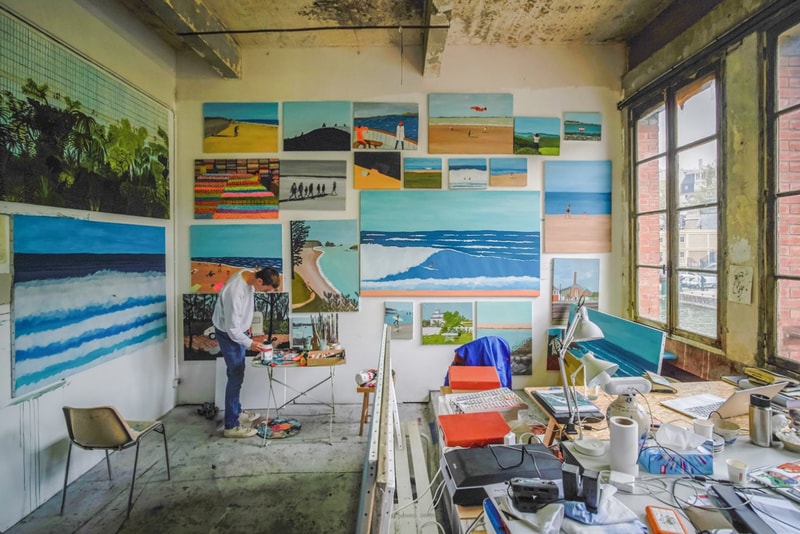 Jean Jullien is internationally-lauded for his minimalist visual style across illustrations, paintings, animations, installations, apparel collaborations, and more. The Paris-based artist will soon kick off a major solo exhibition entitled "The Aromatics" at the Chandran Gallery in San Francisco, California.
For the latest presentation, Jullien will present a total of 35 paintings that have all been made at the beginning of this year. Portraying relaxing beach scenes, the vivid compositions of these pieces were originally inspired by the artist's personal photographs and sketches of distinct moments. The show will be open to the public starting today until June 9.
Ahead of the exhibition launching later today, we spoke with Jullien in a rare discussion to learn more about the pieces that will be on display at Chandran Gallery, how he developed his style throughout the years, as well as multi-tasking between client projects and original works.
Read the full interview below.
Chandran Gallery
"I can get super stressed by commercial work and painting feels almost therapeutical, it really relaxes me so I like making it a moment."
What are the influences behind your new body of work for "The Aromatics"? Is there a central theme?
It's a collection of memories from places I've been to over the years. Things I've drawn in my sketchbook or photographed that I've now decided to put onto canvas. It's also a work on discreet narratives and relatable moments. The people in the paintings are mostly faceless. To me, they are specific people who were there at the time, but to the viewer, it could be anyone.
How long did it take you to develop this body of work? How many pieces are on display?
There are 35 pieces in the show. All produced since the beginning of 2019. It always takes me a bit of time to get into a new series as I oscillate between commercial work/ drawing and more personal paintings. But I like this about painting, I have to get into a "zone" so to speak. I can get super stressed by commercial work and painting feels almost therapeutical, it really relaxes me so I like making it a moment.
How do you come up with the titles of your shows? Does the concept or work come first?
There are red threads throughout most of my work, be it drawing, volume, animation or painting. So from these, I produce a body of work that's consistent (I hope) but that has certain differences and themes that I gather when I do shows. For this show, it was about places I've seen and moments I've experienced, alone at times but mostly with friends and family. So the people you see in the paintings are all "real" but the graphically minimal way in which I've depicted them makes them more discrete and relatable in a way.
Chandran Gallery
"I like getting things out of the sketchbook and into the world."
Are there materials that you want to experiment with that you haven't used in your works before?
I'd love to do more volume. Big sculptures, things that people can interact with. I like getting things out of the sketchbook and into the world. It's a really nice thing to witness, the way people react.
You've been based in London for years. In what ways has the city influenced your work? How often do you travel back to your hometown?
I've actually moved back to France four months ago, to Paris. But, London has been great to me. I arrived there in my early twenties, to study, and enjoyed the mix of cultures, meeting people from all over the world. I also felt like there was a great creative enthusiasm all around that was very stimulating.
Describe the atmosphere when you are painting. Is it quiet or loud? Are there people present or are you isolated? 
It's pretty chilled. I share a studio in Paris with another artist called Yue Wu. He's great and our work is quite different, yet we both come from drawing and share a lot of common interest. We give each other feedbacks and chat all day. Being alone is good for some things but I like exchanging with a few key people when I work. My friends Yann Le Bec and Brian Lotti are other people whose opinion I really value when it comes to painting.
Chandran Gallery
"With drawing, I communicate ideas, and with painting, I try to communicate feelings."
How has your style developed over the years? What are some of the biggest obstacles you've faced throughout your artist journey?
I think my style has stayed pretty consistent in its simplicity but switching from one medium to the other makes it seem changing, which is interesting. But even though it hasn't changed much graphically, the themes and meaning has evolved as my life has. I guess that's pretty normal, that your work should reflect your life. It makes it sincere. With drawing, I communicate ideas, with painting I try to communicate feelings.
You've collaborated with a number of different brands and tackled plenty of commissions. How do you balance client expectations with your own vision for these projects? 
That can be hard. The best clients are the ones that trust you and want you to produce your best work more than deliver a "service". But the latter is also an interesting challenge, like how to respond to a question with the best answer. It makes you try to get creative. For me, switching between commercial and personal has always been a good way to balance things. I produce a lot of personal work that I share, and that leads sometime to commercial work. But personal work is key as it's the best place to experiment and find new things. It's important in order not to stay too stagnant.
You also started an animation studio with your brother called Jullien Brothers. What propelled you guys to start the company? Tell us about your fascination with animation.
We've been making things together forever. Playing together as kids, etc… Growing up, he got into music and me into drawings, the two kind of naturally combined into animation. We also shared the same love for mangas, comic books, etc. That led to us making music videos for him and music for my shows that was playing with these references into a sort of grown-up playground.
Chandran Gallery
"Painting and going to the beach (when I can) is my way to break away from technology."
We're living in an era of hyper-communication, do you ever feel pressure to keep with up with social media or technology in general? How do you break away from it all?
Yeah, I use it every day, like most people. But, I've definitely developed certain anxiety because of it. I can see what's good about it but have some slight misgivings about it, after years of use. I guess you get a little perspective over time. Painting and going to the beach (when I can) is my way to break away from technology. But I'm not anti-anything, I just think it's super useful but it needs to stay a tool – a thing that you use, not a plane of existence.
What are some of your favorite hobbies? 
Reading Bandes-Dessinées, swimming, drawing on the beach, going to the movies. I got really obsessed with surfing too but I'm no good. It doesn't stop me from doing it though! I get a lot of inspiration from it: the elements, the pace, etc.
What projects are you currently working on?
I'm working on some new things with Galeries Lafayette, I'm releasing a book with Mrzyk & Moriceau and a collection with Petit Bateau. I'm also working on a new Nounou Series, a live show for a festival, a couple of new children's books, a bowl with Case Studyo and some new objects with Danese Milano and Magis.
For other standout exhibitions, take a look at De Buck Gallery's group presentation that features works by leading African American artists.
Chandran Gallery
459 Geary St.
San Francisco, CA 94102
Click here to view full gallery at HYPEBEAST