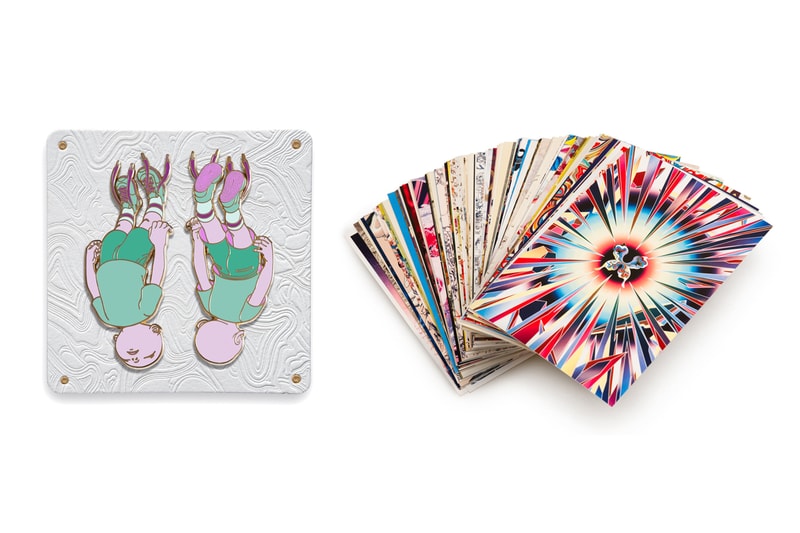 Not long ago, James Jean teamed up once again with Good Smile Company on a new colorway for the limited edition D23 Mickey and Minnie Mouse sculpture set. Now the famed surrealist artist serves up a series of pins and postcards. 'The Descendants Pin Set – Thistle' portrays visuals of two falling child-like subjects in a palette of pale green and lavender. Both pins boast a polished brass body and detailing alongside four deluxe brass clutches mounted on an embossed card. These subjects were inspired by an original artwork conceived for the artist's current exhibition called "Eternal Journey" at the LOTTE Museum in Seoul.
The two postcard series, 'MEMU I' and 'MEMU II,' arrive with a 100 offset-printed postcards that spotlight visuals gleaned from Jean's iconic paintings and intricate sketchbook art. The cards are encased in cloth-covered hard clamshell boxes adorned with silkscreened abstract patterning and figurate works as the center images for both box sets.
The pin set will set you back $35 USD apiece while the postcard sets are priced at $38 USD each. All items will drop on James Jean's website this August 22 at 8 a.m. PDT.
In other notable art releases, Michael Reeder and Print Them All are set to launch a limited edition lithograph entitled 'Shapeshifter.'
Click here to view full gallery at HYPEBEAST