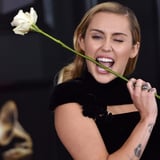 Legend has it that Miley Cyrus boasts more tattoos on her body than there are twerking videos, but we can guarantee you that her latest ink is unlike any of her others – and it's garnered quite the public reaction. That's because on Tuesday, celebrity tattoo artist Keith "Bang Bang" McCurdy uploaded an Instagram story of the star's latest ink: the word "pussy" emblazoned in cursive across her left ankle.
For anyone who follows Cyrus, this should come as no surprise. For years, she has loudly supported Planned Parenthood and other reproductive health organizations, continually champions women, and even turned "Santa Baby" into a feminist anthem the world deserves. Maybe you could categorize her recent "pussy" tattoo as NSFW or risqué. But surprising? Not in the slightest.
While she's yet to confirm the meaning behind her latest piece of ink, perhaps this is Cyrus's way of taking back the word from the men who have deemed it "offensive" and in violation of decorum in Congress or anyone else who lists it right up there with "moist" on the inventory of words we hate in the English dictionary.
Still, whether it was fueled by today's current state of politics or the outdated social expectations of women, kudos to Cyrus for always grabbing back.
Kelsey Castañon
Source: POPSUGAR Beauty