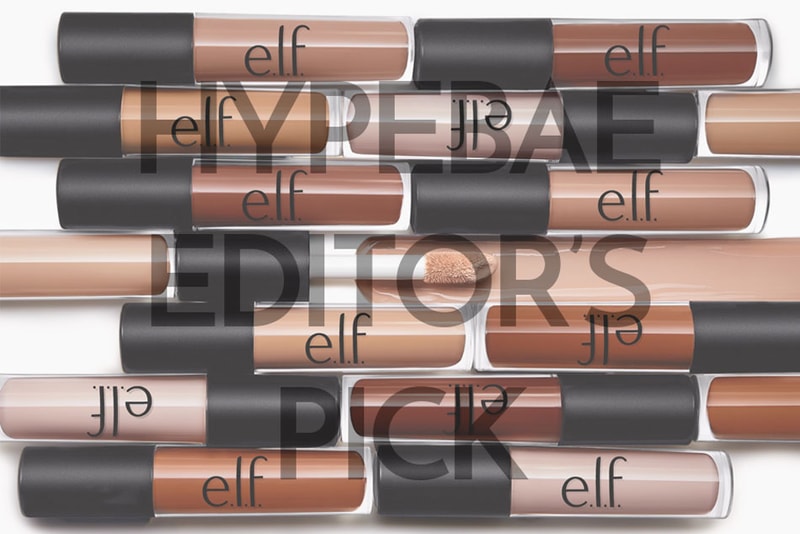 Concealer is a staple in my daily makeup routine. Even when if I'm running late, I throw a tube into my bag on my commute. For this reason I hold products to a high standard and few items make it into my rotation. Some of my favorite options include NARS' Radiant Creamy concealer and my latest addition Fenty Beauty's Pro Filt'r Instant Retouch concealer. Both products retail for upwards of $25 USD which in my book is a solid investment but it can become a bit pricey when constantly repurchasing. e.l.f. has changed the game with a new concealer that is able to mimic the effect of both concealers. It can deliver both a dewy and a soft matte finish which basically makes it a unicorn.
This week's Editor's Pick has cornered the concealer market with an affordable formula that actually works.
WHAT IS IT: e.l.f. 16Hr Camo Concealer
WHY IT'S WORTH THE HYPE: On a normal day I have about 10 minutes tops to apply my makeup and get out the door. I would love to carefully pounce some foundation into my skin but usually that is not an option. Using e.l.f.'s new concealer in the shades "Deep Cinnamon" and "Deep Olive" I was able to get the job done in seconds without having to follow-up with powder or even a setting spray. The formula is highly pigmented and is able to spread evenly without comprising coverage. Its creamy texture dries down to a lightweight matte finish that mimics the best foundations on the market. To be honest, at the moment, I don't even know where my Beauty Blender is so being able to use my fingers to apply the concealer is a major plus. It comes with a large doe-foot applicator which helps me cover a larger surface area with ease.
It's 16 hour claim is very true. The concealer lasts through a work day, a tearful commute through the NYC winter wind and even survives my infrequent trips to the gym. Ladies who are on the move can rest assured that they won't have to reapply their concealer at all. Touch-ups are a thing of the past. I have oily skin so the matte formula is the perfect pair for my routine. Those who have dry skin will probably want to avoid highlighting dry spots or creating texture with the e.l.f. concealer. Celebrity makeup artist Vincent Oquendo recommends applying the brand's hydrating Hello Hydration! Face Cream or a similar product to boost the moisture. You can even blend the two products to create a completely new finish. e.l.f's 16 Hr Camo concealer really has the range.
WHERE YOU CAN FIND IT: All 18 shades of e.l.f.'s 16Hr Camo Concealer are available at e.l.f. now for $5 USD each.
Click here to view full gallery at HYPEBAE