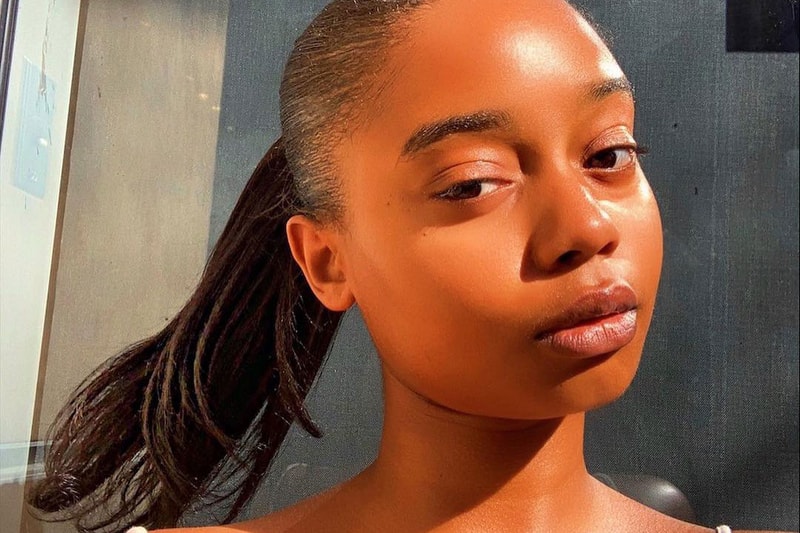 The story of Mary Louise Cosmetics' founding is one of millennial dreams. Akilah Releford, former Howard University pre-med student, took $200 USD and a bright idea to create a critically-acclaimed beauty brand that promotes natural solutions. Her goal of producing quality skincare products at an affordable price became fully realized with the launch of the best-selling Miracle Serum. Women who had suffered with acne and blemish scarring were saved by the cruelty-free ingredients in the oil-based serum leaving rave reviews for the newcomer. Now, Releford is moving ahead as a business owner looking to make a place for herself in the booming industry.
We got a chance to ask to learn more about MLC's beginnings and get some tips on summer skincare from the glow queen herself.
Tell us about the moment the idea for Mary Louise Cosmetics came to mind.
I was in my dorm room at Howard University when the idea came to mind. I've always been interested in beauty and skincare and would often tweet beauty hacks that I personally used. One day, I woke up to over 25,000 retweets on a thread I created about skincare and soon after had girls messaging me about skincare routines tailored to their skin types. I've always had an entrepreneurial spirit, so I immediately came up with the idea of a skincare line that could cater to multiple skin types.
Were you nervous about leaving school to start your own business? What gave you the courage to do it?
Yes, I definitely was. But, it has been the best decision I've made. I feel very fortunate to have incredibly supportive parents that were excited about my vision from the very beginning and made the transition from student to full time entrepreneur a lot less scarier.
What were some obstacles you faced launching MLC and how did you tackle these issues?
In the very beginning, while I was still at school, the website was up and running but I quickly realized there was NO way I could hold tons of inventory in my tiny dorm. So, my dad, back home in Los Angeles would make, label, box, and ship hundreds of orders each week for me in his office until I returned back home. If that alone doesn't qualify someone for the "Best Dad in America" award, I don't know what does. Another obstacle I faced while launching MLC was acclimating to being the CEO, accountant, marketing director, customer service agent, and social media manager all at once. There are still days now where I hold all of these positions myself and it can be very overwhelming, but it has been an amazing learning experience. Being totally familiar with running every aspect of your business is critical.
"If any young woman (or man) wants to start a business, right now is the best time to do so."
So many people have gained results using the Miracle Serum. What ingredient do you think is the most important in its formula? 
Nothing feels better than getting before and after pictures back from customers all around the world. A key ingredient in Miracle Serum is raw, organic, African Baobab oil. We source this oil in its rawest and purest form. Baobab oil along with a blend of other natural oils and extracts gives you those drastic results that are hard to find in other vegan serums.
How should someone with acne scarring tackle their hyperpigmentation? 
Acne scarring and further scarring can be prevented without buying expensive products. Keeping your hands away from your face, staying hydrated, and removing your makeup properly are already great steps to take in order to stop your scarring in its tracks. Acne scarring can be completely reversed with products like Miracle Serum and other vegan and paraben-free products. A huge part of creating Mary Louise was to provide affordable products that actually give results without having to spend hundreds of dollars on skincare. I think everyone is entitled to amazing skin.
Please share three tips for getting our face and body ready for the spring and summer. 
I love love love a natural, oily, dewy look for spring and summer. My tips for getting ready for spring and summer are:
1. Literally drench yourself in an oil of your choice every night before bed, and you'll wake up looking glow-y, radiant and vibrant.
2. Invest in a jade roller. Using a jade roller is a great way to have your skin appear smoother "fine-line free"
3. For me personally, I try to take on an extra yoga or pilates class during the week to build up my strength and tone up a little more before summer.
4. Make detox waters! They are so fun and easy to make. My personal fave combination is lemon, lime, mint, and cucumber. It's a much less boring way to stay hydrated during these next months.
What are some beauty essentials that you carry with you everyday? 
I am obsessed with lip care, so I have a lip balm in every single purse. Having dry hands throughout the day drives me crazy so I always have some shea butter or Mary Louise Mango Butter on me at all times. In the summer months, I'll always have a rose water spray with me so I can maintain a fresh and dewy look.
What's next for MLC? Will you experimenting with CBD, mushrooms or any of the other trendy beauty ingredients?
I'm constantly thinking of new products to introduce to the MLC family. I keep a notepad by my bed in case I dream of a new idea and need to jot it down. We will definitely be venturing into CBD in the near future and are very excited about it. We also have plans to introduce another serum to the market. I get asked a lot if I will experiment with makeup also. My main focus right now is to continue  creating natural skincare, but I absolutely will incorporate vegan makeup into the product line in the future.
Do you have any advice for young women who wish to launch their own brands? 
Start today! If you wait until everything is "perfect" to start your business, then you never will. It is so much work, but it is also the most rewarding journey I've been on. You only need a laptop and WiFi to launch your empire. My background is pre-med and I've actually never stepped foot in a business class before. The only thing to prepare you for running a business…is actually doing it. You learn so much about yourself and become so aware of what you're actually capable of achieving. If any young woman (or man) wants to start a business, right now is the best time to do so.
Click here to view full gallery at HYPEBAE