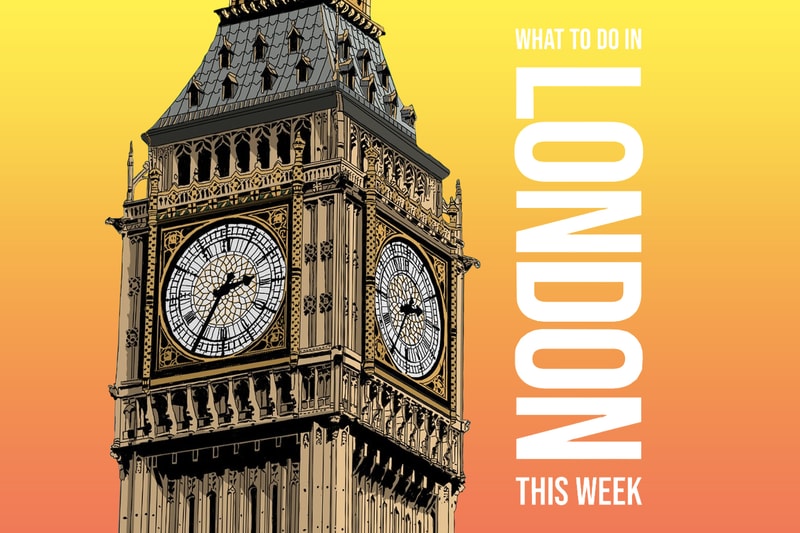 At a loose end for happenings in the London and the UK for the next bank holiday weekend and beyond? HYPEBEAST has plenty of options for you. There's more than enough happening, with J Dilla tribute nights, Cy Twombly exhibitions and some sample sales mixed in.
There's also more than enough restaurants and exhibitions to visit while you're in the city. So without further ado, here's a list of happenings on the weekend of May 3 and beyond.
Music & Nightlife
Stones Throw Records
Where: Night & Day Cafe, 26 Oldham Street, Manchester, M1 1JN
When: May 4
J Dilla remains one of hip-hop's most celebrated producers and there's been no shortage of nights held in his honor. The latest one is in Manchester and will focus on playing both his songs as well as the plethora of songs he produced.
Venla Shalin/Contributor
Where: The Roundhouse, London
When: May 7
Loyle Carner takes his tour to London next week, after starting in Edinburgh in the week prior. Expect him to continue playing hits from his Not Waving, But Drowning album.
Brad Barket/Getty Images
Where: Jazz Cafe, London
When: May 9
DJ Premier is landing in Jazz Cafe next week and it's bound to be one for those who appreciate the '90s. Premier has produced more classics than we have space to count, so expect a selection of those hits to appear during this night.
Food
Natasha Breen/REDA&CO/UIG via Getty Images
Where: 13 Stoney Street, Borough Market, London, SE1 9AD
When: May 6
BAO continues its London takeover, this time opening a branch in Borough. There's karoake, a hatch for takeaway bao and plethora of new conoctions, including chicken nugget, aubergine, beef meatball with fried egg and Borough curry, panko goat and frankfurter.
@craneskitchen
Where: 65 – 67 Peckham Road, London SE5 8UH
Crane's Kitchen is the latest venture from the people behind Social Pantry, Soane's Kitchen and Social Pantry Kitchen. The style of food is described as contemporary and includes dishes such as braised chicken and labneh with poached eggs.
@flamboree_uk
Where: 154 Old Street, Shoreditch, EC1V 9BP
Flamboree's new Old Street venue focuses in creating Tarte Flambée, which comes from the Eastern France region of Alsace. The pizza-like dish comes in a variety of toppings including the likes of Ma'Classique, Beware the Taliwang, The Royal Levantine and The Great Veganer.
@RouxWaterside
Where: The Waterside Inn, Ferry Road, Bray, Berkshire, SL6 2AT
One of the UK's most celebrated restaurants, The Waterside Inn is one of the only michelin-starred restaurants outside of London. It'd be an ideal choice if you're looking for a staycation this bank holiday weekend.
Art & Cinema
Courtesy of Anthony Caro/Annely Juda Fine Art Gallery
Where: Annely Juda Fine Art, 4th Floor, 23 Dering Street, London, W1S 1AW
When: Until July 6
Annely Juda Fine Art is showcasing the works of Sir Anthony Caro, looking through his career from the 1950s to his final pieces in 2013. Through the exhibition you can witness the evolution of Caro's sculpture, which was shaped by several key points in his life, such as when his visit to New York led to him using steel.
Bastian Gallery
Where: BASTIAN, 8 Davies Street, London, W1K 3DW
When: Until June 15
Only the second gallery at London's Bastian gallery, Cy Twombly's Natural History show is split into two spaces, Natural History I and Natural History II. The first Twombly exhibition to take place since 2015, the show will look at the relationship between natural and human history and the desire to "classify, label and categorise the unknown."
Esther Teichmann: 'On Sleeping and Drowning'
Courtesy of Esther Teichmann/Flowers Gallery
Where: Flowers Gallery, 82 Kingsland Road, London, E2 8DP
When: Until June 22
London-based artist Esther Teichmann is launching a new solo exhibition, this time taking place at Kingsland Road's Flowers Gallery. On Sleeping and Drowning works across photography and moving image installations, looking at the "relationships between loss, desire and the imaginary."
Fashion and Shopping
Vogue Runway
Where: Matthew Miller Studio, Unit 8 Palmers Road, London, E2 0SY
When: May 3-5
Matthew Miller is relocating his studio and launching a sample sale to get rid of the goods. Expect menswear, womenswear and accessories, all at discounted prices.
Herschel Supply
Where: Good Company Showroom, 19-23 Kingsland Road, London, E2 8AA
When: Until May 6
If you're in need of a new bag, Herschel Supply has you covered. The brand's sample sale has backpacks, headwear, small accessories and apparel — ideal if you're looking for a bank holiday bargain.
Click here to view full gallery at HYPEBEAST