Brendan Collins is one talented chef. The U.K. native's been the driving force behind some of our favorite British Sunday roasts in the city, not to mention the kitchen lead at the James Beard Award-nominated Waterloo & City, the lauded Birch and, most recently of all, Santa Monica's Wilshire Restaurant. While all three have shuttered over the years, we're grateful that the latter is giving us another home to find Collins and his dependable, at-times-decadent cooking.
Vegas hospitality vet Michael Greco flipped the Wilshire concept with Collins, renovating the space as well as the menu after a June closure—and thankfully they kept the restaurant's gorgeous back patio. Fia, their new restaurant, opened its doors yesterday with a lush, plant-dotted space that lives up to its name: Saint Fiacre, the patron saint of gardeners. There's more greenery involved, naturally, not to mention a bocce court and bulb lighting for lounging-away the last few weeks of summer.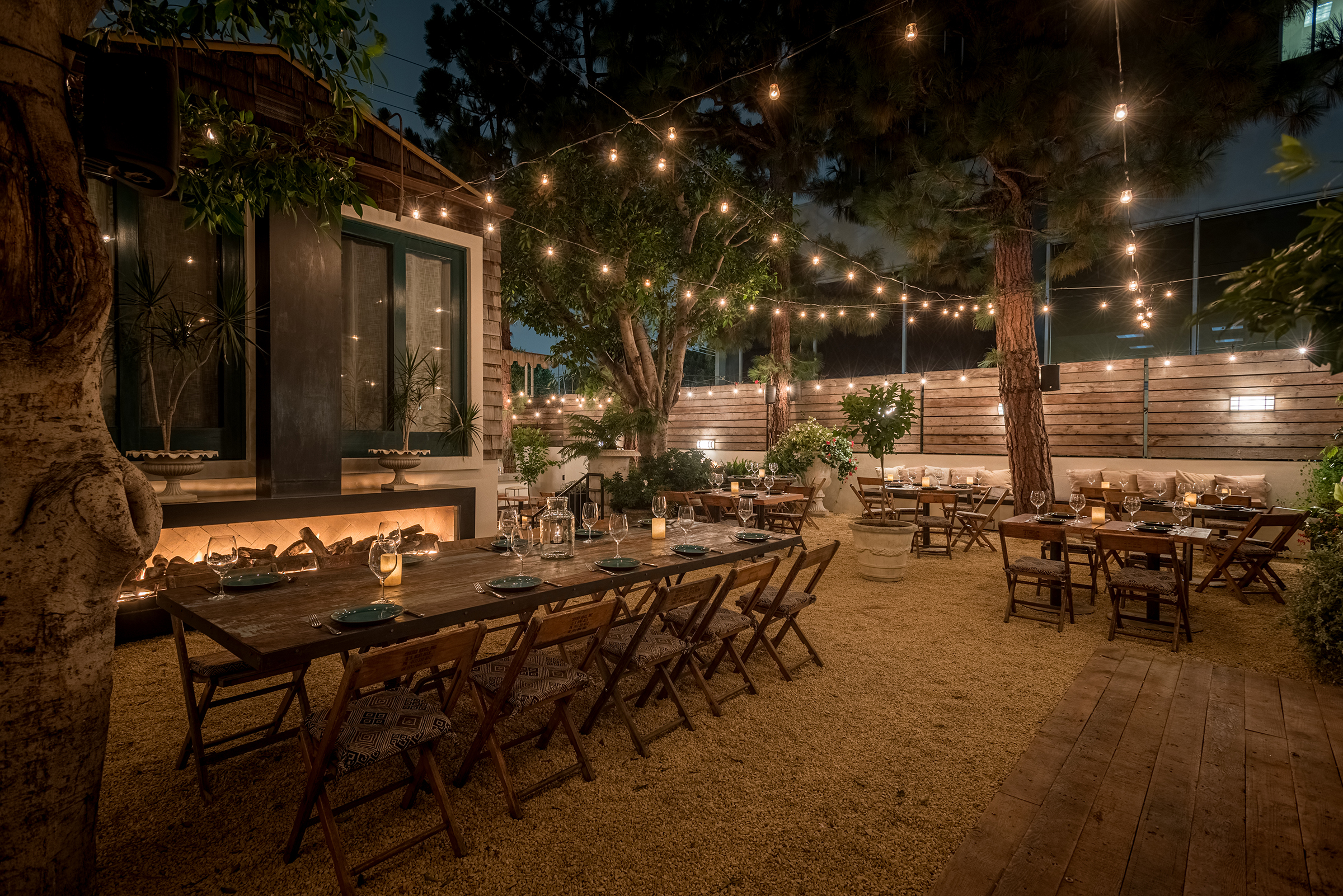 Of course, the biggest flip is the food. While Wilshire Restaurant focused on gastropub and California essentials—cheeseburgers, lobster cobb salads, hand-cut fries, beet salads, tuna poke—Fia hones in on European comfort food, providing a lengthier menu that hops the globe across six categories. 
The "nibbles" section involves Calabrian tuna atop crispy risotto, plus Italian croquettes, and crab served with sweet-and-spicy bombolini, while the "in the raw" section turns to crudos in the form of tuna with avocado and black garlic; oysters with fermented cabbage; king salmon scarpece with cucumber and pomegranate; and meat with pear, egg yolk, sesame and fermented chilies. 
The "next" portion dives into salads, charcuterie and cheese, and small plates—black mission figs with candied walnuts, ricotta and grilled toast, for one, or other seasonal picks like peaches with burrata—and then the menu really gets interesting.
There's a selection of handmade pastas, not unfamiliar to fans of Collins, and at Fia he's whipping up the likes of hand-cut capellini with lobster bolognese and basil; English pea risotto with roasted sweet breads and sugar snap peas; a vegan lasagna made with Beyond Meat bolognese, spinach and an almond-based béchamel; and cavatelli with black truffle, parmesan and brown butter. European comfort food, indeed. There's a vegetable portion for your patatas bravas needs, in addition to any cravings you might have for gigante butter beans with rapini or charred cauliflower with anchovy dressing and cured egg yolk. (We feel a craving coming on now, in fact.)
Collins will be leaning on a charcoal broiler in the kitchen to churn out some of the restaurant's heartier fare—a Flannery Beef rib eye chop with mushroom agrodolce, for example—and on his French training from kitchens like Mélisse for more delicate dishes such as black cod with buerre de Paris, sautéed spinach and pumpkin seeds. Personally, we've got our eye on the blue shrimp tikka masala with mango chutney, lime pickle and crispy rice, and the stuffed quail with fig, prosciutto and aged balsamic, and we'll be washing it down with cocktails from Copa D'Oro vet Vincenzo Marianella—ideally on that perfect back patio to some of the live music Fia's got up its sleeves.
Take a peek at some of Fia's dishes, below, then stop by for dinner any night of the week:
Fia is now open at 2454 Wilshire Blvd in Santa Monica, open from 5 to 10pm Sunday to Wednesday and from 5 to 11pm Thursday to Saturday.