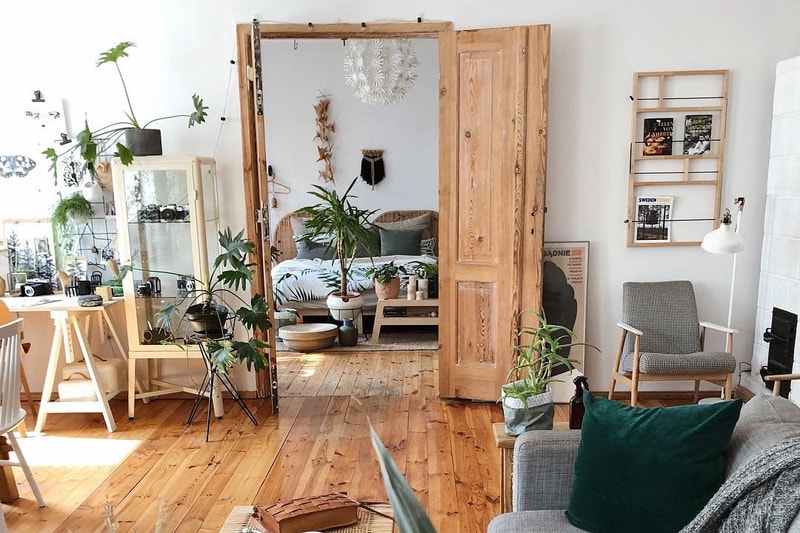 Being a plant mom is the new cat mom, and now with the Internet at our fingertips, you don't even need to leave your bed to start your collection of green friends. From easy-to-manage succulents to plant walls, we rounded up all the best online stores you can browse and shop to fill up your home with some fresh decor.
Read on below to start shopping, and if you don't know where to get started, take a look at our list of the easiest, beginner-friendly houseplants to grow in your home.
Created as a place selling modern plants for the modern plant owner, The Sill helps you find a new leafy friend that suits your lifestyle. With categories such as "Easy for Beginners" and "Pet-Friendly," and also being able to select plants based on the amount of light you get in your home, it's easy to find something that suits your needs. You can also choose the option of having a stylish planter included with your plant purchase. The Sill delivers to the United States, and if you're in New York, Los Angeles or San Francisco, stop by one of its brick-and-mortar stores. If you're really obsessed, The Sill offers a plant subscription service as well.
Each plant type at Rooted is personified and described by different human names, such as, "George is the silver fox of houseplants: charismatic, easy-growing, and gets better with age." All the care tips for the plants are listed in detail under every description to help you prepare for the arrival of your new plant child. Rooted has a physical shop in New York and ships all over the United States.
Coming from a family of people involved in the horticulture business, Bloomscapes is all about delivering directly from the greenhouse to the consumer in a sustainable manner. The brand has developed its own unique, recyclable shipping packaging to make sure that your new plant friend arrives safely. Each plant comes with an Ecopots planter that's made from recycled plastic. Not to mention, you can talk to Bloomscape's official plant mom, Joyce, and her team if you have any questions. Bloomscapes ships to the United States.
If you're looking to gift plants to someone, look no further. Lula's Garden is a garden gift box company that delivers succulents in adorable gift boxes. The gift boxes act as planters so all you need to do is open it up and display it. Each gift box comes with a care kit that includes a wooden stick to check the soil moisture as well as droppers to water the plants. You can choose from an assortment of single succulents or multiple garden sets, as well as customize the cover sleeve. Lula's Garden hand delivers to Los Angeles and ships nationwide to the United States.
In case one plant wasn't enough for you, you can get a whole plant subscription with Horti. Short for horticulture, the plant subscription service offers monthly plant deliveries that start off with hard-to-kill plants and then move up to more exotic plants as you gain more confidence in plant care. Of course, you can modify, skip or cancel your subscription anytime.
Shoppers can also choose whether they want to add-on Horti's signature color-blocked terracotta pots or if you want a bunch of plants all at once, there's an "Order a Jungle" option. Horti ships to the United States, and if you're based in New York, you can pick up your plants in-store for a discounted rate. New York subscribers also have access to Horti PLAY, an experiential space for subscriber meetups, panel discussions and pop-ups or if you want to just hang out and chill.
 

View this post on Instagram

 

A post shared by Patch (@patchplants) on
If you're based in London, you might have heard of Patch Plants. They recently opened up the world's first plant hotel and specialize in both outdoor and indoor plants. Along with selling houseplants, the brand also aims to help people ease into gardening and offers a selection of potted outdoor plants and kitchen gardens for herbs. Patch delivers to London, Beckenham, Ilford, Kew, Kingston, Richmond and Surbiton in England.
Grow everything indoors from plants and flowers to herbs, fruits and vegetables with Modern Sprout. The brand sells innovative indoor gardening tools such as Hyrdoplanters that deliver water and nutrients straight to plant roots, seed starters, self-watering herb kits that come in mason jars and Growbars that provide light for plants during dark winters. Modern Sprout ships within the United States and Canada. If you live outside of those countries, you can still buy its indoor planting tools worldwide without the seeds.
If you're wondering if Amazon really does sell everything — they do. Along with an endless amount of home decor products, Amazon has a section dedicated to plant lovers. Start scrolling for live, fresh plants as well as every size of planter there is out there. Amazon ships select products worldwide.
From garden decorations and planters to actual plants and seeds, Etsy has it all. The shopping platform connects you with professional makers as well as at-home DIY-ers to find exactly what you need. Etsy is known for its curation of custom goods, so take your time to look through its selection so you can find something personalized. Etsy sellers ship select products worldwide.
If real plants really aren't for you, take a look at Urban Outfitters for a selection of chic faux plants. Along with a plethora of Instagram-worthy planters, you can decorate your room with fake vines and faux plants such as a slender Yucca Tree or lucsious Fiddle Leaf. If you really are looking to grow something of your own, the lifestyle brand does sell a Bonsai Grow Kit complete with a pot, soil and seeds. Urban Outfitters ships select products worldwide.
Click here to view full gallery at HYPEBAE