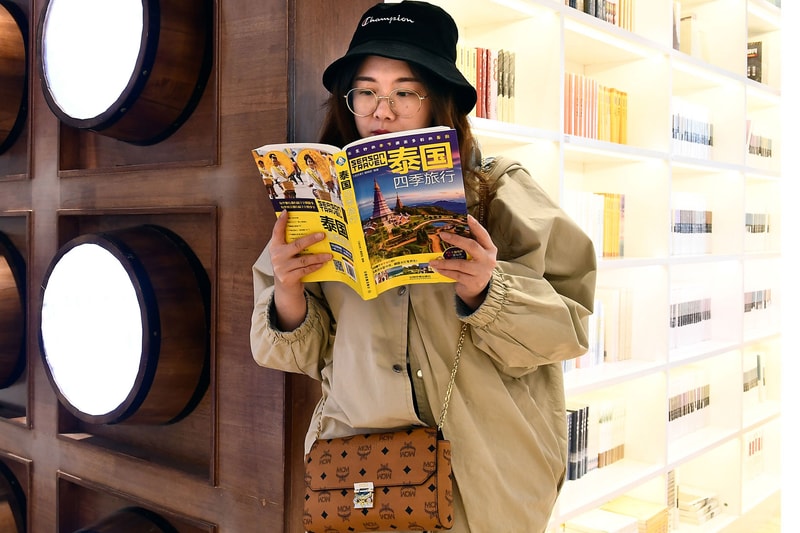 If you're anything like us, May is the official month of pink wine, spaghetti straps and stretching out in patches of sun with a book like a beautiful, word-hungry cat. Ahead of Summer 2019, we've selected our favorite May book releases we can hardly wait for, and, spoiler alert, the list includes everything from murder to Marc Jacobs. These reads also provide feminist tips on smashing the patriarchy and dive into the weighty topic of mental health.
Keep reading for our roundup of 10 books we'll be glued to this month.
Simon & Schuster
You'll likely see this shocking pink cover everywhere this spring. What My Mother and I Don't Talk About promises to examine the complexities between mothers and their children. Comprised of fifteen short stories from a range of genres, we recommend you pick up this collection when you're ready to feel some type of way.
Hamish Hamilton
What has it meant to be black and British throughout time? Author Bernardine Evaristo gives us a glimpse at the lives of twelve of these characters over a number of years, including a daydreaming orphan at the turn of the twentieth century, a cautious Barbadian bride of the 1950s, a feminist performance artist of the '80s and a transgender grandson learning his familial role in 2017. Add this to your reading list to walk a mile in someone else's shoes.
Knopf
Reverend Willie Maxwell was accused of murdering his family in the 1970s and was subsequently shot dead at the funeral of his final victim. Writer Harper Lee spent her post-To Kill A Mockingbird years covering the case for a book she mysteriously never published. Even if you're not familiar with America's Deep South or its turbulent race relations, you'll be that much closer after Furious Hours. Do yourself a favor and take this it off your nightstand if you feel like getting to bed at a reasonable hour. Otherwise, have at it.
Melville House
The journey to self-love (and proper medication) is an arduous one for Juliet. As a reader alongside her, we navigate suburban California in the 1990s, a mental health facility for adolescents and the place within a family for a young woman living with bipolar disorder. Equal parts memoir and fiction, we're given a peek inside the mind of a bright and accomplished teen—despite her perceived odds. Pro Tip: Pick this one up when you're feeling lonely. (You're not, we'll figure it out.)
Amistad
Ready to be overwhelmed in the very best way? This follow-up to the original Daughters of Africa anthology (published in 1992) features nearly 1,000 pages of autobiographies, memoirs, oral histories, letters, diaries, short stories, novels, poetry, drama, humor, politics, journalism, essays and speeches from a collection of over 200 women writers of African descent, including Chimamanda Ngozi Adichie (We Should All be Feminists), Roxane Gay
(Hungry) and Zadie Smith (White Teeth). All curated, edited and introduced by Margaret Bushby, this collection of work across a wide-range of genres gives us a window into the extraordinary lives of excellent women.
Farrar, Straus and Giroux
An immigrant family from Taiwan face a number of remarkable tragedies upon moving to rural Alaska but more remarkable still is their ability to withstand in such overwhelming and unfamiliar territory. In her debut novel, Lin impeccably tackles the cold feeling of being an outsider. Take this novel to a cafe where you feel comfortable hunkering down for a few hours—it's a rich read.
Phaidon
Coffee table books get a bad reputation in the the literary world, but if can't appreciate beauty and art, you can't sit with us. Grab this highly-personal monograph of over 50 collections (from the grunge 1990s to contemporary Spring/Summer 2019) created by Marc himself, illustrated by artist and fashion goddess Grace Coddington.
Hogarth
When life seems too ordinary (or worse, reductive) pick up this debut collection of short stories by Chinese-American author Xuan Juliana Wang. Expertly reexamining characters that at first glance seem drab, she proves that people who are often overlooked are sometimes the most extraordinary.
Harper Wave
Looking to reclaim your status as a slutty skank or a nasty dyke? Same. And you'll also have linguist Amanda Montell in your corner, dissecting all of the language most often used to describe women. Do yourself a favor and pick through chapters such as "Women Didn't Ruin the English Language—They, Like, Invented It" or "How To Confuse a Catcaller (And Other Ways To Verbally Smash the Patriarchy)" before heading into a meeting, a weird conversation, school, or, you know, general life as a lady.
Picador
Women become insects. Men turn into stone. Entire cities becomes insomniac overnight. These are just a few of the gems around which Julia Armfield constructs her observation on women's place in society. It may seem strange—and that's probably the point—but through this fantastical, Gothic escape our own IRL world is examined with the appropriate dose of eeriness and hilarity that it requires.
Click here to view full gallery at HYPEBAE