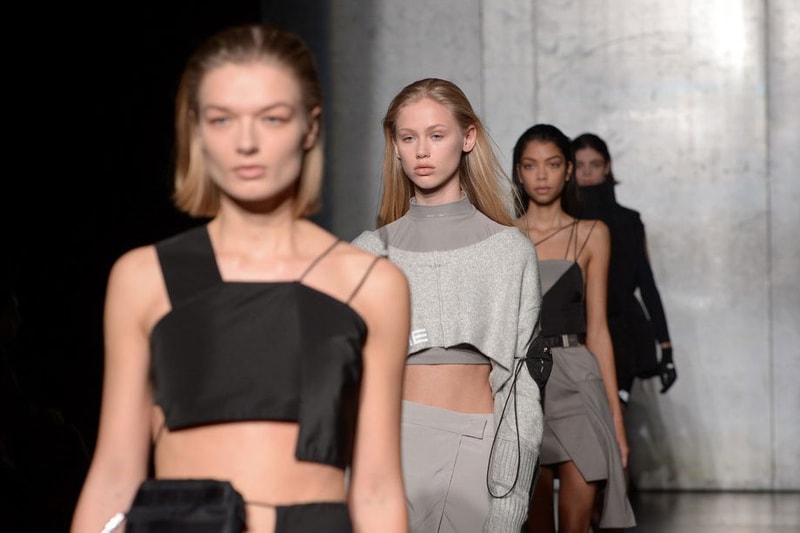 Copenhagen-based label HELIOT EMIL showcased its Fall/Winter 2019 collection in its home city. This season, the label — helmed by brothers Julius and Victor Juul and named after their great-grandfather — continued to develop themes and influences initiated in previous collections. Similarly to Spring/Summer 2019, this offering realized a muted color palette of black and grey.
Another key theme throughout the collection was the influence of utility. Detailing included industrial-style buckles, extra straps and carabiners used for fastenings, while the collection's accessories — from metal boxes to rolled-up sleeping mats — reinforced the utilitarian and outdoors-inspired aesthetic.
"I think we keep on doing what we do with the same inspirations but just developing it," explained creative director Julius Juul backstage after the show, "with more financial stability comes more opportunity and creative freedom to develop some of the fabrics yourself, develop some trimmings. Do a bunch of things that you initially want to do but don't have the finances for."
Fabric and texture was important to the Fall/Winter 2019 collection. Some of the key textiles highlighted by Juul included "very technical materials, some waterproof, breathable fabrics," that further supported the collection's utilitarian ethos. Another fabric spotlighted by Juul was a bespoke textile that revealed an all-over HELIOT EMIL print only when submerged in water. "Once it gets wet it shows up as like a full coat with the HELIOT EMIL branding," he added, "but when it's not wet it's just black."
For more from Copenhagen Fashion Week, take a look at HÆRVÆRk's Fall/Winter 2019 show.
Click here to view full gallery at HYPEBEAST
Source: HYPEBEAST