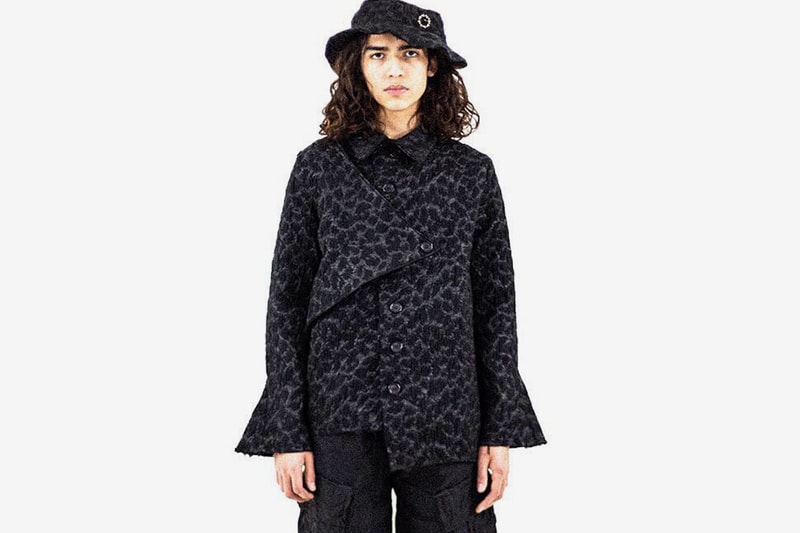 Casper Wright's newfound imprint GUTTER(TM) has maintained itself as a promising up-and-comer in an industry often too-conflated in sating the fast-paced, trendy design qualities of much that is offered in the present. As a multidisciplinary artist and designer, Wright has maintained his work in relation to the human condition, and as he shares "the evolutionary role that clothing plays as a primary form of expression." Since debuting his first range of goods last year, he has grown into a signature style that incorporates a range of newfound shapes and silhouettes that relish in inventive fabrication and pattern-making. With this in mind, Wright has presented a new range of offerings for his first collection of 2019, entitled "Shift/Shattered."
The new collection results from a unique harmony between both form and texture, acting more like a second skin in terms of both function and aesthetic. Made up of 11 pieces designed and hand-made during a two-week span earlier this year, the new collection totes a variety of artisanal pieces from knits, Medusa poncho parkas, expertly tailored coats and jackets in tantalizing new fabrics, distressed and overdyed gradient knits, an expertly crafted overdyed and hand-quilted vest, a frog-like GUTSPACK backpack, and more.
You can check out the collection images above. If you're interested in scooping something up for yourself, head over to GUTTER(TM)'s web store where the ongoing release is currently happening. Global stockists such as GR8 Tokyo and Notre will be receiving shipments soon.
For more related news, take a look at visvim's $15,000 USD Free Edge Shirt.
Click here to view full gallery at HYPEBEAST