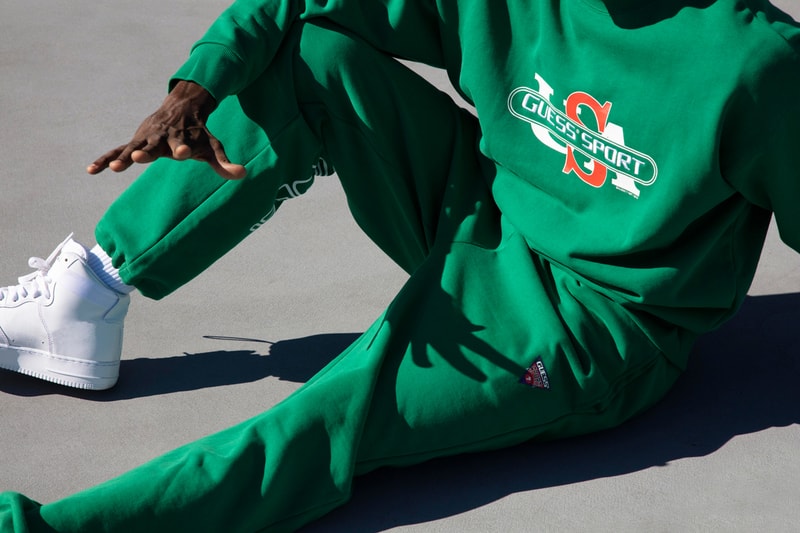 Teasing a selection of joint offerings with Pleasures, ROKIT and Babylon, GUESS Jeans U.S.A.'s showcases the final swathe of creations in its line sports-centric collaborations. Cali Thornhill DeWitt, Medicom, Guillermo and Fontaine provide distinct spins on the GUESS Sports diffusion with inspiration spanning from card games to biking. And as an extension of its program, GUESS is bringing the full drop exclusively to the public at its annual immersive experience at LOT 5 DTLA.
Tapping into his admiration for cycling, Dewitt's assemblage bridges the gap between the niche past time and fashion. The sport provides the inspiration point for the three-piece drop, each of which serves as a referential link to vintage tour de France posters. T-shirts and tank tops are available in black or white and feature graphic embellishments of text reading "Tour de Saturne."
Playing off the athletic themes in the GUESS Sport diffusion, Medicom taps into its own design language to create a distinct take on the label. The 100% and 400% Bearbricks are a canvas to reimagine the California-based imprint's DNA. This plays out in sporty iconography and motifs on the plastic figures. Striping, for example, appears on one set, and a mix-match of solid tones are patterned across the other.
For Guillermo Andrade's take on the project, an attention was paid to multipurpose functionality. He designed every day, soccer-inspired clothes to seamlessly transition from on the field to off the field. The seven-piece range consists of a complementing jersey and short set in addition to a graphic T-shirt, hoodie and terry shorts set. Soccer socks and side bags complete the selection, driving home the holistic aesthetic of Andrade's designs.
Fontaine sticks to its roots with a gaming set, which offers users a collection that includes specially-designed stickers, single playing decks and a poker set. The aesthetic value of the lot is amplified through symbolic representations of both companies alongside intricate illustrations.
The collections above will be available August 24-25 at GUESS's annual pop-up at LOT 5. Head to the brand's website for more information on how to attend.
Click here to view full gallery at HYPEBEAST