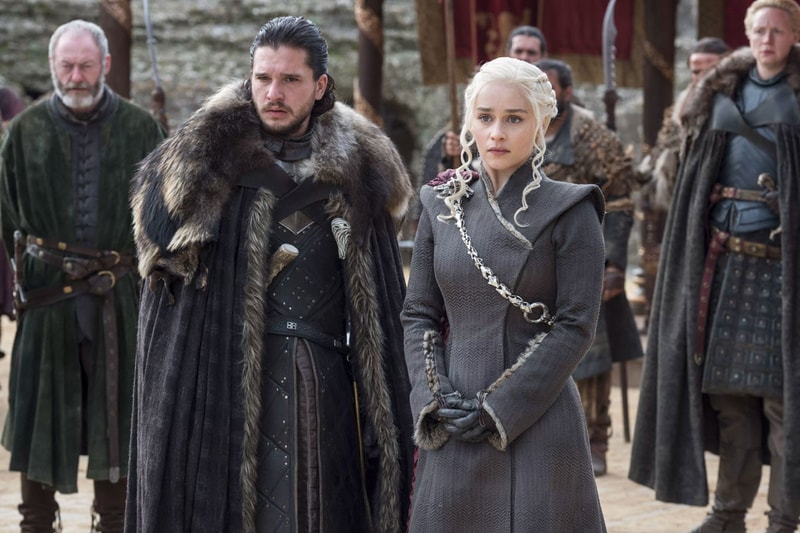 As the Game of Thrones series finale approaches, George R.R. Martin, the mastermind behind the hit fantasy, has once again turned down rumors regarding the final novels in his A Song of Ice and Fire saga.
According to Entertainment Weekly, the rumor that book six and seven, The Winds of Winter and A Dream of Spring, were finished began circulating when Ian McElhinney (who played Ser Barristan Selmy up to Season 5) suggested they were. He went on to share that Martin and GoT showrunners David Benioff and Dan Weiss made a deal stating Martin was not allowed to publish them until HBO was finished airing the series.
As usual, Martin quickly turned to his blog to set the record straight. "I will, however, say for the record—no, THE WINDS OF WINTER and A DREAM OF SPRING are not finished. DREAM is not even begun; I am not going to start writing volume seven until I finish volume six," he wrote. He then went on to address the "deal" he made claiming, "Why would my publishers … ever consent to this? They make millions and millions of dollars every time a new Ice & Fire book comes out, as do I. Delaying makes no sense. Why would HBO want the books delayed? The books help create interest in the show, just as the show creates interest in the books."
Head over to Entertainment Weekly for the full read.
Looks like fans will need to do a lot more waiting until the final books arrive. Game of Thrones ends this Sunday, May 19.
So far the season has been criticized for its rushed pacing and for abruptly ending certain storylines and character arcs. Episode 5, titled "The Bells," is currently the worst-reviewed in the show's history.
Click here to view full gallery at HYPEBEAST