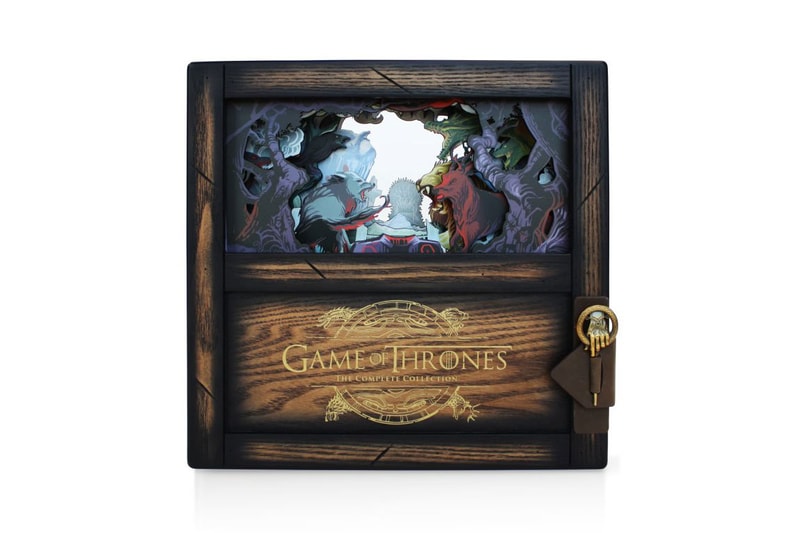 It's only been a month since Game of Thrones' polarizing series finale aired, dividing fans forever over the ultimate outcome of the Seven Kingdoms.
To celebrate the epic fantasy series, HBO is gearing up to release a special, limited-edition Blu-ray set that will surely catch the attention of fans all over the world. The collection will be housed in a wooden shadow box which features a Hand of The King pin acting as the closure. Showcased in the center of it all is 3D art designed by Robert Ball, each representing a sleeve that contains the full individual season's discs.
Along with all of GoT's eight seasons, the collection also comes with a whole lot of extras and bonus features including a cast reunion with Conan O'Brien shot live in Belfast, Ireland. According to HBO, the special "is assembled in segments focused on Houses Lannister, Stark, and Targaryen and concludes with the key players all onstage for their final reflections on the years they shared in Westeros and Essos."
HBO's Game of Thrones: The Last Watch documentary, audio commentaries for Season 8, five "deleted or extended" scenes from that final season, and animated featurettes "giving the history and background of notable Season 8 locations and storylines" will also be included, along with previously released extras on other Game of Thrones box sets.
Additionally, two new behind-the-scenes looks, "When Winter Falls" and "Duty is the Death of Love," round out the extras. The former takes a look at the making of the Battle of Winterfell, while the latter looks at the series' final episode.
The Game of Thrones: The Complete Collection limited-edition Blu-ray box set will release on December 3 later this year. No price details have surfaced as of yet.
Check out a sneak peek of the Game of Thrones reunion with Conan O'Brien to tide you over until then.
Click here to view full gallery at HYPEBEAST