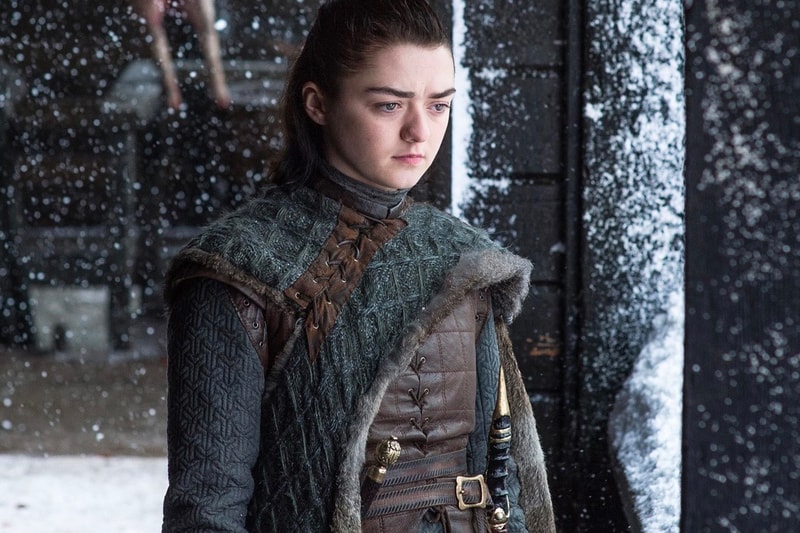 Last week's epsiode of Game of Thrones — "The Long Night" — has quickly become the most viewed episode of the series thanks to the huge battle between the North and the White Walkers, and of course, the fight would not have been what it was without the help of fan-appointed-MVP Arya Stark. The character earned her big moment in the show when she leapt at the Night King just before he was about to kill Bran Stark, with her dagger in hand. Although the Night King caught her mid-air, she pulled off a manoeuvre now dubbed #TheArya, dropping the dagger from her restricted hand and catching it with her other hand before stabbing the Night King with Valryian Steel, killing him and the rest of his undead army off. The moment unsurprisingly became a fan favorite — even Drake gave Arya a shout-out — which led to many fans recreating the moment in what is now a viral challenge on social media.
For a full display of fans doing #TheArya, check out the tweets below.
And for more Game of Thrones news, here's a sneak peek for episode 4.
The greatest scene in T.V history ?#AryaStark #Arya #NotToday #winterfell #Winterfellbattle #NightKing #GameOfThrones pic.twitter.com/h2f8jLcGkr

— Anas Abd Alnabi (@Anas_Alkhateeb2) April 29, 2019
Do #TheArya pic.twitter.com/IMLvlCnXIr

— GΔΒΥ DURΔΝ ?? (@GBDRN) April 29, 2019
The struggle Arya ??‍♂️??‍♂️ #TheArya ???#EbroInTheMorning pic.twitter.com/L4yYQRk9DB

— EBRO In The Morning (@EBROINTHEAM) May 2, 2019
Finally after multi shots.
How many shots did you take @Maisie_Williams ?? ❤️
Do #TheArya #Aryachallenge #AryaStark @Maisie_Williams @SophieT @GameOfThrones #BattleOfWinterfell #GameofThrones
Hit the Arya #thearya
☠️
|
?|
|
/ \
/ \ pic.twitter.com/InCfFLwFrx

— फ्रस्ट्रेटेड इंजिनियर ?‍☠️ (@EclecticRhymstr) May 1, 2019
When other people do #thearya its "cool" and "badass" but when I do it in the operating room its suddenly "dangerous" and "unprofessional" ??? https://t.co/UH4KX61fXT

— Jorge Zárate, MD (@jzaraterod) May 2, 2019
Episode 3 spoiler without content #GameofThrones  #BattleOfWinterfell#AryaChallenge pic.twitter.com/G9zi3saidZ

— Bra Quame (@Osuane) April 29, 2019
Still in awe of this move. #TheArya https://t.co/uaY55YuK0j

— Caroline Pardilla (@Carolineoncrack) May 1, 2019
*Spoiler Alert*
Arya's Night King moment simplified with a Carrot ✅ pic.twitter.com/tBZyeNnit7

— Ben Langley (@BenLangley) May 1, 2019
Click here to view full gallery at HYPEBEAST