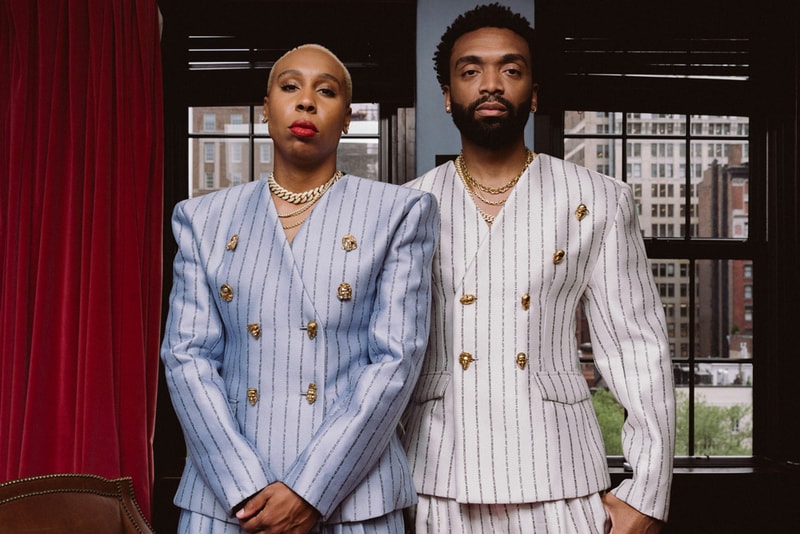 Arriving at last night's Met Gala red carpet meant competing with a four-in-one outfit extravaganza, a 3D-replica of Jared Leto's head, a surrealist winking-eye gown, a walking chandelier and even a "drippin' wet" Mugler bodycon dress. But somewhere along the iconic staircase, a quieter entrance was able to make just as grand a statement to honor this year's exhibition, "Camp: Notes on Fashion." Enter the Pyer Moss posse — consisting of the brand's creative director Kerby Jean-Raymond, Colin Kaepernick, Nessa Diab, Lena Waithe and La La Anthony, to be exact — who each brought their own take on camp.
As described in the exhibit's leading poem by Susan Sontag, "Notes on 'Camp,'" the term can be described, among other things, as "the spirit of extravagance." Doubling up in pinstripe looks with exaggerated shoulders may not seem like the most obvious interpretation of the word, but as with any Jean-Raymond creation, there was more than meets the eye to his and Waithe's matching zoot suits. The garments alone reflect individuality and rebellion; they make reference to the infamous Zoot Suit Riots of the 1940s, and as Andrew Bolton, head curator of the Metropolitan Museum of Art's Costume Institute, told Vogue, "camp has always been a political aesthetic." In true Pyer Moss form, however, a more brazen point needed to be made; embroidered proudly across the back of Waithe's pale blue blazer was the phrase: "Black Drag Queens InventeNd [sic] Camp."
We may be seeing Waithe walking down the red carpet in 2019, but the sheer idea of a black (and openly gay) person dressing to-the-nines in a tailored suit during that era is an act of extravagance and political-fashion commentary on its own.
Which ties into the understated grandeur of Kaepernick's and Diab's designs, with him decked out in a silky black suit and her draped in a gold gown. As a figure that some in America may deem "controversial," Kaepernick's presence makes a pointed symbol of regality in the face of adversity. And at its core, opting for subtle sartorialism among the showy costumes seems quite "campy" in itself.
Besides, if a more literal approach is what the fans were after, Anthony fit the bill. Last but not least, the actress strode in wearing a head-toe-toe hundred-dollar bill dress and matching boots, literally looking like a "bag of money."
HYPEBEAST: What was it like experiencing your first Met Gala?
Kerby Jean-Raymond: Before, I kind of just went to the after parties, so being a part of the official event was super fun to actually go inside the Met Gala. Prior to this, we met with Andrew Bolton at the Met Museum who talked us through what they were looking for as far as camp, but I had never gone in and understood what the run of show was like. There ended up being a dope performance by Cher, Lady Gaga and RuPaul, and I feel like the performance part really paid homage to people in the LGBTQ+ community who shaped what camp is.
What does camp mean to you?
When I first heard the theme I started drawing a grizzly bear because I thought it was literally camping. Then when I found out what camp really meant, it wasn't a term I necessarily knew. I knew of the culture through voguing but hadn't heard it used in that way so I had to dig a little bit, research and pull elements from camp that tie into the brand DNA of looking for ways to reverse the erasure of blackness. Everything we went with, from drag queens to the movie Mahogany with Diana Ross — those were the themes we came up with.
Can you break down the inspiration behind your and Lena's coordinated looks?
As soon as Anna [Wintour] told me she wanted me to come to the Met Gala, I started sketching the zoot suits and I focused on Spike Lee and Denzel in Malcolm X when they were coming in from the train station, and I wanted to come in with someone like that. I started thinking about the perfect person and eventually Lena and I chose each other.
But as far as concept, the zoot suit wasn't enough. I wanted to focus on hip-hop and decided to pay homage to MC Hammer on the cover of "2 Legit 2 Quit" with his boxy blazer. I told Lena I was going to put the faces of male rappers on mine and girls on hers, and I had Megan Thee Stallion, Cardi B and more [planned for the design]. Lena was like, "That's cool but we can go deeper."
She started putting me on to RuPaul, Grace Jones and many other different African-American men and women who contributed to black culture. Then we took lyrics from songs she loves, like Diana Ross' "I'm Coming Out," and put those in her stripes. And my stripes were Nipsey Hussle, Tupac, Nas, JAY-Z, J. Cole and Kendrick [Lamar] lyrics that represented economic empowerment, like JAY-Z's line from "The Story of O.J. "Y'all on the 'Gram holdin' money to your ear. There's a disconnect, we don't call that money over here."
What about the gold buttons lining the front and the embroidered messages on the back?
Sometimes I'm tired of talking and saying sh*t but I thought, this might be my first and last Met so let me just send a quiet message to my people real quick. "Fix your credit, pool money and buy back the block," which is what me and my friends are doing.
The custom gold buttons on our jackets were face casts done by Johnny Nelson that I am going to turn into rings. Our shoes were [also custom], wrapped in crocodile by The Shoe Surgeon, who did both me and Lena's.
What special details went into Colin and Nessa's looks?
In Mahogany, Diana Ross plays an aspiring fashion designer and she has a show at the end which is super moving. Looking back at the '70s films, sometimes they can be cheesy but it's something romantic about this one that stands the test of time. That's where his inspiration came from — Diana Ross.
It was structured and more simple, and all the references they sent me were kings, queens, pharaohs and reflections of African tradition. We wanted to create something that spoke to them and they love simplicity — and at the last minute I got Colin to wear those rings. He's a very modest man and genuine soul. He's the person who will donate everything he has to a cause and I was explaining to him the significance of gold in Africa and how important it is to embrace that. And I understand the implications it has with wealth but the theme is camp and hip-hop is camp. Mr. T is what I was going for and Rachel Johnson, his stylist, pulled some of the craziest rings I've seen. It didn't go over the top like everyone else's but it was really researched.
And what about La La's money-themed outfit?
La La's continued with the economic empowerment and "buying back the block" message. When we started talking about Met Gala in December, I was so distracted and she started snapping at me like, "Are you here?!"
All I kept staring at was her nails, which were actual dollars and she said, "I gave the nail lady a couple of hundred dollar bills to cut up and put in my nails." After that, I decided to go over the top with her and we did the dress and boots [following that theme].
What were your thoughts overall on everyone's different takes on camp?
Overall, this was a very hard theme because it's not as focused. It can mean any f*cking thing… feathers, Vegas show girls. And that's what it felt like. It felt fun and like it was paying tribute to a lot of people in our society who don't get credit for their subculture, like with voguing and drag.
Big Freedia was there, which made me so happy. Cardi was there and she just kept on making sounds at me like, [imitates purring sound]. Frank Ocean came in and looked like valet and he was swagged the f*ck out. I thought some people killed it, like Janelle Monae and Tessa Thompson — who was whipping me with this latex ponytail. It was dope people and dope energy overall. Because the theme was so broad it could have gone any way, and rightfully so.
Click here to view full gallery at HYPEBEAST