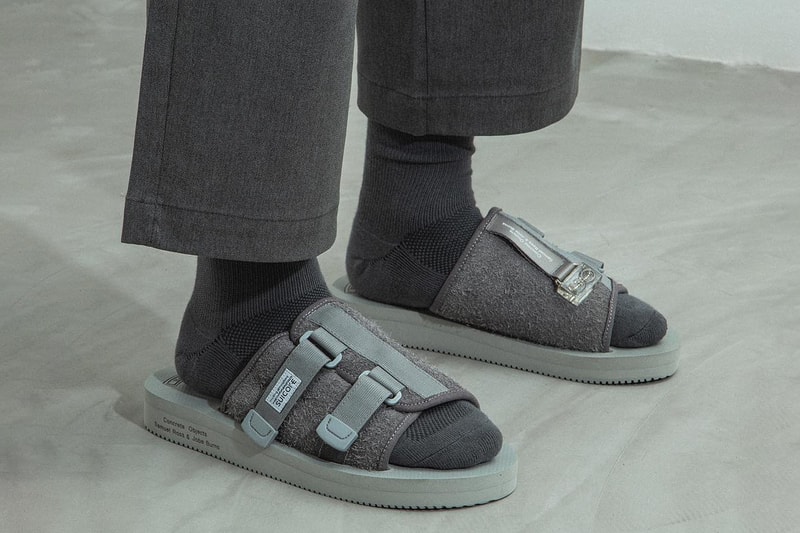 The beginning of summer often coincides with the appearance of countless thinkpieces and listicles recommending stylish summertime footwear for men. Suggestions inevitably pooh-pooh strappy sandals in favor of something sleeker and even perhaps closed-toe to hide the dreaded male foot. A slew of women told The Boston Globe earlier this year that they find the idea of men in open-toed shoes more than a mere faux pas; one respondent asserts that male sandals are "a fashion war crime that should be tried at The Hague." This is in line with once-universal truism that men simply should not wear sandals.
The rise of the now near-ubiquitous Japanese sandal brand Suicoke, meanwhile, has partially upset this narrative, encouraging the worlds of style-conscious menswear and function-driven comfortable footwear to finally co-mingle in the form of a simple, but distinctive, open-toed sandal. Luxury brands and high street stores alike have taken note, with a spate of sandal styles for men hitting the runway and arriving in store.
This greater shift in footwear acceptance could be seen as a side effect of Suicoke's inherently clever brand positioning. "We believe that Suicoke has elevated this concept that was initiated by brands such as Birkenstock," says sivasdescalzo's Purchasing Director, Rubén García, drawing comparisons between the Japanese brand and the German grandparent of ugly-cool sandals. Goodhood's Sales & Brand Manager Joe Warner reaffirms, "They offer all of the comfort you'd expect from a sandal brand, but the design DNA is certainly more interesting than most [other brands]."
Suicoke's journey to alter the men's sandal market has been a long one, however. Founded in 2006 under ORGY Co. Ltd. as a maker of accessories, Suicoke initially produced small home goods, including skull-laden Russian nesting dolls. The brand's mission statement essentially translates from Japanese to, "We only make what we really want, things we want to own," and that ethos inspired Suicoke to branch out — though the exact rationale behind the transition from Russian dolls to footwear is shrouded in secrecy. As MATCHESFASHION.COM buyer Ben Carr explains, "The design team remain anonymous." The brand has spun this quirk to its benefit; according to Carr, the mysterious background "helps the appeal — you feel like you are buying into a secret club."
"Our brand philosophy since the beginning has been to make products that we both enjoy making and wearing," the Suicoke team tells HYPEBEAST. "We don't necessarily place ourselves in the sandal brand category. Our emphasis is on making great products that can be appreciated by as many consumers as possible. We aren't too concerned with where [we] do or don't fit in, if our philosophy is met."
Suicoke first experimented with creating its own original EVA footbed in 2012, teaming with Vibram to create what has now become Suicoke's signature: ridged footbeds set atop a Vibram Morflex sole unit. This concept formed the base (no pun intended) for Suicoke's initial footwear offering, which included now familiar models like the strappy DEPA, the even strappier KISEE and the slip-on MOTO.
Rather than delivering purely functional appeal or catering exclusively to the fashion-focused, Suicoke's initial offering rode that line in between the two extremes. "As briefly mentioned earlier," the team explained, "we hope to cater to as many consumers as possible. Our goal is to have everyone from your fashion consumer to outdoorsman to athlete enjoying our footwear."
The next few years saw Suicoke align with taste-making retailers like Slam Jam, Norse Projects and BEAUTY & YOUTH, eventually attracting attention from creatives like Tyler, The Creator and Palm Angels' Francesco Ragazzi. "I think the collabs provide intelligent, focused amplification," Carr affirms. "This helps [Suicoke] appeal to forward thinkers." This broad appeal gave Suicoke the necessary leverage to begin shifting public perception of sandals and menswear in some small way; in particular, it offered young, fashion-aware men an alternative to much-derided barbecue sandals and elderly silhouettes.
Suicoke's growing international reputation as "that one strappy sandal brand" coincided with the Fall/Winter 2017 season, when the ugly sneaker began to dominate the realm of fashionable footwear. Of course, fashion houses have dabbled in sneakers for over a decade, but Balenciaga's Triple S set a new benchmark for luxury kicks — standardizing the clunky silhouettes previously proposed by Raf Simons & adidas' remixed Ozweego and Prada's Cloudbust trainer. Regardless, the Triple S stoked a newfound hunger for previously untenable shoes, freeing the minds of creative directors to utilize the warm weather seasons to serve up unapologetically "ugly" sandals for Spring/Summer 2019.
For instance, consider Gucci's disruptive Aguru sandal and Prada's blacked-out tech sandals. The former is so outlandish that it inspired a parody from functional footwear stalwart Keen, and the latter is essentially a luxe hiking sandal that's not so far removed from Suicoke's own designs. Of course, these are only the tip of the iceberg, with dozens of other fashion houses joining the unwieldy sandal movement.
"I believe Suicoke is a perfectly recognizable brand on its own, so I think it is already a part of the history of footwear," insists García. "Many luxury brands are including sandals more in their collections, based on the aesthetics of Suicoke… The interest by top brands to collaborate with them shows that they are opening a new market that no one was exploring in depth." By following Suicoke's lead, luxury designers have shifted fashion's Overton window and put the stamp of approval on the once-despicable strappy sandal.
That's all well and good for big-name boutiques, but streetwear shoppers generally hew towards young men who likely couldn't care less for the whims of Vogue and influencers. Not to mention, "many of the big fashion houses are releasing technical sandals, but the customer sees [Suicoke] as one of the pioneers in this field," MATCHESFASHION.COM's Carr notes. This highlights the authenticity at the core of Suicoke's offerings, crucial to its success on the streetwear front.
Suicoke's influence can be felt on both fronts — on the one hand, it at least partially influenced luxury footwear by predating the fashion vanguard's taste for "ugly" sandals. "I don't want to name names," begins Goodhood's Warner, "but we've definitely seen some less-than-subtle Suicoke 'influence' on the runway in recent years." On the other hand, it gave streetwear-leaning men a strappy sandal that had a whiff of stylish clout, thanks to the shoes' versatile monochrome shades, and sleek textiles that help stave off potential granola comparisons.
The intense stigma against men's sandals means that open-toed shoes have only just begun to partake in the variety and experimentation that sneakers have exclusively enjoyed for years. Shifting tastes are opening the market up to a newfound appreciation for unconventional silhouettes in the luxury sandal market: Rick Owens, Valentino and 032c have all teamed up with Birkenstock, while heritage imprints like Teva are seeing a resurgence in both the fashion and mainstream realms as trekking trends crop up and workplaces do away with formality.
Suicoke isn't solely responsible for changing public perception of men's footwear, but the company has helped make open-minded Japanese styling more palatable to the global market. In Japan, for instance, trail-ready Merrell, Montbell and Chaco sandals have been viable fashion options for years — the genius of Suicoke was in creating sandals that just toed the line (pun intended) of agreed-upon good taste. The brand's aforementioned collaborations, neutral colors, versatile materials and steady stream of new designs have kept the brand relevant to a wide audience.
To put it simply, by "adding more versatility, quality and comfort to the functionality of a sandal," sivasdescalzo's García believes that Suicoke has channeled an egalitarian appeal that allows the company to inspire countless fans and imitators alike. As Suicoke beefs up its offerings with more quirky models, the list of labels that are putting forth clunky open-toed shoes continues to grow, with labels as diverse as Jacquemus, Hermès, White Mountaineering and Bottega Veneta dropping their own off-kilter sandals.
Outside of the world of luxury fashion, New Balance has upped its sandal game while the double-strapped Nike Benassi Duo has become a popular women's style, demonstrating the crossover appeal of extra straps. Much to the chagrin of toe-fearing footwear purists, strappy sandals are here to stay.
Click here to view full gallery at HYPEBEAST