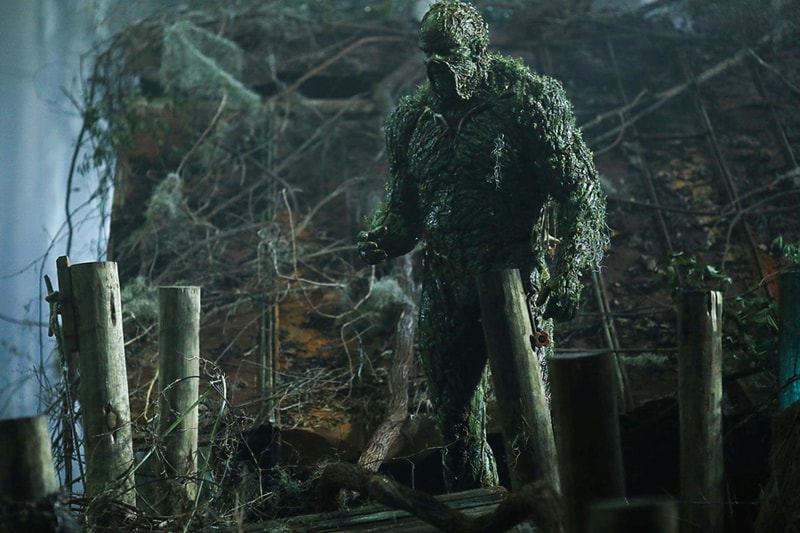 Following its debut last week on May 31, DC Universe's Swamp Thing has been canceled after one season and its pilot episode premiere. The James Wan-produced series was axed due to a larger initiative between AT&T's acquisition of Time Warner as WarnerMedia and its plan to launch a new streaming platform.
The DC Universe at large has been up in the air due to the shakeup, and it appears Swamp Thing was the first causality. Before the debut of the series, there were stirs behind the scene, as the season was reduced from having 13 episodes to 10. Cast member Virginia Madsen then made a post on Instagram stating "I'm beyond sad. What a terrible decision. We have been cut to the core by those who have never set foot into the Swamp." Soon after, a teaser trailer was released, alluding that the show wouldn't be shut down.
According to Boody Disgusting, there were creative differences between several people involved with the show, not being able to agree whether the series should stick to its horror influences or veer into a "weekly procedural" format like Lucifer. North Carolina's Star News Online reports the Wilmington-shot series (among other shows) was involved in a budgeting error by part of the state not being able to provide the funding the shows requested from its film grant program.
Stay tuned as the story develops.
In other entertainment news, Bethesda says the next Elder Scrolls game will have a decade-long shelf life.
In the articles about SWAMP THING there still seems to be some confusion as to the "why" of sudden shutdown. The reasons didn't hit the entertainment trades, BUT…they did hit the news in North Carolina…

— John Gholson (@gholson) June 6, 2019
When NC discovered the error, the corrected. WB shut down production, realizing they'd be taking a bath on the rebate and paying for far more of it than assumed. The adjusted number from NC is something like $14m. That's a massive difference.

— John Gholson (@gholson) June 6, 2019
There won't be a s2 because it's now too expensive to maintain the levels of quality of s1, *especially* for s a niche platform, and there's no great reason to keep the production on standby when the deal in NC is no good for them anyway.

— John Gholson (@gholson) June 6, 2019
Click here to view full gallery at HYPEBEAST