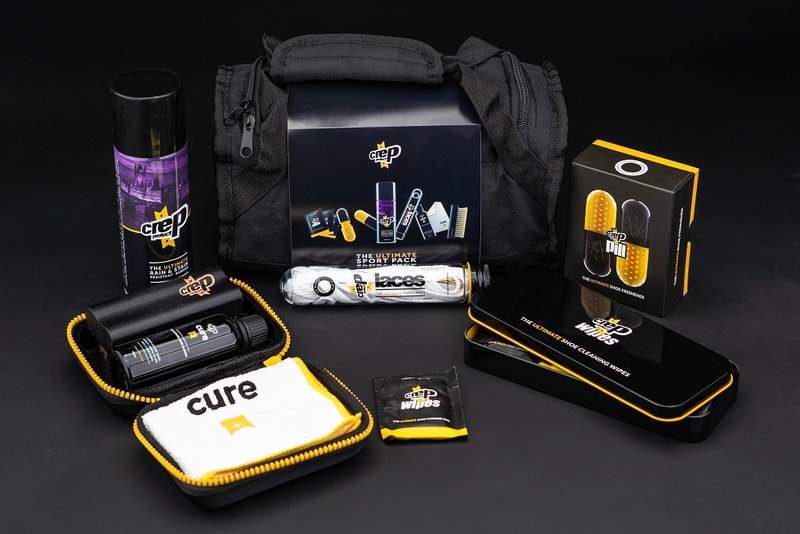 Back in March of 2018, Crep Protect teamed up with atmos for a limited-edition run of uniquely-designed cleaner kits, utilizing exclusive artwork crafted by renowned tattoo artist Mutsuo Nakabayashi to give the package a one-of-a-kind look. Now, one year later, Crep Protect is back with another impressive shoe care package. Specifically, the company has introduced a new Sports Bag item with the goal of creating the best all-in-one shoe care kit on the market.
The Crep Protect Sports Bag contains a Crep Protect Spray, Crep Cure, Crep Wipes, Laces and Crep Pill. To carry all of the items around and keep them mobile and by your side whenever you need them, there is also well-constructed polyester bag to haul them from place-to-place and take them with you wherever you go. Altogether, the Crep Protect Sports Bag gives you all you need to clean, condition, preserve and protect your favorite footwear.
"When you've just got yourself a fresh pair of sneakers, you wanna keep them lookin' fresh, so make sure you've got everything you need to keep your creps on point with this Ultimate Sneaker Protection Pack from Crep Protect," reads the official product description of the Crep Protect Sports Bag. "Bringin' you the essentials to make sure your flex is always strong and standout, this pack includes: Crep Cure, Crep Wipes, Crep Spray and Crep laces, along with a durable poly bag to keep the whole kit in."
You can take a look at the Crep Protect Sports Bag above, and head on over to JD Sports to purchase your own for around $58 USD.
Click here to view full gallery at HYPEBEAST