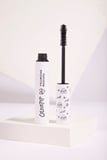 ColourPop is associated with a certain brand of mysticism – one that leaves people wondering how it can sell its highly pigmented formulas and innovative textures (remember the first time you felt the velvety Super Shock Highlighter?) at such affordable prices. This dreamy confusion was also present when I first tried the newest addition to the ColourPop family – the BFF Mascara in Black on Black, which left me thinking, "Damn, that's good."
I pulled the hourglass-shaped spoolie from the tube, and wiggled it from the root to the tip of my lashes. The first swipe pumped up the volume on my straight, wispy lashes that point downward and separated them perfectly. Subsequent swipes lengthened without ever clumping together. The result looked like straight-up lash extensions.
The BFF Mascara lives up to the brand's promises: it lengthened, lifted, and volumized my lashes. I've worn the mascara for approximately eight hours, and I have yet to see it flake (though, it did smudge slightly under my bottom lashes after a few hours). How ColourPop managed to sell a mascara this good for just $8, I'll never understand.
See what the mascara looks like ahead, and get ready to shop the seven shades dropping on Jan. 24.
Jesa Marie Calaor
Source: POPSUGAR Beauty