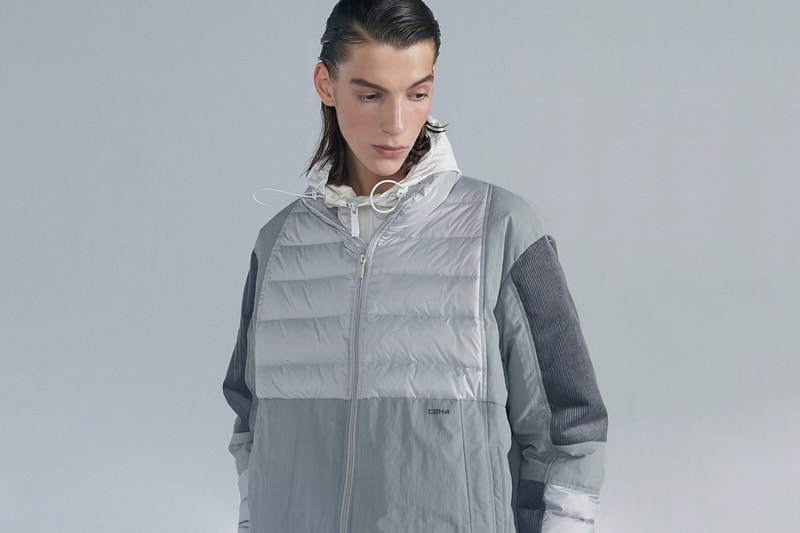 Earlier this summer at London Men's Fashion Week Spring/Summer 2020, Los Angeles-based C2H4 debuted its "Post Human Era" looks. This month, C2H4 will be releasing its seasonal Case #R001 collection, exploring the boundaries of human enhancement technologies and the future of human consciousness through an imaginary social class system.
Extended past the last "FM-2030" collection, the Fall/Winter 2019 collection creates a new fictional universe in which time and memory — two objective realities — turn into scalable and transferable measurements of the new social classes. The "Post Human Era" represents this abstract space-time through retro-futuristic aesthetics, using materials such as Rainbow Reflective and metallic nylon. The first drop will include oversized metallic jackets, collared shirts with conceptual prints, reflective track jackets, distressed sweatshirts, windbreakers and neck card pouches. Pieces come in muted gray, white and black tones, along with iridescent detailing.
All three social classes of the new universe are showcased in the first drop, with the "Elite Class" featuring minimalist designs to represent their already achieved "immortality" and equanimous approach to life. The "HDS Staff" are the working class of the new world and feature retro-sporty looks, informed by color clashes. The "Underclass" sport faded-wash and distressed pieces.
The first drop will be available to purchase on C2H4's website starting August 21 at 10 p.m. EST.
In other news, Burberry releases its Spring/Summer 2019 runway "WHY DID THEY KILL BAMBI?" deer-print shirt.
Click here to view full gallery at HYPEBEAST