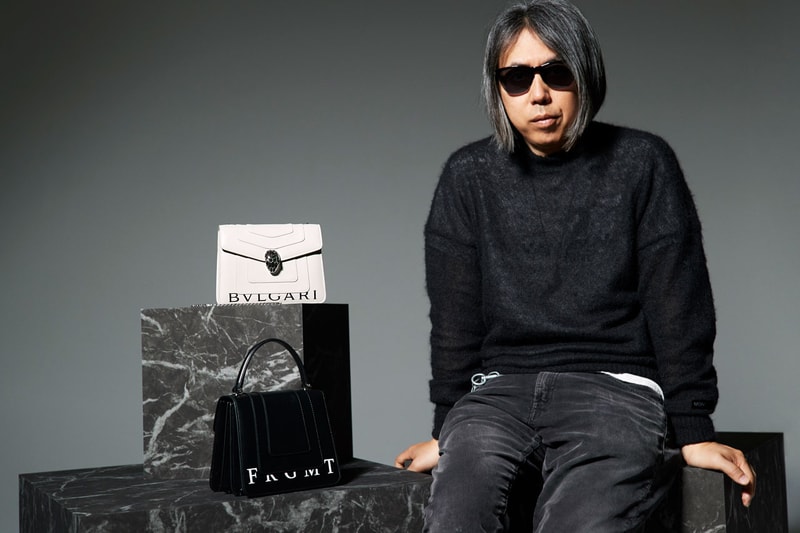 Following the teaser imagery provided by Hiroshi Fujiwara, BVLGARI has revealed its entire fragment design collaboration. Encompassing a swathe of premium bags and accessories, the items blend whimsy with luxurious fabrication.
Many items feature oversized branding from both BVLGARI and fragment, lending a youthful touch to the the Italian house's signature Serpenti bags, which retain their silver chains. Two styles of effortless totes are new bag styles for the luxury label (appropriately distinguished by a "BB FRAGMENT label", while familiar silhouettes have received a slight facelift.
Serpenti shoulder bags are now crafted from indigo denim and minimalist black leather, with stylized co-branding creating visual interest by way of oversized graphics on both the outside and inside of the neutral-toned bags. New items range from a "Nude Quartz"-toned business card holder to a miniscule silver key ring, both finished with circular graphics. Serpenti scarves, a Shelley and bracelet also sport bespoke designs, complementing the luxe bags with matching logos.
Take a closer look at the collaborative collection below, along with retail prices. Hankyu Umeda and Hankyu Men's Tokyo will launch the full collection on June 5, with select exclusives arriving on BVLGARI's web store on June 12.
Elsewhere, Fujiwara flexed an unreleased fragment design x Air Jordan 3 sample sneaker.
BB FRAGMENT tote bag ¥180,000 JPY (approximately $1,620 USD)
BB FRAGMENT tote bag ¥165,000 JPY (approximately $1,490 USD)
Serpenti hand bag ¥260,000 JPY (approximately $2,350 USD)
Serpenti bag ¥235,000 JPY (approximately $2,120 USD)
Serpenti bag ¥235,000 JPY (approximately $2,120 USD)
Serpenti shoulder bag ¥295,000 JPY (approximately $2,660 USD)
BB FRAGMENT pochette ¥120,000 JPY (approximately $1,080 USD)
Serpenti clutch bag ¥105,000 JPY (approximately $945 USD)
BB FRAGMENT zip wallet ¥73,000 JPY (approximately $660 USD)
BB FRAGMENT business card holder ¥34,000 JPY (approximately $305 USD)
Serpenti bracelet ¥39,500 JPY (approximately $355 USD)
BB FRAGMENT key ring ¥27,500 JPY (approximately $250 USD)
BB FRAGMENT silk scarf ¥29,000 JPY (approximately $260 USD)
Serpenti bandana ¥23,000 JPY (approximately $210 USD)
Serpenti "Shelley" ¥18,000 JPY (approximately $160 USD)
Click here to view full gallery at HYPEBEAST